Tuesday, May 16, 2023
Good Afternoon Everyone,
Please keep our seniors and 8th graders in your prayers this week as they take their semester finals and get prepared for a great weekend of graduation activities!  Finals for underclassmen will take place next week.  A complete schedule of Semester Finals can be found below.
Congratulations to the high school track team.  We will have our strongest contingent since the 1960's representing us at the state meet in Jefferson City this Friday and Saturday.  Here are the results from Saturday's sectional meet in Plattsburg.  Gremlins athletes are advancing to state in the following events:
Senior Kate Carney – advanced in the shot put with a 4th place finish at a distance of 10.40 m

Junior Jackson Manning – advanced in the 1600 m run.  He turned a 4th place with a personal best time of 4:50.33

The Boys 4×800 m relay are the SECTIONAL CHAMPS – They finished in 1st place with a time of 8:40.33 The team is made up of freshmen Logan Howell, Max Van Leer, Jared Owens and junior Jackson Manning

The Boys 4×400 m relay qualified with a 4th place in a school record time of 3:38.71 Team members are freshmen Max Van Leer and Jared Owens, juniors Reuben Smith and Jackson Manning

Sophomore Nathan Lemeshko qualified to be a relay team alternate.
Well done, Grems!
Thanks and congratulations to Mrs. Hill, Mr. Register and all of our NHS and NJHS members, both existing and newly inducted.  The 2023 induction of new members was held in a beautiful service in the Sacred Heart Chapel last Friday afternoon.  Again, congratulations to all on a job well done Grems!
NHS Inductees for 2023
Cassidy Bentch
Mary Butner
Erbinn Cahill
Delaney Grose
Emily Hesse
Logan Howell
Emilee Jackson
Thomas Jenkins
Margarita Karpenchuk
Alondra Leon
Jared Owens
Austin Perez
James Russell
Anthony Sierra
Max Van Leer
Bailee Vogel
NJHS Inductees for 2023
Zachary Anderson
Aspen Carl
Anna Carney
Sidnee City
Cash Conardy
Colt Conardy
Bayler Cromley
Avery Dillon
Sofia Guevara-Rodriguez
Madison Hill
Abram May
Kennedy Owen
Filip Perets
Easton Reid
Keaton Sanders
Ruby Schulze
Eri Steeves
Mason Trelow
Tayen Whited
Have a wonderful week!
Respectfully,
Dr. Mark Register
President
Sacred Heart School, Class of '75
I am pleased to share that our Catholic school has recently undergone a successful self-study and accreditation visit, resulting in a renewed sense of pride and accomplishment among our faculty, staff, students, and parents. This process has been an intensive and comprehensive examination of our school's academic, spiritual, and organizational practices, as well as our adherence to the teachings and traditions of the Catholic Church.
Through this self-study and accreditation process, we have identified our strengths and areas for growth and have developed a plan of action to improve the quality of education and formation that we provide to our students. We are particularly proud of our achievements in student achievement, faith formation, community outreach, and staff development. Our dedication to providing a rigorous academic program, a nurturing Catholic environment, and a commitment to serving others has been recognized and affirmed by the accreditation team, and we are confident that we will continue to grow and thrive in the years to come.
Overall, this self-study and accreditation visit has been a transformative experience for our Catholic school, and we are grateful for the opportunity to participate in such a meaningful and rigorous process. We are committed to building upon our successes, addressing our challenges, and continuing to provide an exceptional Catholic education that prepares our students for success in college, career, and life. We look forward to the future with enthusiasm and optimism and are proud to be part of a Catholic school community that values academic excellence, faith formation, and service to others.
Christ Reigns,
Mrs. Nancy Manning / Principal
Senior Spotlight – ABBY ARNOLD
Abby Arnold is heading to SFCC in the Fall to pursue her dream of working with large animals in the future!  Abby will major in Animal Sciences while at SFCC.  She is looking forward to a new environment, a bigger school, and new choices of classes to take.  She will miss seeing her friends everyday at school the most.  Abby hopes to one day be able to assist with horses, cows, and swine.  Way to go, Abby!
Senior Spotlight – TANNER DAMLO
Tanner Damlo has chosen to attend the University of Central Missouri in Warrensburg, MO in the Fall!  Tanner will be majoring in Engineering.  He is happy with his choice mostly due to being close enough to home to see his family regularly.  He is excited about dorm life, an opportunity to meet new friends, and growing as a person on his own.  He will miss his friends at SH the most.  Good luck, Tanner!
EXTRA YEARBOOKS IN THE OFFICE – GET ONE TODAY!
Yearbooks have arrived for Little Grems and students in grades PK-5. We know that you will love them as much as we do! We have some extra copies for $25 each. Please pay in the school office.
Key Club Announces Leadership Team for 2023-2024 School Year
Key Club is an international, student-led organization that provides its members with opportunities to provide service, build character and develop leadership. Our leadership team already has some fun service and social activities planed for the next school year. We are 24 members strong and high school students are welcome to join anytime. To learn more about Key Club, contact a member of our leadership team, or Mrs. Van Leer, Key Club advisor (lvanleer@gogremlinns.com) or visit  https://www.keyclub.org/about/.
Student Council Thanks You!
SHS Band Student Performs with Sedalia Symphony
Olivia Dobson, junior at SHS, recently performed with the Sedalia Symphony on baritone saxophone. The concert was May 1st at Heckart Performing Arts Center at SmithCotton High School.
Band Gremmy's
Monday, May 8, 2023 was a first for the Sacred Heart Instrumental Music Department. The band students had their very own instrumental music concert! It was an evening full of band music which featured solos, ensembles, the 5th grade band, 6th grade band, 7-12th grade band, and multiple band combinations. The evening included some very special band awards. These awards were voted on by the band members themselves.
The evening concluded with a very special combined band performance which included all band members in grades 5-12! It was amazing to see forty-four students play together! Their final piece was titled "The Great Adventure" and that certainly describes this year in band!
I want to thank the students and parents who have been committed to band this year.I am extremely proud of everyone who has helped to make the band a positive and fun place to learn and share music! I am so glad to see the band numbers growing! I am looking forward to a great year of band adventures next year!
Mrs. Lisa Yonce
Upcoming Events – Visit Website Calendar HERE.
Tuesday, May 15th – Wednesday, May 17th: Senior Finals

Wednesday, May 17th – Friday, May 19th: 8th Grade Finals

Thursday, May 18th: NO SCHOOL for SENIORS

Thursday, May 18th: Sacred Heart Pre-K Graduation

Friday, May 19th: Senior Grad Pictures/Senior Parent Award Luncheon/Senior Walk

Friday, May 19th: Baccalaureate Mass at SH Chapel at 6:30pm

Friday, May 19th: Finals Begin for Grades 6,7,9,10, and 11

Sunday, May 21st: SHHS Graduation

Monday, May 22nd: Elementary Field Day

Monday, May 22nd: 8th Grade Graduation

Monday, May 22nd and Tuesday, May 23rd: Early Out at 1pm

Wednesday, May 24th: NO SCHOOL

Thursday, May 25th: LAST DAY OF SCHOOL; All School Mass at 8am followed by end of year awards & recognition in the McGremlin Gym
2023-2024 School Year Calendar HERE
Christopher Hoffmann Ordination to Transitional Diaconate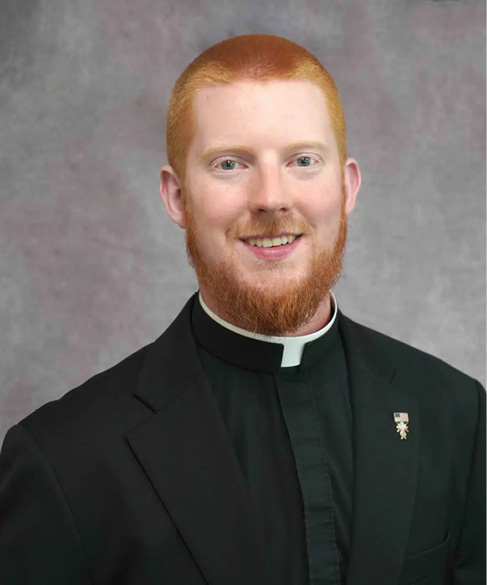 Congratulations to Christopher Hoffmann, an alumnus of Sacred Heart School, Class of 2011, who will be ordained a transitional deacon, the last stage before being ordained a priest for the diocese of Jefferson City, God willing, in 2024. At his transitional diaconate, he promises to live a life of celibacy, pray the liturgy of the hours for the Church, promises obedience and respect to the bishop and his successors, and to model his life on Christ. He will be able to witness marriages, perform funeral rites, baptize, and function as a deacon at the Mass just as our permanent deacons do. You are invited to attend this beautiful liturgy on June 3 at 10am at St Joseph Cathedral. You are also invited to hear him preach at the 8:00 am and 11:30 am Masses on June 4 (Christopher is bilingual in English and Spanish). There will be a reception for Deacon Hoffmann at the Knights of Columbus Hall, Sedalia June 4th at 1pm (no RSVP required). He thanks you for your prayers and support thus far and asks for continued prayers and support.
Read Christopher's call story HERE.
To RSVP to the ordination ceremony, click HERE.
Summer Camps
Parents, don't wait! Get your kiddos registered for one of these wonderful summer camp programs right away! These summer camps are organized by the Youth Ministry Office at the Diocese of Jefferson City. You can find more info on each camp at https://diojeffcity.org/youth-camps/.
High schoolers, volunteers are needed at these camps, which would give them an awesome opportunity to serve and put their talent in the service of others along with getting service hours. Apply at https://diojeffcity.org/camp-lolek-high-school-volunteers/
SIGN UP FOR Totus Tuus June 18-23
Totus Tuus is back again this year! Last year was the best to date and we want to repeat that again!
We will receive the missionaries from Sunday, June 18th to Friday, June 23rd. If you can help in any way possible please contact Mrs. Messina at mmessina@gogremlins.com. Here are some suggestions:
Provide a meal for the 4 missionaries. This could be breakfast, lunch, or dinner.

Help at the welcome table for the morning program. Also, help set up the snacks, direct the volunteers, etc.

Monetary donations are always welcome to cover any other expenses.
Please join in spreading the good news to the youngest Download a registration form HERE.
Annual Fund Drive STUDENT APPEAL – FINAL NUMBERS
Great job, Gremlins! With your help, the student portion of our Annual Fund Drive raised over $15,000!  The student competition ended Friday, and the results are in. While we had terrific support, the classes eligible to win prizes had to raise $2,000 and have at least half the class contribute at least $5 dollars.
In the secondary division…
In SECOND place, with 50 percent class participation and $2,203 raised, congratulations to the Junior Class! $750 will be going into your class account.
In FIRST place, with 61 percent class participation and $5,050 raised, it's the Sixth Grade! Congratulations! $1,000 will be going into your class account.
The big winner of course is Sacred Heart School.
Our student competition is over but our Annual Fund Drive is still underway.  We're close to reaching the $100,000 mark. We're on our way to $255,000! Thank you!
Job Opportunities – Join our Faculty and Staff for the 2023-24 School Year
RaiseRight Everyday – Graduation & End of Year Teacher Gifts
It's not too late to use RaiseRight for your gift giving for graduation and end of year teacher gifts. If you are looking for a way to say "Job well done!" to the graduates in your life, check out the gift cards available through our program to help them on their next adventure in life and earn rebates to use towards tuition at the same time. We have gift cards to fit most budgets, from $25 Visa, Walmart, or Amazon gift cards to $100 Walmart or Visa gift cards. We also have a selection of low denomination gift cards that are perfect end of year teacher gifts. Let us help you with your gift giving!
For a LIMITED TIME, we have $25 McDonald's gift cards available in the school office. Get them while supplies last.
Please note, Kehdes's is back up with their new gift card system, which means you can use gift cards for your next purchase at the restaurant! .
Our next in-house order for physical gift cards will be Monday, May 29th. All orders submitted to the school office by the end of school, or through the RaiseRight app by 8pm, on the 29th will be included in the order. Orders should be ready for pick-up the following week.
Don't forget we have several retailers ONLY available through the office (i.e. Casey's, Cenex, Shell, Colton's, Kehde's, McD, Menards, Taco Bell, Walgreens, and VISA to name a few). Come in during our volunteer open hours on Tuesday & Thursday from 9:30am – 11am for immediate purchases, or drop your order at the office or email it to the program coordinator. Our volunteers will fill your order and let you know when it's available for pick-up. RaiseRight will not be at Masses this weekend. We will be back at all Sunday Masses weekend on May 28th. Questions? Contact the program coordinator at 660.827.3800 or at scrip@gogremlins.com.
Sedalia Public Library Summer Reading Program
The Sedalia Public Library is kicking off their Summer Reading Program Monday, June 5th. Join them to sign-up to keep your kids reading through the summer. The Summer Reading Program goes from June 5 to July 26 and will be full of exciting events and opportunities to win prizes. See the flier for details and click HERE to watch a fun video to meet the new Children's Librarian and see highlights for the summer.
Bandits Swim
The Sedalia Bandits swim team offers lots of summer opportunities, please reach out to Jerry Tankersley at tankersleyj@sedalia200.org . Click the link to download the summer schedule and team information – BANDITS SWIM.
SFCC Basketball Camps
State Fair Community College is hosting summer basketball camps again this year for boys and girls. The boys camp will be June 5th-8th and the girls camp will be June 12th-14th. Download the registration forms now! BOYS CAMP FORM
PKSA/Revolution FC Soccer will be June 26th-29th from 6:00pm- 8:00pm @ Clover Dell Park
PKSA/REVOLUTION FC Soccer Camp is a fantastic camp for a great price. It's the time of year that all of our local high school, college, and club coaches come together to provide a wonderful learning opportunity for youth in our community. The camp takes place at Clover Dell Park, June 28th through July 1st from 6:00pm-8:00pm each night. We offer a group rotation where each group spends time with different coaches. The current coach roster consists of- Rain Marques- KC Comets Player, Ethan Weller, SC Men's Soccer Head Coach, Sam Jones, SC Men's Soccer assistant coach, Warren Dey, SH Men's Soccer Head Coach, Nick Turner SH Women's Soccer head coach. Jake Herrick, Revolution FC Director and Coach – Eduardo Alonzo KC Comets player. More to come……. Register NOW
Sedalia Parks and Rec
Parks and Rec offers a wide variety of summer activities for all ages. Stay up to date on all their offerings at https://www.sedaliaparks.com/activities/
martes 16 de mayo del 2023
Buenas tardes a todos,
¡Mantenga a nuestros estudiantes de último año y de octavo grado en sus oraciones esta semana mientras toman sus exámenes finales semestrales y se preparan para un gran fin de semana de actividades de graduación! Las finales para los estudiantes de grados bajos se llevarán a cabo la próxima semana. A continuación se puede encontrar un calendario completo de las finales del semestre.
Felicitaciones al equipo de atletismo de la escuela preparatoria. Tendremos nuestro contingente más fuerte desde la década de 1960 representándonos en la reunión estatal en Jefferson City este viernes y sábado. Aquí están los resultados del encuentro seccional del sábado en Plattsburg. Los atletas de Gremlins avanzan al estado en los siguientes eventos:
Kate Carney (12) – avanzó en el lanzamiento de peso con un 4º puesto final a una distancia de 10.40 m

Jackson Manning (11) -avanzado en la carrera de 1600 m. Consiguió un 4º puesto con un mejor tiempo personal de 4:50.33

Los niños son los CAMPEONES SECCIONALES en relevos 4×800 m – terminaron en 1er lugar con un tiempo de 8:40.33 El equipo está formado por Logan Howell (9), Max Van Leer (9), Jared Owens (9) y Jackson Manning (11)

El relevo 4×400 m de niños se clasificó con un 4° lugar en un tiempo récord escolar de 3:38.71 Los integrantes del equipo son Max Van Leer (9) y Jared Owens (9), Reuben Smith (11) y Jackson Manning  (11)

Nathan Lemeshko (10)  calificó para ser suplente del equipo de relevos.
¡Bien hecho, Grems!
Gracias y felicitaciones a la Sra. Hill, al Sr. Register ya todos nuestros miembros de NHS y NJHS, tanto existentes como recién incorporados. La inducción de 2023 de nuevos miembros se llevó a cabo en un hermoso servicio en la Capilla del Sagrado Corazón el viernes pasado por la tarde. Una vez más, ¡felicidades a todos por un trabajo bien hecho, Grems!
Inducidos del NHS para 2023
Cassidy Bentch
Mary Butner
Erbinn Cahill
Delaney Grose
Emily Hesse
Logan Howell
Emilee Jackson
Thomas Jenkins
Margarita Karpenchuk
Alondra Leon
Jared Owens
Austin Perez
James Russell
Anthony Sierra
Max Van Leer
Bailee Vogel
NJHS Inducidos para 2023
Zachary Anderson
Aspen Carl
Anna Carney
Sidnee City
Cash Conardy
Colt Conardy
Bayler Cromley
Avery Dillon
Sofia Guevara-Rodriguez
Madison Hill
Abram May
Kennedy Owen
Filip Perets
Easton Reid
Keaton Sanders
Ruby Schulze
Eri Steeves
Mason Trelow
Tayen Whited
¡Que tengan una semana maravillosa!
Respetuosamente,
Dr. Mark Register
Presidente
Escuela del Sagrado Corazón, Generación del '75
Me complace compartir que nuestra escuela católica recientemente se sometió a una exitosa visita de autoaprendizaje y acreditación, lo que resultó en un renovado sentido de orgullo y logro entre nuestra facultad, personal, estudiantes y padres. Este proceso ha sido un examen intensivo y completo de las prácticas académicas, espirituales y organizativas de nuestra escuela, así como nuestra adhesión a las enseñanzas y tradiciones de la Iglesia Católica.
A través de este proceso de autoestudio y acreditación, hemos identificado nuestras fortalezas y áreas de crecimiento y hemos desarrollado un plan de acción para mejorar la calidad de la educación y formación que brindamos a nuestros estudiantes. Estamos particularmente orgullosos de nuestros logros en el desempeño de los estudiantes, la formación en la fe, el alcance comunitario y el desarrollo del personal. El equipo de acreditación ha reconocido y afirmado nuestra dedicación para brindar un programa académico riguroso, un entorno católico enriquecedor y un compromiso de servir a los demás, y confiamos en que seguiremos creciendo y prosperando en los años venideros.
En general, esta visita de autoaprendizaje y acreditación ha sido una experiencia transformadora para nuestra escuela católica, y estamos agradecidos por la oportunidad de participar en un proceso tan significativo y riguroso. Estamos comprometidos a construir sobre nuestros éxitos, abordar nuestros desafíos y continuar brindando una educación católica excepcional que prepare a nuestros estudiantes para el éxito en la universidad, la carrera y la vida. Miramos hacia el futuro con entusiasmo y optimismo y estamos orgullosos de ser parte de una comunidad escolar católica que valora la excelencia académica, la formación en la fe y el servicio a los demás.
Cristo reina,
Sra. Nancy Manning / Directora
Enfoque Senior – ABBY ARNOLD
¡Abby Arnold se dirige a SFCC en el otoño para perseguir su sueño de trabajar con animales grandes en el futuro! Abby se especializará en Ciencias Animales mientras esté en SFCC. Espera con ansias un nuevo entorno, una escuela más grande y nuevas opciones de clases para tomar. Extrañará más ver a sus amigos todos los días en la escuela. Abby espera algún día poder ayudar con caballos, vacas y cerdos. ¡Bien hecho, Abby!
Enfoque Senior- TANNER DAMLO
¡Tanner Damlo ha elegido asistir a la Universidad de Missouri Central en Warrensburg, MO en el otoño! Tanner se especializará en ingeniería. Está contento con su elección principalmente debido a que está lo suficientemente cerca de casa para ver a su familia con regularidad. Está entusiasmado con la vida en el dormitorio, la oportunidad de conocer nuevos amigos y crecer como persona por su cuenta. Extrañará más a sus amigos en SH. ¡Buena suerte, Tanner!
ANUARIOS ADICIONALES EN LA OFICINA – ¡OBTENGA UNO HOY!
Han llegado los anuarios para Little Grems y estudiantes en los grados PK-5. ¡Sabemos que los amarás tanto como a nosotros! Tenemos algunas copias extra por $25 cada una. Por favor pague en la oficina de la escuela.
Key Club anuncia equipo de liderazgo para el año escolar 2023-2024
Key Club es una organización internacional dirigida por estudiantes que brinda a sus miembros oportunidades para brindar servicio, desarrollar el carácter y desarrollar el liderazgo. Nuestro equipo de liderazgo ya tiene algunos servicios divertidos y actividades sociales planificadas para el próximo año escolar. Somos 24 miembros fuertes y los estudiantes de preparatoria son bienvenidos a unirse en cualquier momento. Para obtener más información sobre Key Club, comuníquese con un miembro de nuestro equipo de liderazgo o con la Sra. Van Leer, asesora de Key Club (lvanleer@gogremlinns.com) o visite https://www.keyclub.org/about/.
Consejo Estudiantil ¡Le da las gracias!
Estudiante de banda de SHS se presenta con Sedalia Symphony
Olivia Dobson, junior en SHS, se presentó recientemente con la Sinfónica de Sedalia en saxofón barítono. El concierto fue el 1 de mayo en el Heckart Performing Arts Center en SmithCotton High School.
Gremmy's de banda
El lunes 8 de mayo de 2023 fue el primero para el Departamento de Música Instrumental del Sagrado Corazón. ¡Los estudiantes de banda tuvieron su propio concierto de música instrumental! Fue una noche llena de música de banda que contó con solos, conjuntos, la banda de 5º grado, la banda de 6º grado, la banda de 7º a 12º grado y múltiples combinaciones de bandas. La velada incluyó algunos premios de bandas muy especiales. Estos premios fueron votados por los propios miembros de la banda.
¡La velada concluyó con una actuación de banda combinada muy especial que incluyó a todos los miembros de la banda en los grados 5-12! ¡Fue increíble ver a cuarenta y cuatro estudiantes jugar juntos! Su pieza final se tituló "La gran aventura" y eso ciertamente describe este año en la banda.
Quiero agradecer a los estudiantes y padres que se han comprometido con la banda este año. ¡Estoy muy orgullosa de todos los que han ayudado a hacer de la banda un lugar positivo y divertido para aprender y compartir música! ¡Estoy tan contenta de ver crecer los números de la banda! ¡Espero con ansias un gran año de aventuras de la banda el próximo año!
Sra. Lisa Yonce
Próximos eventos – Visite el calendario del sitio web de la escuela aquí.
martes 15 de mayo – miércoles 17 de mayo: Exámenes finales de duodécimo grado

miércoles 17 de mayo – viernes 19 de mayo: Exámenes finales de octavo grado

jueves 18 de mayo: No hay clases para duodécimo grado

jueves 18 de mayo: Graduación de Pre-K del Sagrado Corazón

viernes 19 de mayo Fotografías de graduados de último año/Almuerzo de premios para padres de estudiantes de último año/Caminata de estudiantes de último año

viernes 19 de mayo: Misa de Bachillerato en la Capilla SH a las 6:30pm

viernes 19 de mayo: Comienzan los exámenes finales para los grados 6, 7, 9, 10 y 11

domingo 21 de mayo: Graduación de SHHS

lunes 22 de mayo: Día de campo de primaria

lunes 22 de mayo: Graduación de octavo grado

lunes 22 y martes 23 de mayo: Salida temprano a la 1:00 pm

miércoles 23 de mayo No hay clases

jueves 24 de mayo: Último día de clases; Misa para toda la escuela a las 8:00 am seguida de premios y reconocimientos de fin de año en el gimnasio McGremlin
Para ver el calendario del año escolar 2023-2024 haga clic aquí
Christopher Hoffmann Ordenación al Diaconado de Transición
Felicitaciones a Christopher Hoffmann, ex alumno de la Escuela del Sagrado Corazón, Clase de 2011, quien será ordenado diácono de transición, la última etapa antes de ser ordenado sacerdote para la diócesis de Jefferson City, si Dios quiere, en 2024. En su diaconado de transición, promete vivir una vida de celibato, rezar la liturgia de las horas por la Iglesia, promete obediencia y respeto al obispo y sus sucesores, y modelar su vida en Cristo. Podrá ser testigo de matrimonios, realizar ritos funerarios, bautizar y funcionar como diácono en la Misa tal como lo hacen nuestros diáconos permanentes. Está invitado a asistir a esta hermosa liturgia el 3 de junio a las 10:00 am en la Catedral de San José. También está invitado a escucharlo predicar en las Misas de 8:00 am y 11:30 am el 4 de junio (Christopher es bilingüe en inglés y español). Habrá una recepción para el Diácono Hoffmann en el Salón de los Caballeros de Colón, Sedalia, el 4 de junio a la 1:00 pm (no se requiere RSVP). Él les agradece sus oraciones y su apoyo hasta el momento y les pide que continúen sus oraciones y su apoyo.
Lea la historia de la llamada de Christopher AQUÍ.
Para confirmar su asistencia a la ceremonia de ordenación, haga clic AQUÍ.
Campamentos de Verano
¡Padres, no esperen! ¡Inscriba a sus hijos para uno de estos maravillosos programas de campamento de verano de inmediato! Estos campamentos de verano están organizados por la Oficina del Ministerio Juvenil de la Diócesis de Jefferson City. Puede encontrar más información sobre cada campamento en https://diojeffcity.org/youth-camps/.
Estudiantes de preparatoria, se necesitan voluntarios en estos campamentos, lo que les daría una gran oportunidad de servir y poner su talento al servicio de los demás, además de obtener horas de servicio. Aplique en https://diojeffcity.org/camp-lolek-high-school-volunteers/
Registrese para  Totus Tuus del 18 al 23 de junio
¡Totus Tuus vuelve este año! ¡El año pasado fue el mejor hasta la fecha y queremos repetirlo nuevamente!
Recibiremos a los misioneros desde el domingo 18 de junio hasta el viernes 23 de junio. Si puede ayudar de cualquier manera posible, comuníquese con la Sra. Messina en mmessina@gogremlins.com. Aquí hay algunas sugerencias:
Proporcionar una comida para los 4 misioneros. Esto podría ser el desayuno, el almuerzo o la cena.

Ayuda en la mesa de bienvenida para el programa de la mañana. Además, ayude a preparar los refrigerios, dirija a los voluntarios, etc.

Las donaciones monetarias son siempre bienvenidas para cubrir cualquier otro gasto.
Espero que puedan unirse a difundir la buena noticia a los más jóvenes Descargue un formulario de inscripción AQUÍ.
Colecta Anual de Fondos APELACIÓN DEL ESTUDIANTE – NÚMEROS FINALES
¡Buen trabajo, Gremlins! ¡Con su ayuda, la parte estudiantil de nuestra campaña anual de recaudación de fondos recaudó más de $15,000! La competencia estudiantil terminó el viernes y ya tenemos los resultados. Si bien tuvimos un gran apoyo, las clases elegibles para ganar premios tuvieron que recaudar $2,000 y que al menos la mitad de la clase contribuya con al menos $5 dólares.
En la división secundaria…
En segundo lugar,con un 50 por ciento de participación en la clase y $2,203 recaudados, ¡felicidades a la Clase Junior! $750 irán a su cuenta de clase.
En primer lugar, con un 61 por ciento de participación en la clase y $5,050 recaudados, ¡es el sexto grado! ¡Felicidades! $1,000 irán a su cuenta de clase.
El gran ganador, por supuesto, es la Escuela del Sagrado Corazón.
Nuestra competencia estudiantil ha terminado, pero nuestra recaudación anual de fondos aún está en marcha. Estamos cerca de alcanzar la marca de $100,000. ¡Estamos en camino a $255,000! ¡Gracias!
Oportunidades de trabajo: únase a nuestra facultad y personal para el año escolar 2023-24
RaiseRight todos los días – Regalos de graduación y de fin de año
No es demasiado tarde para usar RaiseRight para sus regalos de graduación y regalos para maestros de fin de año. Si está buscando una manera de decir "¡Trabajo bien hecho!" a los graduados en su vida, consulte las tarjetas de regalo disponibles a través de nuestro programa para ayudarlos en su próxima aventura en la vida y gane reembolsos para usar en la matrícula al mismo tiempo. Tenemos tarjetas de regalo que se ajustan a la mayoría de los presupuestos, desde tarjetas de regalo Visa, Walmart o Amazon de $25 hasta tarjetas de regalo Walmart o Visa de $100. También tenemos una selección de tarjetas de regalo de baja denominación que son el regalo perfecto para maestros de fin de año. ¡Permítanos ayudarlo con su entrega de regalos!
Por TIEMPO LIMITADO, tenemos tarjetas de regalo de McDonald's de $25 disponibles en la oficina de la escuela. Estarán disponibles hasta agotar existencias.
Tenga en cuenta que Kehdes's está de vuelta con su nuevo sistema de tarjetas de regalo, lo que significa que puede usar tarjetas de regalo para su próxima compra en el restaurante.
Nuestro próximo pedido interno de tarjetas de regalo físicas será el lunes 29 de mayo. Todos los pedidos enviados a la oficina de la escuela antes del final de la escuela, o a través de la aplicación RaiseRight antes de las 8:00 pm del día 29, se incluirán en el pedido. Los pedidos deben estar listos para ser recogidos la semana siguiente
No olvide que tenemos varios minoristas SOLO disponibles a través de la oficina (es decir, Casey's, Cenex, Shell, Colton's, Kehde's, McD, Menards, Taco Bell, Walgreens y VISA, por nombrar algunos). Acérquese durante nuestro horario de voluntariado los martes y jueves de 9:30 am a 11:00 am para compras inmediatas, o deje su pedido en la oficina o envíelo por correo electrónico a scrip@gogremlins.com. Nuestros voluntarios llenarán su pedido y le avisarán cuando esté disponible para recogerlo. RaiseRight no estará en las Misas este fin de semana. Volveremos a todas las misas el 28 de mayo. ¿Preguntas? Comuníquese con el coordinador del programa al 660.827.3800 o en scrip@gogremlins.com.
Programa de lectura de verano de la biblioteca pública de Sedalia
La Biblioteca Pública de Sedalia dará inicio a su Programa de Lectura de Verano el lunes 5 de junio. Únase a ellos para inscribirse y mantener a sus hijos leyendo durante el verano. El Programa de Lectura de Verano va del 5 de junio al 26 de julio y estará lleno de emocionantes eventos y oportunidades para ganar premios. Vea el volante para obtener detalles y haga clic AQUÍ para ver un video divertido para conocer al nuevo bibliotecario infantil y ver los aspectos más destacados del verano.
Natacion Bandits
El equipo de natación Sedalia Bandits ofrece muchas oportunidades de verano, comuníquese con Jerry Tankersley en tankersleyj@sedalia200.org. Haga clic en el enlace para descargar el horario de verano y la información del equipo – BANDITS SWIM
Campamentos de baloncesto de SFCC
State Fair Community College está organizando campamentos de baloncesto de verano nuevamente este año para niños y niñas. El campamento de niños será del 5 al 8 de junio y el campamento de niñas será del 12 al 14 de junio. ¡Descargue los formularios de registro ahora!
Formulario para el campamento de niños
Formulario para el campamento de niñas
PKSA/Revolution FC Soccer será del 26 al 29 de junio de 6:00 pm a 8:00 pm en Clover Dell Park
El campamento de fútbol PKSA/REVOLUTION FC es un campamento fantástico por un excelente precio. Es la época del año en que todos los entrenadores de nuestras escuelas preparatorias, universidades y clubes locales se unen para brindar una maravillosa oportunidad de aprendizaje para los jóvenes de nuestra comunidad. El campamento se lleva a cabo en Clover Dell Park, del 28 de junio al 1 de julio de 6:00 pm a 8:00 pm todas las noches. Ofrecemos una rotación de grupos donde cada grupo pasa tiempo con diferentes entrenadores. La lista actual de entrenadores está compuesta por: Rain Marques, jugador de KC Comets, Ethan Weller, entrenador en jefe de SC fútbol masculino, Sam Jones, entrenador asistente defútbol masculino, Warren Dey, entrenador en jefe de SH fútbol masculino, Nick Turner, entrenador en jefe de SH futbol femenil. Jake Herrick, director y entrenador de Revolution FC – Eduardo Alonzo jugador de KC Comets. Más por venir……. Registrese ahora
Sedalia Parks and Rec
Parks and Rec ofrece una amplia variedad de actividades de verano para todas las edades. Manténgase actualizado sobre todas sus ofertas en https://www.sedaliaparks.com/activities/
Queremos escucharlos. Nuestro Equipo de Comunicaciones agradece los comentarios sobre nuestros esfuerzos para comunicarnos mejor con los fieles de nuestra escuela. Te invitamos a enviarnos tus ideas, sugerencias y conocimiento por correo electrónico.