Friday, October 8
Greetings All and Happy Friday,
An exciting week is ahead for high school athletics. Tonight the varsity soccer team will be competing in the Championship game of the Kaysinger Conference tournament.  The game kicks off at 8PM in Stover and the top seeded Grems will be taking on a very tough Smithton Tigers team.
As most of you know, we co-op with Northwest High School to play 8 man football.  Coach Crooker from our staff is the head coach and several of our boys play prominent roles on the team.  We have found this to be a very healthy partnership with one of our conference schools.  Tonight is the Northwest Homecoming game.  We take on the Santa Fe Chiefs at 7pm in Hughesville.  Please take a ride out there for the game if you can.  Promises to be lots of fun.
Tomorrow in Cole Camp our volleyball girls will be squaring off in the Kaysinger Conference Volleyball Tournament.  The girls are seeded 2nd and completed pool play last night going 3-0 with a 25-13, 25-15 win over Smithton, 25-16, 25-16 over Green Ridge and 25-20, 25-22 over LaMonte.  They play the winner of the Cole Camp vs Tipton game at noon on Saturday with the winner advancing to the championship game at 2pm in Cole Camp.
Tomorrow will be a happy and exciting day in the SH gymnasiums.  Elementary volleyball will be taking place all day here on our campus.  Our teams in the 3rd through the 6th grades will be competing.  Good luck Gremlins!
Finally, we are relieved to have another Standardized Testing Week behind us.  The kids did a great job taking the tests seriously and remaining as focused as possible.  We will anxiously await the results which usually get to us in early November.  These results have 2 primary uses:
The tests help ensure that each student is making adequate and expected academic growth from one grade level to the next.  If, for some reason, we do not see the expected growth it allows us to take appropriate actions.
The test will sometimes reveal an area of our elementary and/or junior high curriculum that needs greater attention and focus.  This is good for the progress and ongoing success of the school.
Have a fantastic weekend and Thank You for Choosing SHS!
Dr. Mark Register
President
Hispanic Heritage Month Continues
As we continue with Hispanic Heritage Month which concludes October 15, we look at our first pope ever to be elected from the new world, from the Hispanic Community, our current pope, Pope Francis.  He is from Argentina. He was born Jorge Mario Bergoglio on December 17, 1936. His parents were Mario Jose Bergoglio and Regina Maria Sivori and is the eldest of five children.
Before studying for the priesthood with the Jesuit order, he was a bouncer, a janitor, studied chemistry and worked as a technician in a food science laboratory.  Very shortly after his ordination in 1969, he was elected Provincial Superior for the Jesuits in Argentina and became archbishop of Buenos Aires in 1998. He became pope on March 13, 2018 after the historic retirement of a pope, Pope Benedict XVI.  Popes choose their name and he chose "Francis" after Saint Francis of Assisi who told us to remember the poor and to keep the poor at the center of the church's mission.  A word of advice about what is said in both secular and Catholic media surrounding Pope Francis: everything he says and writes is documented on the Vatican Website. Go to him, as the original source, and read for yourself what he communicated.
This is the fourth and final Catholic figure highlighted in our Commons area during Hispanic Heritage Month. In previous Beats we wrote about Saints Juan Diego, Rose of Lima and Oscar Romero.
October is Respect Life Month
It is no surprise that the Catholic Church has always defended life long before the Supreme Court legalized abortion in the United States on January 22, 1973.  The Catholic Church writes about it in the early church fathers: The Didache completed by the end of the first century; the Letter to Barnabas written between 70 and 132 AD.  Popes continued when the currents of thought in western culture were changing: Casti Connubii in 1930, Humanae Vitae in 1968, Familiaris Consortsio in 1981; Veritas Splendor in 1993; Evangelium Vitae in 1995 to name a few.
We, as Church, work in all areas to uphold the rights of the child in the womb; assist mothers in difficult pregnancies; assist fathers in helping the mother choose life; assist after the birth of the child; assist those who mourn from the loss of a child due to abortion; educate the general public; lobby for legislation; and along with many other approaches, we fast, pray, and promote the Gospel of Life.  We, as Church, promote all life from conception until natural death.  Abortion, while a primary focus is not the Catholic Church's only focus when it comes to respecting life.  Join us for the Rosary for Life on October 16 at noon in front of the Sacred Heart Chapel Parish Center.
Grandparents Day
We are looking forward to celebrating our Elementary Grandparents on Friday, October 15, 2021
We will begin the day with Elementary Mass at 8:30 in Sacred Heart Church. Following Mass, grandparents will be invited to the school to enjoy donuts and juice with their students.
Seating will be arranged to allow for grandparents to sit with all of their grandchildren.
In order to best accommodate our guests, please electronically RSVP, no later than Monday, October 11.
Download Form Here.
Parent-Teacher Conferences
We look forward to seeing everyone at Parent Teacher Conferences on Thursday, October 28!  Parent-teacher conferences are an opportunity to extend the lines of communication between home and school, keep families informed about their children's academic and social progress, and develop two-way communication strategies that invite family engagement and improve student learning.  Please read below for additional information
The school will be open from 12 pm to 7 pm on Thursday, October 28 for pre-scheduled conferences.

Each teacher will have a personal link that you will use to sign up for a 15-minute conference.

If you have a fourth or fifth-grade student, we request that you sign up for a conference with your child's homeroom teacher.

If you would like to meet with one of the other teachers, you may sign up for a time, but please be mindful that you may lose that time if it is needed for a homeroom student.

 If your student is in junior high or high school and has multiple teachers, you may select whichever teachers you would like to meet with and they will be available on a first-come, first-served basis.

There will be NO SCHOOL on Thursday, October 28!

Conferences are being held in 15 minute increments, with no gaps in between.  It is very important that you arrive for your assigned time and complete your conference within the 15 minutes.
 – – Click HERE to SignUP – –
Don't forget, Monday is a Spirit Dress Day!
Monday, October 11 is a Spirit Dress Day!  Students can wear any Sacred Heart/Gremlin shirt or plain red and white shirt with jeans. Jean shorts and skirts must be the appropriate length (5" above the knee when kneeling), and should not have any rips or frays.
Key Club
Sacred Heart School is accepting new members to Key Club. Any high school student is eligible to join. Key Club is an international, student-led organization that provides its members with opportunities to provide service, build character and develop leadership. All interested high school students are invited to attend an info session Friday, Oct. 15 in room 206.
Learn more about key club at https://www.keyclub.org/about/
Bellarmine Speech Team
Students in grades 6-8 are invited to join our Bellarmine Speech Team. Team info and sign ups are located on the bulletin board outside of Dr. Register's office. Click HERE for more info.
New this year at SHS!
Who can join?  Anyone in the current Intro to FCS class and any new student that may have taken a FCS class or been involved with FCCLA at a prior school.  Please contact Mrs. Manning with questions.
FCCLA is a career and technical student organization that offers members the opportunity to expand their leadership potential and develop skills for life—planning, goal setting, problem solving, decision making, and interpersonal communication—all necessary within the home and workplace.  The focus is to promote character development and leadership through Family Consumer Science education.  Members will have the opportunity to participate in service learning projects, competitive events, and network with other members throughout the United States.  FCCLA is a national, state, regional, and local organization.
FCCLA Region 12 Meeting:  Friday, October 21 (9:30-2:00) at Smith Cotton Performing Arts Center.     Advisor:  Mrs. Nancy Manning
Friday, October 8th
Varsity Soccer conference tournament trophy round – They will take on Smithton @ 8:00PM in Stover.

NORTHWEST HOMECOMING – Varsity Football @ home, start time 7:00PM
Saturday, October 9th
Kaysinger Conference Volleyball Tournament Trophy Round – They play the winner of the Cole Camp vs Tipton game at noon on Saturday with the winner advancing to the championship game at 2pm in Cole Camp.

Elementary Volleyball – All Day @ SH
Monday, October 11th
District Golf @  Excelsior Springs
Tuesday, October 12th
Varsity, JH Soccer @ Cole Camp. Start time 5:00pm

Varsity, JV, JH Volleyball @ Cole Camp. Start time 5:30pm
Wednesday, October 13th
Varsity/JV Volleyball @ Father Tolton, start time 5:00

Varsity Soccer @ home vs Jefferson City, start time 5:00

Cross Country Conference meet @ Stover. Start time 4:00
NJHS Animal Shelter Project
APC Trunk or Treat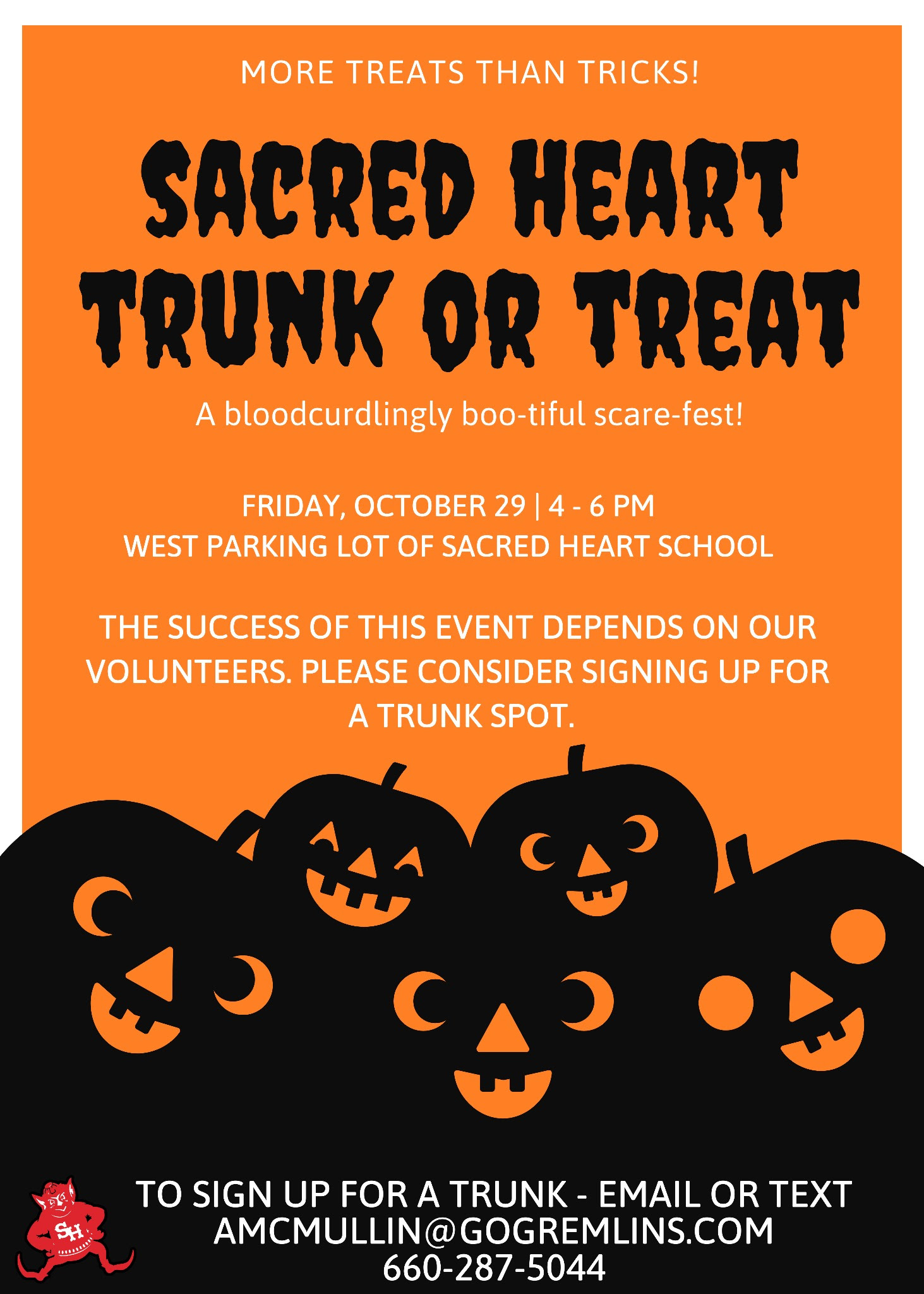 APC's annual Trunk or Treat is back and will be hosted at Sacred Heart School on Friday October 29 as part of the Community Trunk or Treat that is being held.  Put it on your calendars to participate either to host a trunk or participate!
SCRIPing for Bonus Fest is HERE!
Bonus Fest begins TODAY!  Each weekend the rest of October, there will be a 3 day bonus sale.  Each sale will feature a different list of brands, so be on the lookout for your favorites.  This sale is only available on the RaiseRight app.  If you haven't already set-up your account, NOW is the time!  Look on the school's website for step by step instructions to get started.
Don't forget we have several retailers ONLY available through the office (i.e. Casey's, Cenex, Shell, Colton's, Kehde's, McD, Taco Bell, Walgreens, and VISA to name a few).  If you can't make it to the office, look for the Scrip table after Masses this weekend.  Questions? Contact Esther DeGraff at 660.827.3800 or Jen Cordia at scrip@gogremlins.com.
Get Involved!  Parish Stewardship
Looking for ways to get involved? Look no more, the parish Stewardship drive is underway! If you haven't filled out your forms, please click HERE.
St. Vincent de Paul Youth Ministry Team Event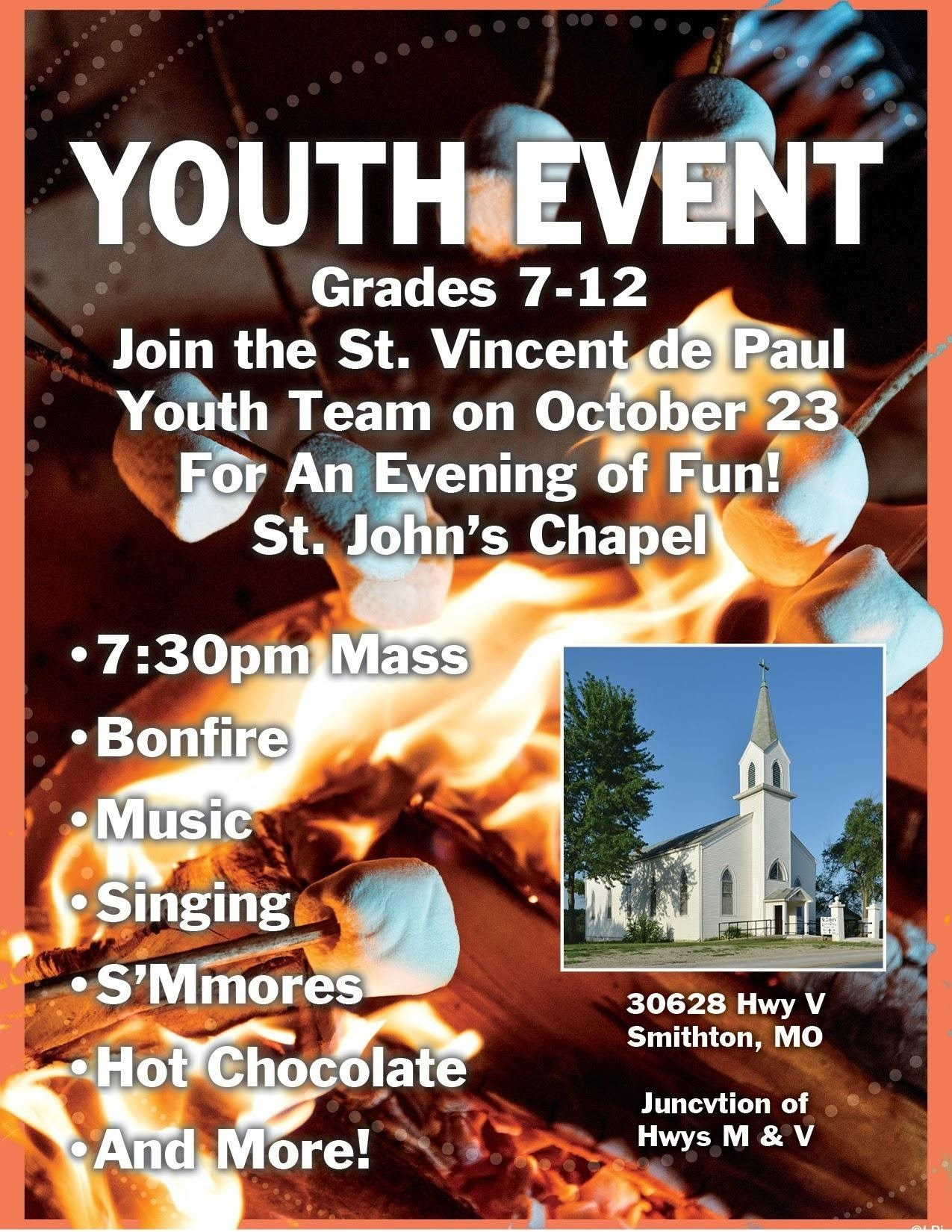 APC Discount Cards On Sale Now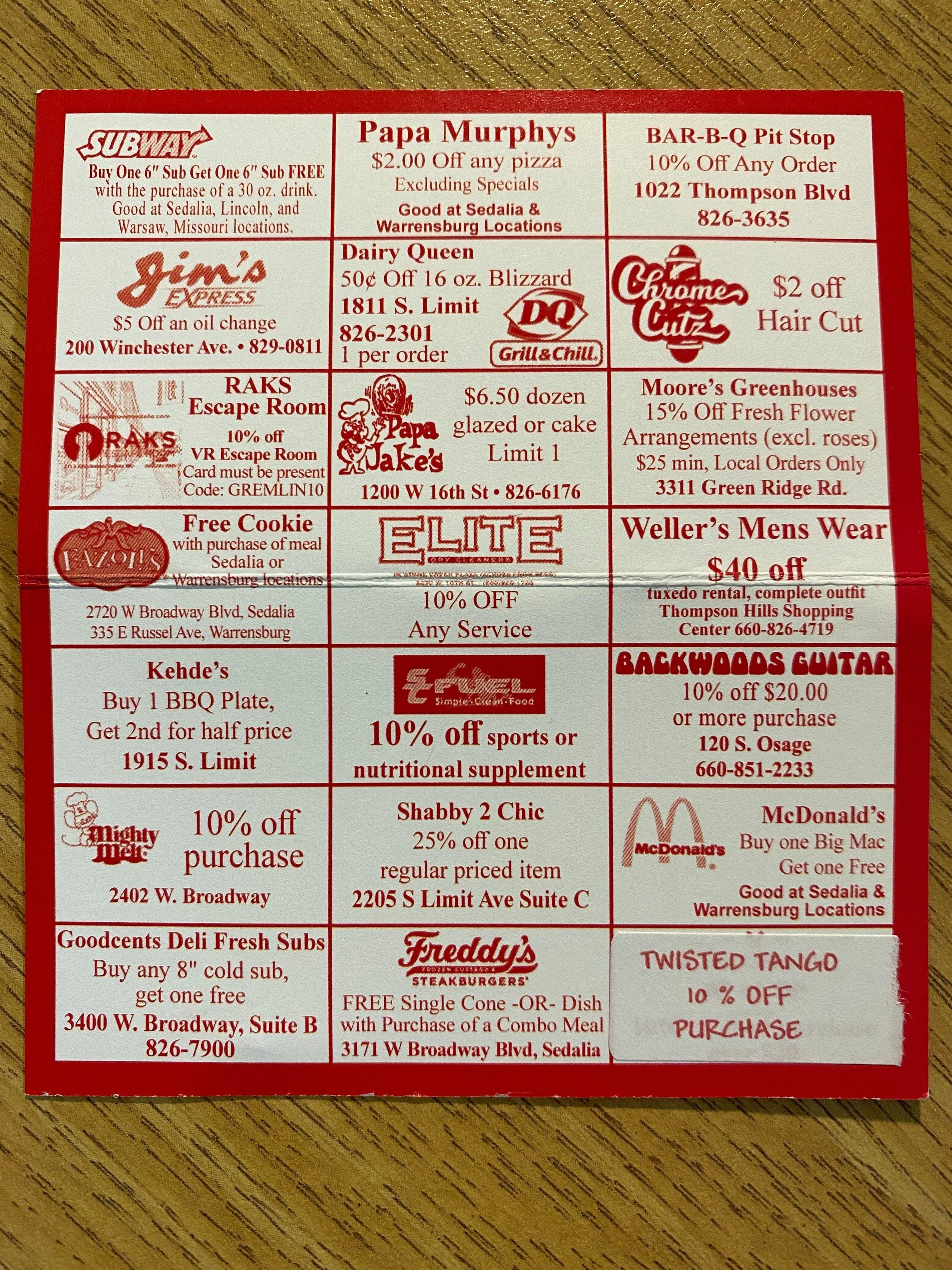 It's that time of year again … APC discount card sales!  Envelopes should have gone home with your child last week.  We've already had several envelopes returned … YEAH!  If you are interested in selling extra cards, stop by the office to pick them up.  There are incentives for selling extra discount cards.  Checkout the flyers included in your envelope to see the details.  Just a reminder the deadline for returning money for incentives is Friday, October 22nd.
---
We value your voice.  Our Communications Team welcomes feedback on our efforts to better communicate with the faithful of our school.  We invite you to send us your ideas, suggestions, and insights by email.
Viernes 8 de octubre
Saludos a todos y feliz viernes,
Parece que podría ser un fin de semana muy emocionante para los deportes de la escuela preparatoria. Esta noche, el equipo de fútbol varsity competirá por el campeonato en el torneo de la Conferencia de Kaysinger. El juego comienza a las 8:00 PM en Stover y el equipo líder de los  Gremlins  se enfrentará a un equipo muy duro de los Smithton Tigers.
Como la mayoría de ustedes saben, cooperamos con Northwest High School para jugar fútbol americano con un equipo de 8 hombres. El entrenador Crooker de nuestro personal es el entrenador y varios de nuestros muchachos desempeñan papeles destacados en el equipo. Hemos descubierto que esta es una asociación muy saludable con una de nuestras escuelas de conferencias. Esta noche es el juego de Northwest Homecoming. Nos enfrentamos a los Santa Fe Chiefs a las 7 pm en Hughesville. Si puede, dé un paseo allí para el juego. Promete ser muy divertido.
Mañana en Cole Camp nuestras chicas de voleibol se enfrentarán en el Torneo de Voleibol de la Conferencia de Kaysinger. Las niñas quedaron en segundo lugar y completaron el juego de grupo anoche yendo 3 – 0 con una victoria 25-13,25-25 contra Smithton, 25-15, 25-16 contra Green Ridge y 25-20, 25-22 contra LaMonte. Juegan contra el equipo ganador de Cole Camp vs Tipton a las 12 pm el sábado. El ganador avanzará al juego de campeonato a las 2 pm en Cole Camp.
Mañana será un día feliz y emocionante en los gimnasios de la Escuela del Sagrado Corazón. El voleibol de primaria se llevará a cabo todo el día aquí en nuestras instalaciones. Nuestros equipos de tercero a sexto grado estarán compitiendo. ¡Buena suerte, Gremlins!
Finalmente, estamos aliviados de haber terminado otra semana de exámenes estandarizados. Los niños hicieron un gran trabajo tomando los exámenes en serio y manteniéndose lo más concentrados posible. Esperaremos ansiosos los resultados que generalmente nos llegan a principios de noviembre. Estos resultados tienen 2 usos principales:
Los exámenes ayudan a asegurar que cada estudiante esté logrando un crecimiento académico adecuado y esperado de un nivel de grado al siguiente. Si, por alguna razón, no vemos el crecimiento esperado, nos permite tomar las acciones adecuadas.

El examen a veces revela un área de nuestro plan de estudios de primaria y / o secundaria que necesita mayor atención y enfoque. Esto es bueno para el progreso y el éxito continuo de la escuela.
¡Que tenga un fin de semana fantástico y gracias por elegir la Escuela del Sagrado Corazón!
Dr. Mark Register
President
Continúa el mes de la Herencia Hispana
A medida que continuamos con el mes de la Herencia Hispana que concluye el 15 de octubre, miramos a nuestro primer Papa elegido del nuevo mundo, de la Comunidad Hispana, nuestro Papa actual, el Papa Francisco. Él es de Argentina. Nació Jorge Mario Bergoglio el 17 de diciembre de 1936. Sus padres fueron Mario José Bergoglio y Regina Maria Sivori y es el mayor de cinco hermanos.
Antes de estudiar para el sacerdocio con la orden de los jesuitas, fue portero, conserje, estudió química y trabajó como técnico en un laboratorio de ciencias alimentarias. Muy poco después de su ordenación en 1969, fue elegido Superior Provincial de los jesuitas en Argentina y se convirtió en arzobispo de Buenos Aires en 1998. Se convirtió en Papa el 13 de marzo de 2018 tras la histórica jubilación de un Papa, el Papa Benedicto XVI. Los papas eligen su nombre y él eligió "Francisco" en honor a San Francisco de Asís, quien nos dijo que recordemos a los pobres y que los mantengamos en el centro de la misión de la iglesia. Un consejo sobre lo que se dice en los medios de comunicación tanto seculares como católicos en torno al Papa Francisco: todo lo que dice y escribe está documentado en el sitio web del Vaticano. Acude a él, como fuente original, y lee por ti mismo lo que te ha comunicado.
Esta es la cuarta y última figura católica destacada en nuestra área de Commons durante el Mes de la Herencia Hispana. En Beats anteriores escribimos sobre los santos Juan Diego, Rosa de Lima y Oscar Romero.
Octubre es el mes del respeto a la vida
No es de extrañar que la Iglesia Católica siempre ha defendido la vida mucho antes de que la Corte Suprema legalizara el aborto en los Estados Unidos el 22 de enero de 1973. La Iglesia Católica escribe sobre esto en los primeros padres de la iglesia: La Didache completada al final del primer siglo; la Carta a Bernabé escrita entre los años 70 y 132 D.C. Los papas continuaron cuando las corrientes de pensamiento en la cultura occidental estaban cambiando: Casti Connubii en 1930, Humanae Vitae en 1968, Familiaris Consortsio en 1981; Veritas Splendor en 1993; Evangelium Vitae en 1995, por nombrar algunos.
Nosotros, como Iglesia, trabajamos en todas las áreas para defender los derechos del niño en el útero; ayudar a las madres en embarazos difíciles; ayudar a los padres a ayudar a la madre a elegir la vida; ayudar después del nacimiento del niño; ayudar a quienes están de luto por la pérdida de un hijo debido al aborto; educar al público en general; cabildear con la legislación; y junto con muchos otros enfoques, ayunamos, oramos y promovemos el Evangelio de la vida. Nosotros, como Iglesia, promovemos toda la vida desde la concepción hasta la muerte natural. El aborto, si bien es un enfoque principal, no es el único enfoque de la Iglesia Católica cuando se trata de respetar la vida. Únase a nosotros para el Rosario por la Vida el 16 de octubre al mediodía frente al Centro Parroquial de la Capilla del Sagrado Corazón.
Dia de los Abuelos
Esperamos celebrar a nuestros abuelos de primaria el viernes 15 de octubre de 2021.
Comenzaremos el día con la Misa de Primaria a las 8:30 en la Iglesia del Sagrado Corazón. Después de la Misa, se invita a los abuelos a la escuela para que disfruten de donas y jugos con sus alumnos.
Los asientos se organizarán para permitir que los abuelos se sienten con todos sus nietos.
Para acomodar mejor a nuestros huéspedes, confirme su asistencia electrónicamente, a más tardar el lunes 11 de octubre.
Download Form Here.
Conferencias de Padres y Maestros
¡Esperamos verlos a todos en las Conferencias de Padres y Maestros el jueves 28 de octubre! Las conferencias de padres y maestros son una oportunidad para extender las líneas de comunicación entre el hogar y la escuela, mantener a las familias informadas sobre el progreso académico y social de sus hijos y desarrollar estrategias de comunicación bidireccional que inviten a la participación familiar y mejoren el aprendizaje de los estudiantes. Lea a continuación para obtener información adicional.
La escuela estará abierta de 12 pm a 7 pm el jueves 28 de octubre para conferencias preprogramadas.

Cada maestro tendrá un enlace personal que usará para inscribirse en una conferencia de 15 minutos.

Si tiene un estudiante de cuarto o quinto grado, le pedimos que se inscriba para una conferencia con el maestro de homeroom de su hijo.

Si desea reunirse con uno de los otros maestros, puede inscribirse por un tiempo, pero tenga en cuenta que puede perder ese tiempo si es necesario para un estudiante de homeroom.

Si su estudiante está en la escuela secundaria o preparatoria y tiene varios maestros, puede seleccionar los maestros con los que le gustaría reunirse y estarán disponibles por orden de llegada.
¡NO HABRÁ CLASES el jueves 28 de octubre!

Las conferencias se llevan a cabo en incrementos de 15 minutos, sin espacios intermedios. Es muy importante que llegue a la hora asignada y complete su conferencia dentro de los 15 minutos.
 – – Registrese haciendo clic aquí (HERE)- –
¡No olviden que el lunes es un Spirit Dress Day!
¡El lunes 11 de octubre es un Spirit Dress Day! Los estudiantes pueden usar cualquier camisa del Sagrado Corazón / Gremlin o camisa lisa roja y blanca con jeans. Los pantalones cortos y las faldas de mezclilla deben tener el largo apropiado (5 "arriba de la rodilla al arrodillarse) y no deben tener rasgaduras o deshilachados.
Key Club
La Escuela del Sagrado Corazón está aceptando nuevos miembros para Key Club. Cualquier estudiante de preparatoria es elegible para unirse. Key Club es una organización internacional dirigida por estudiantes que brinda a sus miembros oportunidades para brindar servicio, construir carácter y desarrollar liderazgo. Todos los estudiantes de  preparatoria interesados están invitados a asistir a una sesión de información el viernes 15 de octubre en el salón 206.
Obtenga más información sobre el key club en https://www.keyclub.org/about/
Bellarmanie Speech Team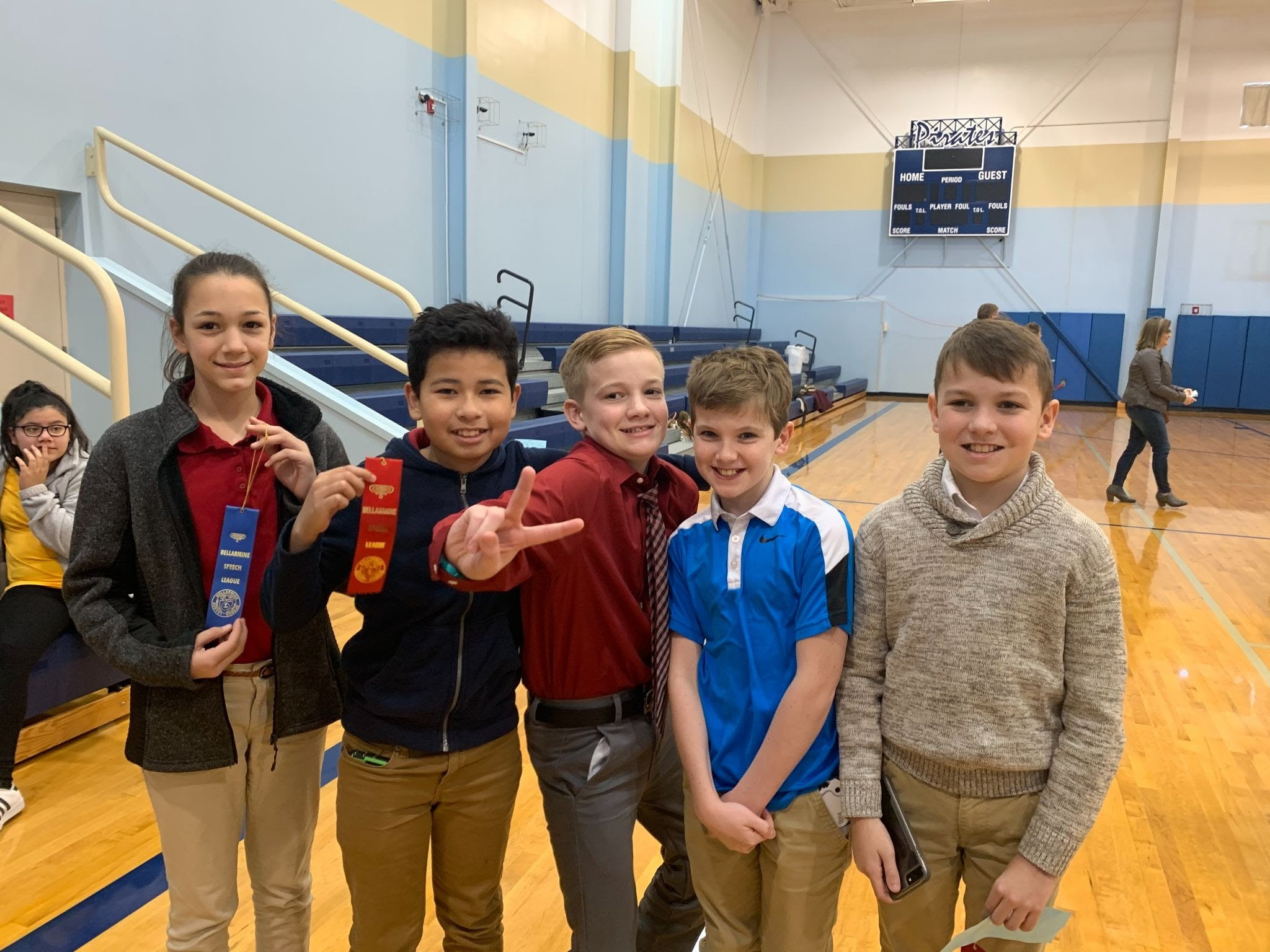 Los estudiantes en los grados 6-8 están invitados a unirse a nuestro equipo de habla de Bellarmine. La información del equipo y las inscripciones se encuentran en el tablero de anuncios fuera de la oficina del Dr. Register. Para más información  haga clic aquí (HERE).
¡Nuevo este año en la Escuela del Sagrado Corazón!
¿Quién puede unirse? Cualquiera en la clase de Introducción a FCS actual y cualquier estudiante nuevo que pueda haber tomado una clase de FCS o haber estado involucrado con FCCLA en una escuela anterior. Comuníquese con la Sra. Manning si tiene preguntas.
FCCLA es una organización estudiantil profesional y técnica que ofrece a los miembros la oportunidad de expandir su potencial de liderazgo y desarrollar habilidades para la vida: planificación, establecimiento de metas, resolución de problemas, toma de decisiones y comunicación interpersonal, todo lo necesario dentro del hogar y el lugar de trabajo. El enfoque es promover el desarrollo del carácter y el liderazgo a través de la educación en Ciencias del Consumidor Familiar. Los miembros tendrán la oportunidad de participar en proyectos de aprendizaje de servicio, eventos competitivos y establecer contactos con otros miembros en todo Estados Unidos. FCCLA es una organización nacional, estatal, regional y local.
Reunión de FCCLA Región 12: viernes 21 de octubre (9: 30-2: 00) en Smith Cotton Performing Arts Center.  Asesora: Sra. Nancy Manning
Viernes 8 de octubre
Ronda de trofeos del torneo de la conferencia de Varsity futbol soccer – horario por ser determinado en Stover

HOMECOMING DE NORTHWEST- Futbol Americano varsity en casa a las 7:00 PM
Sábado 9 de octubre
Ronda de trofeos del torneo de voleibol de la conferencia de Kaysinger,  horario por ser determinado en Cole Camp

Voleibol de primaria – Todo el dia en la Escuela del Sagrado Corazón
Lunes 11 de octubre
Golf del distrito en  Excelsior Springs
Martes 12 de octubre
Futbol soccer Varsity, JH en Cole Camp. a las 5:00pm

Voleibol Varsity, JV, JH  en Cole Camp. a las 5:30pm
Miércoles 13 de octubre
Voleibol Varsity/JV en Father Tolton, a las 5:00

Futbol soccer Varsity en casa vs Jefferson City, a las 5:00

Cross Country en Stover.a las 4:00
Jueves 14 de octubre
Cross Country en Warrensburg , horario por ser determinado

Voleibol Varsity, JV and JH en home vs LaMonte, a las 5:30, ADMIN – por ser determinados, OFICIALES- Dylan Lee, Sarah Wright, PUERTA Ms. McMullin

Futbol soccer Varsity, JH en home vs LaMonte, a las  5 (JH) seguido por Varsity.
Viernes 15 de octubre
Futbol Americano Varsity en  Norborne, a las 7:00.

Torneo de conferencia de voleibol JH 10/15-16, horario por ser determinado
Sabado 16 de octubre
Cross Country en  Smithton, horario por ser determinado
Proyecto para el refugio de animales de NJHS
APC Trunk or Treat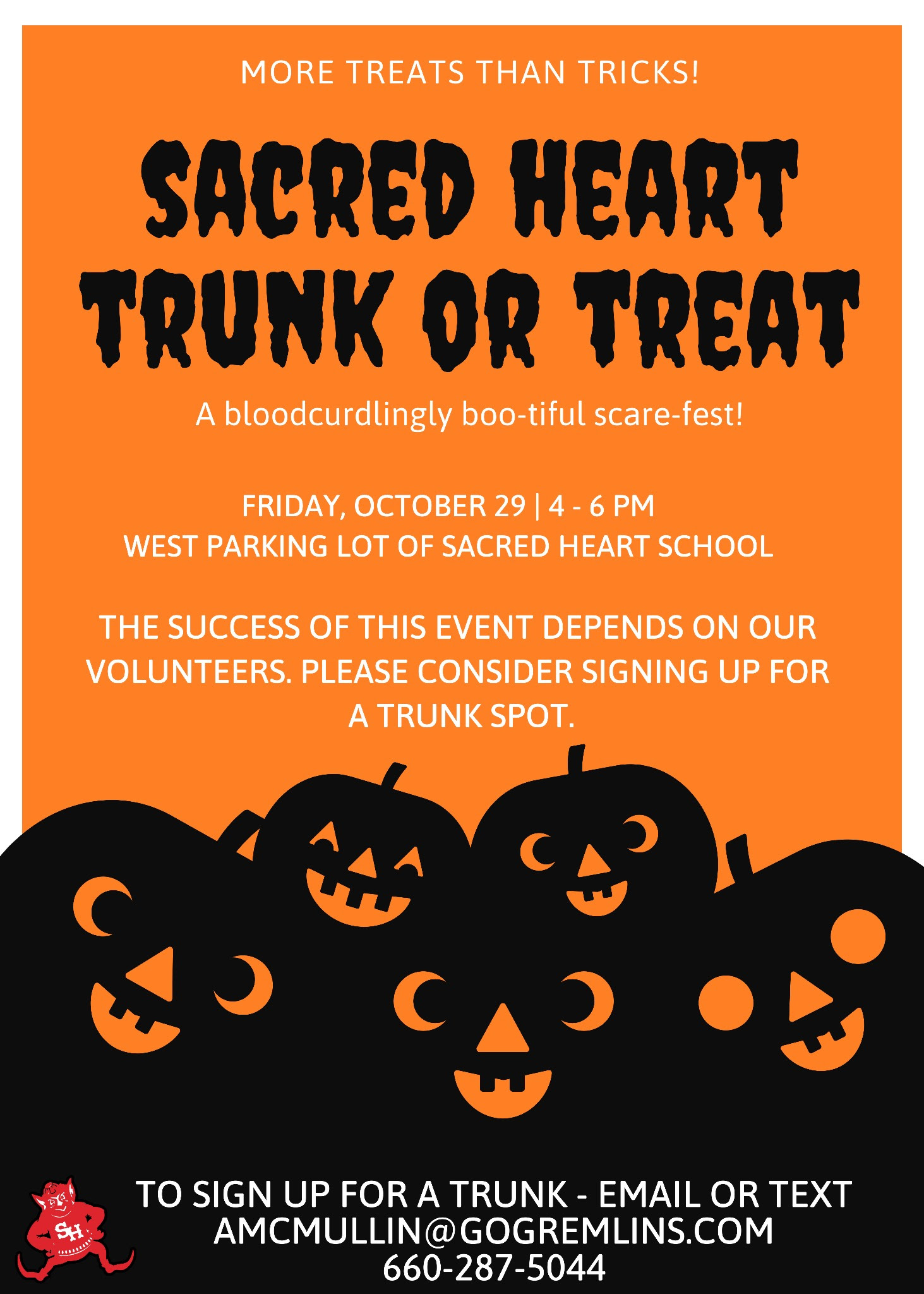 El Trunk or Treat anual de APC está de regreso y se llevará a cabo en la Escuela del Sagrado Corazón el viernes 29 de octubre, como parte del Trunk or Treat de la comunidad que se llevará a cabo. ¡Póngalo en sus calendarios para participar ya sea para ser anfitrión de un maletero
 o participar!
¡SCRIPing para bonus fest esta aqui!
¡Bonus Fest comienza hoy! . Cada fin de semana contará con una lista de marcas  diferentes , así que esté atento a sus favoritas. Esta venta solo está disponible en la aplicación RaiseRight. Si aún no ha configurado su cuenta, ¡AHORA es el momento! Busque en el sitio web de la escuela las instrucciones paso a paso para comenzar.
No olvide que tenemos varios minoristas SOLAMENTE disponibles a través de la oficina (es decir, Casey's, Cenex, Shell, Colton's, Kehde's, McD, Taco Bell, Walgreens y VISA, por nombrar algunos). Si no puede ir a la oficina, busque la mesa Scrip después de las misas este fin de semana. ¿Preguntas? Comuníquese con  Esther DeGraff al 660.827.3800 o Jen Cordia al correo electrónico  scrip@gogremlins.com.
¡Involúcrese en la mayordomía parroquial!
¿Busca formas de participar? ¡No busque más, la campaña de corresponsabilidad parroquial está en marcha! Si no ha completado sus formularios, haga clic aquí ( HERE)
Evento del equipo del ministerio juvenil de San Vicente de Paul
Las tarjetas de descuento APC están a la venta ahora
Es esa época del año otra vez … ¡Ventas de tarjetas de descuento de APC! Los sobres deberían haberse enviado a casa con su hijo la semana pasada. Ya nos han devuelto varios sobres … ¡SÍ! Si está interesado en vender tarjetas adicionales, pase por la oficina para recogerlas. Existen incentivos para vender tarjetas de descuento adicionales. Consulte los folletos incluidos en su sobre para ver los detalles. Solo un recordatorio de que la fecha límite para devolver el dinero por incentivos es el viernes 22 de octubre..
---
Queremos escucharte. Nuestro Equipo de Comunicaciones agradece los comentarios sobre nuestros esfuerzos para comunicarnos mejor con con los fieles de nuestra escuela. Te invitamos a enviarnos tus ideas, sugerencias y conocimiento por correo electrónico.