Friday, October 1
Good Afternoon and Happy Friday!
Please allow me to begin this Beat with a quick message from the Bazaar Auction Committee:
Have you been watching the weather forecast?  Us too.  We don't want Mother Nature to put the kibosh on our party Saturday night, so we are going to change things up:
We are moving the Sock Hop Bazaar Dinner Auction to the Agriculture Building on the Missouri State Fairgrounds!
Can't join us?  Don't lose your cool…you can bid from home!  Just register on our website www.bidpal.net/bazaar2021 by creating a login and password (or using yours from last year!).  That way, you will get all the details.
See you at the Sock Hop!
—————
Next, I'd like to continue today by saying THANK YOU to everyone involved in last Monday's golf event.  The weather was delightful and we had another great day of fun and fellowship in support of our wonderful school!
Special thanks to Charles and Sarah Tippie, and Angela McMullin for taking the lead in planning and coordinating the event.  Thanks to their committee members and thanks very much to all of the tournament sponsors, especially the main tournament sponsors Kyle Herrick '82 and Bryant Motors along with Sean Paul '04 and Dugan Paint and Flooring.  Please be watching for the full list of tournament sponsors in next Tuesday's Beat.
Congratulations to our winners!
Championship Flight
1st Place – Dennis Paul, Kyle Herrick '82, John Swearingen
2nd Place – Sean Paul '04, Steve Sobaski, Olivia Sobaski '16
3rd Place – Adam Pirtle, Scott Grass, Chantz Steele
"A" Flight
1st Place – Roger Kehde, Lakin Kehde '12, Jimmy Villalobos '14
2nd Place – Alan Bankovich '12, Eric George, Dwayne Polley
3rd Place – Phillip Sawyer, Sara Sawyer, Don Sawyer
"B" Flight
1st Place – Brendan Hofheins, Dalton Nilges, Pat Hofheins
2nd Place – Jeff Luebbering, Mark Kelchner, Steve Andriano
3rd Place – Tim O'Donnell '95, Kevin O'Donnell '98, Matt Dexter
Congratulations again to these winners and thanks so much to all of those who came out to play, support the school and have fun with old friends!  Please put next year's date on your calendar!  The 12 Annual Sacred Heart Classic Benefit Golf Tournament is scheduled for Monday, September 26, 2022!
Next Week is Standardized Testing Week!
IOWA Testing is next week.  Sacred Heart students in grades 3-9, along with students from across our Diocese, will be taking the IOWA tests.  These tests are valuable assessment tools not only as to the schools progress but to the progress of each individual student.
The following items are significant in helping your child do their very best:
It is extremely important that students do not miss school this week.

Make sure they get to bed early and get a good night's sleep each night.

Send them out with a good breakfast under their belts.

Without placing too much pressure on them, encourage them to concentrate and complete each test to the very best of their abilities.
Have a Wonderful Weekend and Thank You for Choosing SHS!
Dr. Mark Register
President
Sacred Heart School
A few words of gratitude seem to be in order.  It appears from all accounts that the Homecoming weekend was a great event for our students and alumni.  And, none of the pieces that fit together to make for a great weekend come together on their own.  So, thank you to the faculty, staff, parents and students who pulled together with their God given talents to make for exciting volleyball games, pep rally, soccer matches, dance, spirit dress days and more!  We have a talented group of people and I don't want it to be taken for granted nor unrecognized, so truly, thank you!
Also, on Monday, we hosted our annual golf tournament.  Again, many used their gifts of time and talents, to make it a great day and a good money maker.  I hope everyone who participated enjoyed each other's company and had a good time.
Gratitude continues for those who have been working tirelessly to prepare us for a fun time tomorrow night at the annual Bazaar. This crew is always thinking creatively on how to stay ahead of the pandemic and making it exciting with fresh ideas.  This year, we take the Bazaar to a new venue on the fairgrounds.  To all who have donated items, purchased tickets, bought your dancing gear and are ready for tomorrow, thank you for thinking of the St. Vincent de Paul and Sacred Heart School Community to make this a fun night of laughter, coming together with friends and enjoying all God has given to us who invites us to keep it going into the future.  We look forward to seeing you at 5:30 tomorrow at the Agriculture building on the fairgrounds.
7th grade Students receive the Bible during Mass on the Feast of St. Jerome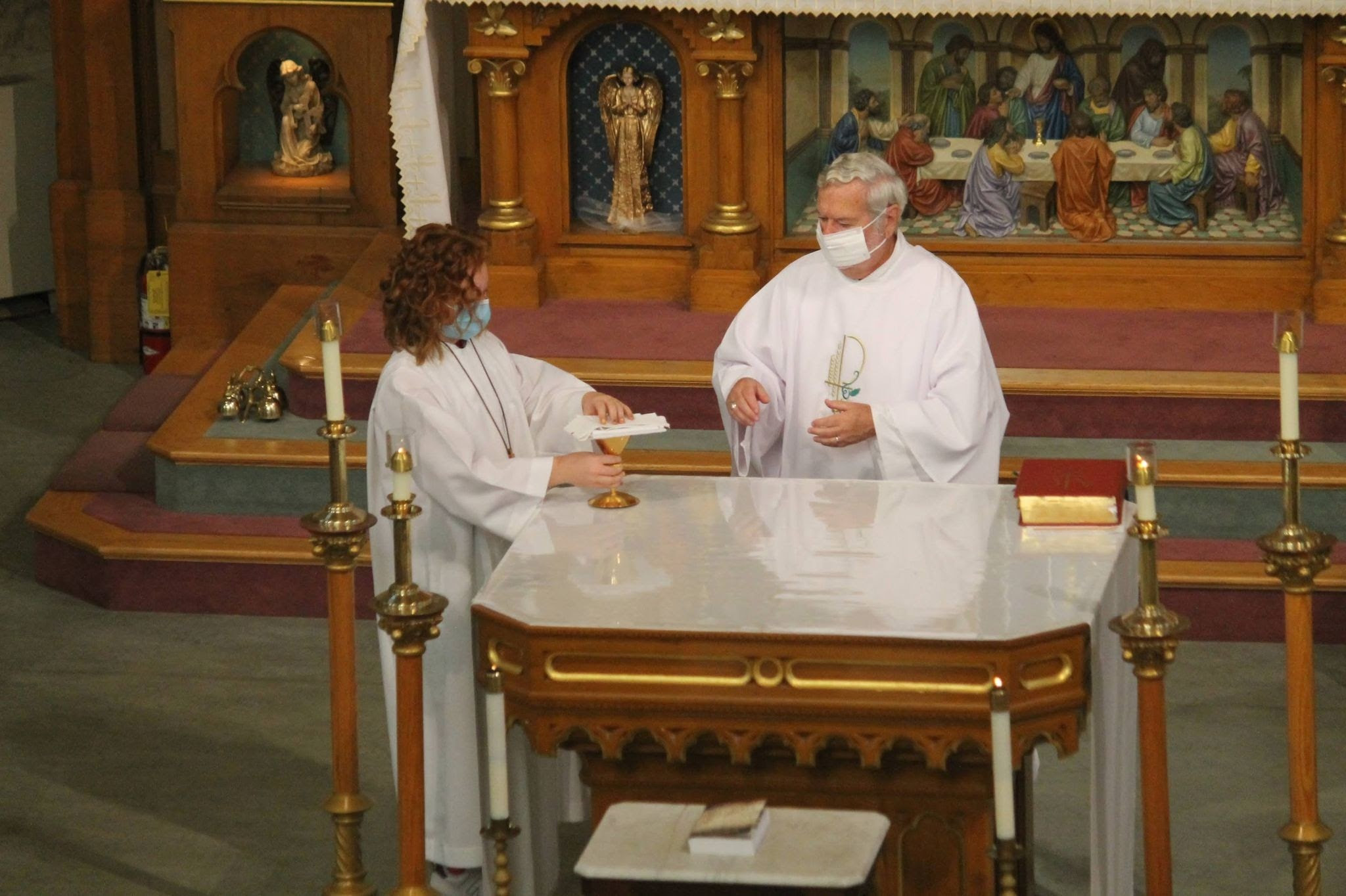 As we inaugurate our second year of the armor of God prayer services, we start with the seventh grade students receiving the word of God written in the sacred scriptures. On Thursday, they received their bible during Mass celebrated by Fr Veit on the Feast of St. Jerome, a Bible Scholar who wrote multiple commentaries on the scriptures as well as translating the Bible into Latin, the translation known as the Vulgate.
Time and Talent forms for all Saint Vincent de Paul Parishioners and Sacred Heart Parents
Part of registration is filling out the latest time and talent forms. There is a Time and Talent form for those who worship in another faith tradition that only lists the areas of need for our school and there is a form for those who worship with us at St Vincent de Paul.  If you did not fill out a Time and Talent Form as part of your 21-22 registration packet please fill one out now.  If you did fill one out at registration, there is no need to fill out another one at this time.  Forms can be found by clicking HERE.
Hispanic Heritage Month:  Saint Oscar Romero, Patron Saint of El Salvador
Saint Oscar Romero (August 15, 1917 – March 24, 1980) was archbishop of San Salvador of El Salvador from March 12, 1977 – March 24, 1980. During his time as priest, bishop and archbishop, he tried to bring people together from many political parties and from many factions within the Church. Forever ministering in the reality that people were trying to take his life; one gunman finally succeeded in assassinating the archbishop.
Many years went by before an investigation into his murder was opened.  To this day, he is beloved by the people of El Salvador and is a testament to all who try to bring unity and peace where there is disunity and unrest.  He is the patron saint of El Salvador. Many of our Hispanic brothers and sisters living in Marshall and Sedalia come from El Salvador.
Life Chain THIS SUNDAY
Life Chain is the largest peaceful, prayerful, pro-life, public witness in the world.  Life Chains will be held throughout the United States and Canada.  Local pro-life people will be lining up along Hwy. 50 West beginning at the north end of the Wal-Mart parking lot.  At 1:30 there will be instructions and opening prayer.  The Life Chain will last from 2:00 – 3:00 p.m.
Please join your fellow area Christians in standing up for Life.  Let us all do our part to defend life!
St. Vincent de Paul Youth Ministry Team Event
Message From the Principal
Blessing of the Pets
October 4th is the feast day of St. Francis of Assisi. On his feast day, it is customary for parish members to bring their pets for the priest to bless their animals. This blessing is conducted in remembrance of St. Francis of Assisi's love for all creatures. On Monday October 4, we will continue our tradition of elementary students attending the Blessing of the Pets.
The blessing will take place on the blacktop on the north side of the school. Parents can report to the playground with their pet.  All students are to report to the classroom for lunch count and attendance.  Elementary students will be dismissed to the playground following morning prayer and announcements.
After the blessing has taken place, the parent and pet will be dismissed and students will return to the classroom.  Unfortunately, we cannot have animals remain with us during the school day.  Cats and other critters should be contained in a cage or carrier.  Dogs must be on a leash.
If it is not possible for the child and parent to bring their pet, the student can bring a picture of the animal to the blessing.
FACTS:  How using FACTS Benefits Parents!
Some of the benefits to using these new features are that you can track your lunch fees, tuition fees, class dues, and other financial information. You may also pre-pay for lunches and other services. You are encouraged to explore the financial section within your Family Portal account. Please note that students do not have access to this financial information.
We encourage you to register as a user for your Family Portal here: https://shs-mo.client.renweb.com/pwr/
If you have any questions please contact Jessica Pyle, Finance Director at jpyle@gogremlins.com
A benefit to using FACTS is that each parent and student (6th grade and older) may have their own login. If you do not have your own login please contact the office at office@gogremlins.com
Students are able to view only their information:
Assignments, Missing Assignments, Grades, and their Attendance
Parents are able to view all information for each student in their family:
Assignments, Missing Assignments, Grades, Attendance, Financial, and Update Contact Information
All families are asked to have a FACTS account with updated contact information. This is the main communications portal for all school families. If you do not have your own login please contact the office at office@gogremlins.com.
Dress Down to Benefit NCYC
On Wednesday, October 6 students will have the opportunity to participate in a Paid Dress Down Day, benefitting NCYC. The funds raised will benefit our Sacred Hearts students who will be joining other youth from across the Diocese, and country, at the National Catholic Youth Conference in Indianapolis in November.
Elementary Grandparents Day
It is our privilege to invite the grandparents of our elementary students to spend the morning with us on Friday, October 15..  We will begin the day with Elementary Mass at 8:30 in Sacred Heart Church (grandparents can meet their students at the church).  Following Mass, grandparents will be invited to the school to enjoy donuts and juice (provided by Active Parents Club) with their students.  In order to best accommodate our guests, please electronically RSVP here, no later than Monday, October 11.
2021 Fall Homecoming
Congratulations to all of our Homecoming Court. Senior Claire Smeltzer and Bruno Saucedo, Juniors Catlin Carrico and Eli Smeltzer, Sophomores Ximena Lopez and Thomas Mertes, Freshmen Avery Epple and Joshua Pacheco. The 2021 Fall Homecoming Queen is Catlin Carrico and Homecoming King is Eli Smeltzer.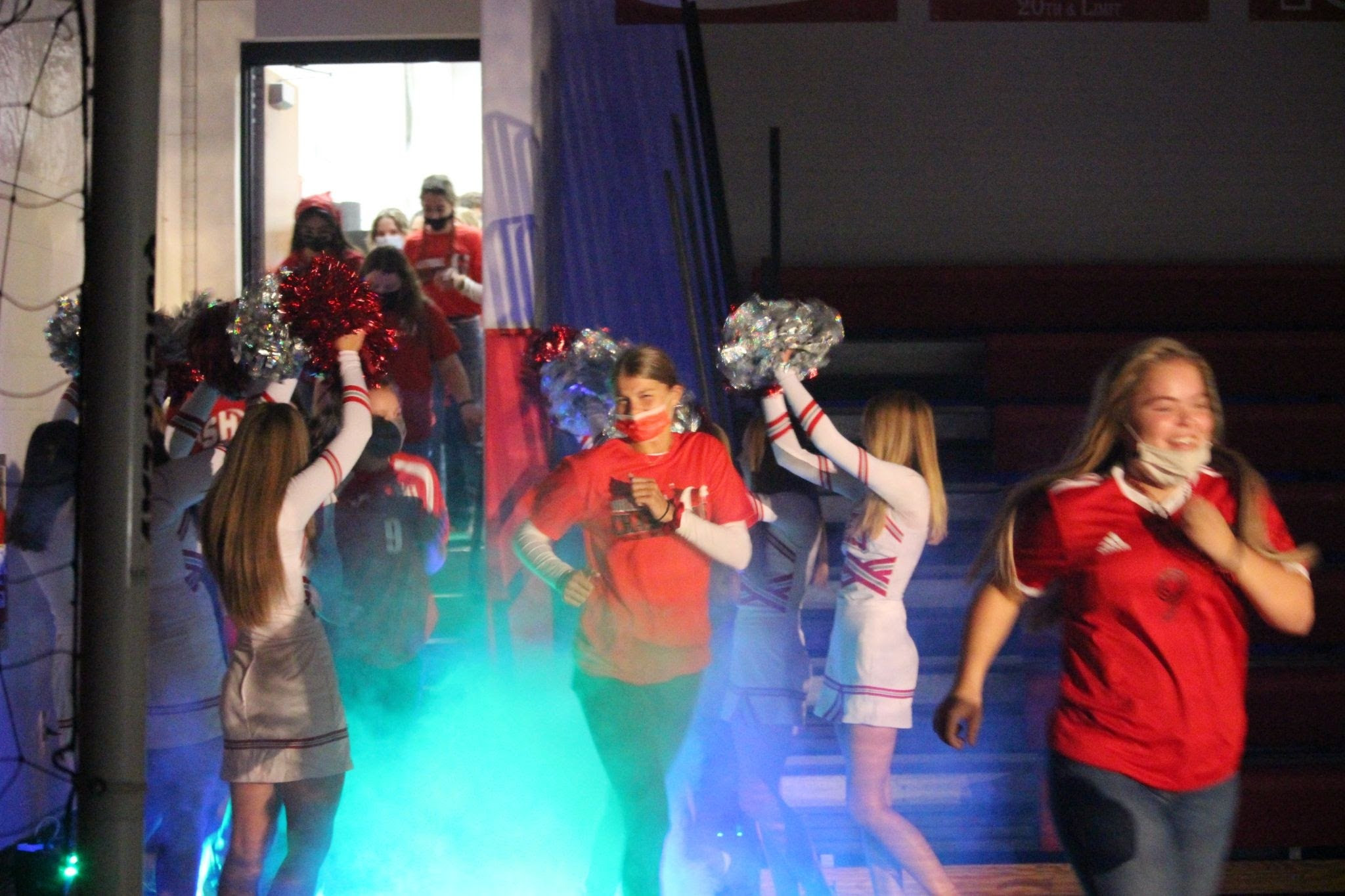 Elementary Youth Basketball Sign ups
CHECK THOSE BACKPACKS FOR 3RD THROUGH 6TH GRADERS!!! KAYSINGER YOUTH BASKETBALL SIGN UPS CAME HOME TODAY!!! Registrations are due back by October 11th, please contact Kevin Grose with any questions at all @ 660-221-7094 or @ kevingrose24@yahoo.com.
Grades 3-6 Winter Basketball Form (Download)
Kaysinger Conference Tournaments
KAYSINGER CONFERENCE TOURNAMENT TOURNAMENT ACTION STARTS THIS WEEK!
Volleyball & Soccer start conference tournament play this week!
Soccer is hosted at Stover and the schedule is as follows:
10/4- 5PM vs Green Ridge

10/6- 7PM vs Cole Camp

10/8- FINALS- time TBD
Volleyball is hosted at Cole Camp and the schedule is as follows:
10/7- 4PM vs Smithton, 7PM vs Green Ridge, 8PM vs LaMonte

10/9- TBD
List of next  week's games:
Stay up to date on all of our athletic calendars at https://www.mshsaa.org/MySchool/?s=573
Friday, October 1st
JH Soccer @ LaMonte, start time 5pm

Varsity Soccer @ Pleasant Hill, start time 6pm

Varsity Football @ Concordia, start time 7pm
Saturday, October 2nd
Varsity Volleyball @ Warrensburg Tournament

Cross Country @ Calvary Lutheran
Monday, October 4th
JH Football @ Braymer, start time 6:00pm

Varsity Soccer start's conference tournament play vs Green Ridge – 5pm in Stover
Tuesday, October 5th
Varsity, JV and JH Volleyball @ home vs Northwest, start time 5:30
Wednesday, October 6th
Varsity Soccer in conference tournament play vs Cole Camp – 7pm in Stover

JH Soccer @ Marshall, start time 5:00PM

Varsity, JV Volleyball @ Smithton, start time 5:30PM
Thursday, October 7th
JH soccer@ home vs Christian Fellowship, start time 5:00 PM

Varsity Golf @ home- quad – Butler, Cole Camp, Green Ridge, start time 4:00PM

Varsity Volleyball starts conference tournament play @ Cole Camp, times TBD- days of play are 10/7 & 10/9
Friday, October 8th
Varsity Soccer conference tournament trophy round – Time TBD in Stover

NORTHWEST HOMECOMING – Varsity Football @ home, start time 7:00PM
SCRIPing for Bonus Fest!
Bonus Fest begins in one week!  Each weekend in October, starting on the 8th, there will be a 3 day bonus sale.  Each weekend will feature a different list of brands, so be on the lookout for your favorites.  This sale is only available on the RaiseRight app.  If you haven't already set-up your account NOW is the time!  Look on the school's website for step by step instructions to get started.
If you didn't hear last week … Walmart now allows you to pay with gift cards when you shop using Walmart pick-up!!!  You can now have your rebates and your pick-up at the same time!!!  There are two ways to use a gift card for your purchase – you can either load the gift card to your Walmart account or you can enter gift card information at checkout.  You can use physical cards purchased through the office or after Mass, or electronic gift cards purchased through the RaiseRightApp.  It's as easy as 1-2-3!!
Our next in house order will be Tuesday, October 5th.  All orders turned into the office by the end of school, or placed through the RaiseRight app by 5 pm, on Monday, October 4th will be included.  Orders should be ready for pick-up by Monday, October 11th.  Don't forget we have several retailers ONLY available through the office (i.e. Casey's, Cenex, Shell, Colton's, Kehde's, McD, Taco Bell, Walgreens, and VISA to name a few).  If you can't make it to the office, look for the Scrip table after Masses this weekend.  Questions? Contact Esther DeGraff at 660.827.3800 or Jen Cordia at scrip@gogremlins.com.
APC Discount Cards On Sale Now
It's that time of year again … APC discount card sales!  Envelopes should have gone home with your child last week.  We've already had several envelopes returned … YEAH!  If you are interested in selling extra cards, stop by the office to pick them up.  There are incentives for selling extra discount cards.  Checkout the flyers included in your envelope to see the details.  Just a reminder the deadline for returning money for incentives is Friday, October 22nd.
The next APC meeting is Friday, October 8th at noon.  If you are looking for a way to get involved we would love to see you at our meetings the second Friday of the month during the school year.
Blood Drive Coming NEXT WEEK
Have you scheduled an appointment to SAVE a LIFE?  Sign up with Mrs. Hagebusch to reserve your donation spot for the Sacred Heart Blood Drive or follow the directions on the flyer below.
When:     Thursday, October 7th
Time:         12:00 pm and 5:30 pm
Where:      Sacred Heart School Hoying Gym.
Turkey Trot
Click Here for Volunteer Sign Up Forms
---
We value your voice.  Our Communications Team welcomes feedback on our efforts to better communicate with the faithful of our school.  We invite you to send us your ideas, suggestions, and insights by email.
Viernes 1 de octubre
¡Buenas tardes y feliz viernes!
Permítanme comenzar este Beat con un mensaje rápido del Comité de Subastas de Bazaar:
¿Han estado mirando el pronóstico del tiempo? Nosotros también. No queremos que la madre naturaleza ponga el freno a nuestra fiesta el sábado por la noche, así que vamos a cambiar las cosas:
¡Vamos a trasladar la Cena de Subasta  Bazar Sock Hop al Edificio de Agricultura en los terrenos de la feria del estado de Missouri!
¿No puede  unirte a nosotros? No pierdas la calma … ¡puede dar su oferta desde casa! Simplemente regístrese en nuestro sitio www.bidpal.net/bazaar2021 creando un nombre de usuario y contraseña (¡o usando el suyo del año pasado!). De esa forma, obtendrás todos los detalles.
¡Nos vemos en el Sock Hop!
—————
Ahora, me gustaría decirle GRACIAS a todos los que participaron en el evento de golf del lunes pasado. ¡El clima estuvo delicioso y tuvimos otro gran día de diversión y compañerismo en apoyo de nuestra maravillosa escuela!
Un agradecimiento especial a Charles y Sarah Tippie, y Angela McMullin por liderar la planificación y coordinación del evento. Gracias a los miembros de su comité y muchas gracias a todos los patrocinadores del torneo, especialmente a los patrocinadores principales del torneo Kyle Herrick '82 y Bryant Motors junto con Sean Paul '04 y Dugan Paint and Flooring. Esté atento a la lista completa de patrocinadores del torneo en Beat del próximo martes.
¡Felicitaciones a nuestros ganadores!
Vuelo de campeonato
1er lugar – Dennis Paul, Kyle Herrick '82, John Swearingen
2do lugar: Sean Paul '04, Steve Sobaski, Olivia Sobaski '16
3er lugar – Adam Pirtle, Scott Grass, Chantz Steele
Vuelo "A"
1er lugar – Roger Kehde, Lakin Kehde '12, Jimmy Villalobos '14
2do lugar – Alan Bankovich '12, Eric George, Dwayne Polley
3er lugar – Phillip Sawyer, Sara Sawyer, Don Sawyer
Vuelo "B"
1er lugar – Brendan Hofheins, Dalton Nilges, Pat Hofheins
2do lugar – Jeff Luebbering, Mark Kelchner, Steve Andriano
3er lugar – Tim O'Donnell '95, Kevin O'Donnell '98, Matt Dexter
¡Felicidades nuevamente a estos ganadores y muchas gracias a todos los que vinieron a jugar, apoyar a la escuela y divertirse con viejos amigos! ¡Anote la fecha del próximo año en su calendario! ¡El 12º Torneo Anual de Golf Beneficioso Clásico del Sagrado Corazón está programado para el lunes 26 de septiembre de 2022!
¡La próxima semana es la semana de exámenes estandarizados!
Los exámenes IOWA son la siguiente semana. Los estudiantes del Sagrado Corazón en los grados 3-9, junto con los estudiantes de toda nuestra Diócesis, tomarán los exámenes de IOWA. Estos exámenes  son valiosas herramientas de evaluación no sólo en cuanto al progreso de las escuelas, sino también al progreso de cada estudiante en particular.
Los siguientes elementos son importantes para ayudar a su hijo a dar lo mejor de sí:
Es extremadamente importante que su hijo no falte a la escuela esta semana.

Asegúrese de que vayan a dormir temprano y que descansen lo suficiente cada noche.

Envíalos con un buen desayuno.

Animarlos a concentrarse y completar cada examen lo mejor que pueda sin poner demasiada presión sobre ellos.
¡Que tenga un fin de semana maravilloso y gracias por elegir la escuela del Sagrado Corazón!
Dr. Mark Register
Presidente
Escuela del Sagrado Corazón
Algunas palabras de gratitud parecen estar en orden. Según todos los informes, el fin de semana de Homecoming fue un gran evento para nuestros estudiantes y ex alumnos. Y, ninguna de las piezas que encajan juntas para hacer un gran fin de semana se unen por sí solas. Así que, gracias a la facultad, el personal, los padres y los estudiantes que se unieron con los talentos que Dios les dio para crear emocionantes juegos de voleibol, reunión de motivación, partidos de fútbol, baile, Spirit Dress Day y más. Tenemos un grupo de personas talentosas que no queremos dejar de  reconocer, así que sinceramente, ¡gracias!
 Además, el lunes organizamos nuestro torneo anual de golf. Nuevamente, muchos usaron sus dones de tiempo y talentos para que fuera un gran día y una buena fuente de ingresos. Espero que todos los que participaron hayan disfrutado de la compañía de los demás y se hayan divertido.
 La gratitud continúa por aquellos que han estado trabajando incansablemente para prepararnos para un momento divertido mañana por la noche en el Bazar anual. Este equipo siempre está pensando de manera creativa en cómo mantenerse a la vanguardia de la pandemia y hacerlo emocionante con nuevas ideas. Este año, llevamos el Bazar a los terrenos de la feria. A todos los que han donado artículos, compraron boletos, compraron su equipo de baile y están listos para mañana, gracias por pensar en la comunidad escolar de St. Vincent de Paul y Sacred Heart para hacer de esta una divertida noche de risas, reunirse con amigos y disfrutando de todo lo que Dios nos ha dado, quien nos invita a mantenerlo en el futuro. Esperamos verlos mañana a las 5:30 en el edificio de agricultura  en los terrenos de la feria.
Los estudiantes del grado 7 reciben la Biblia durante la misa en la fiesta a San Jerónimo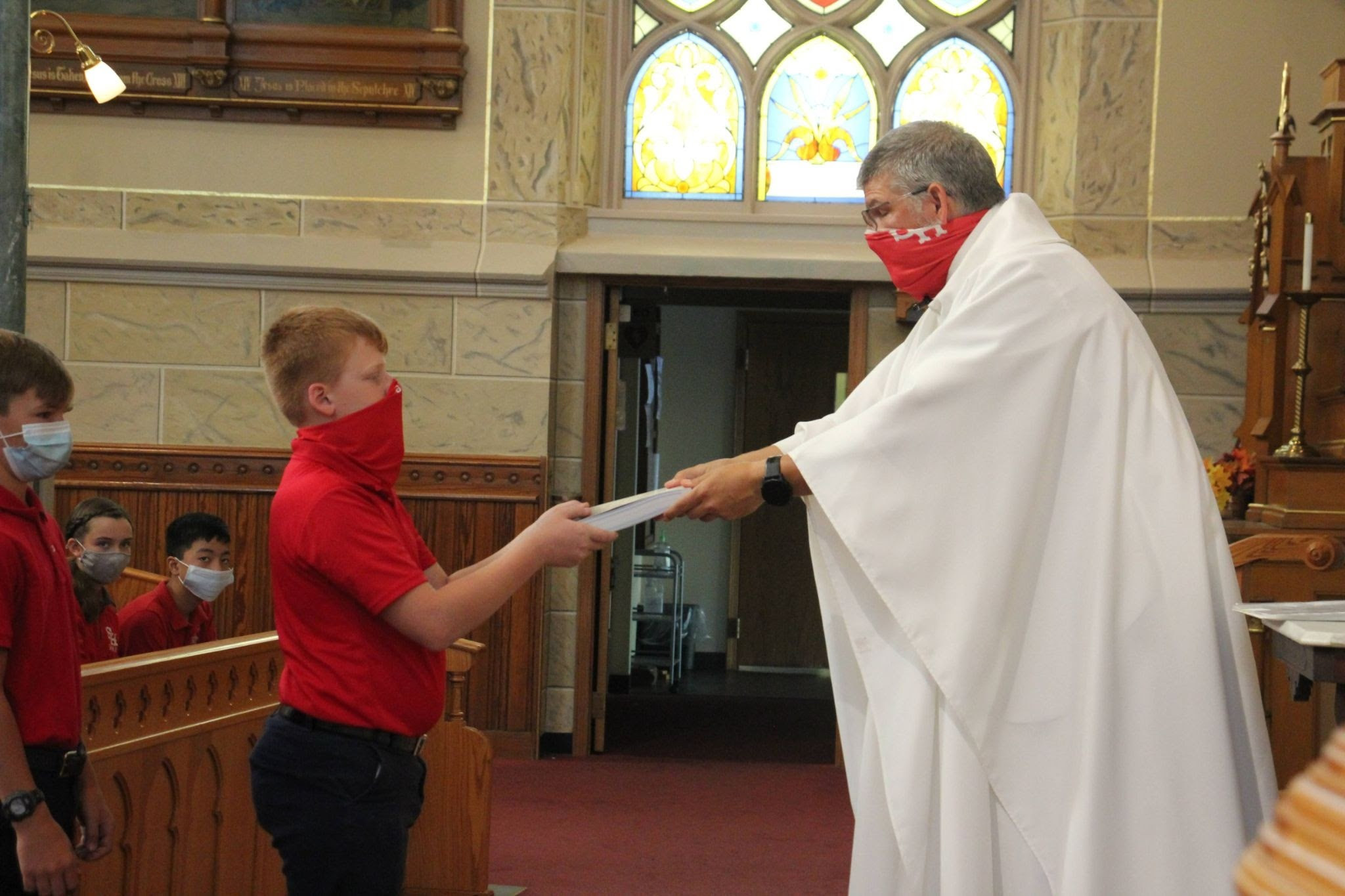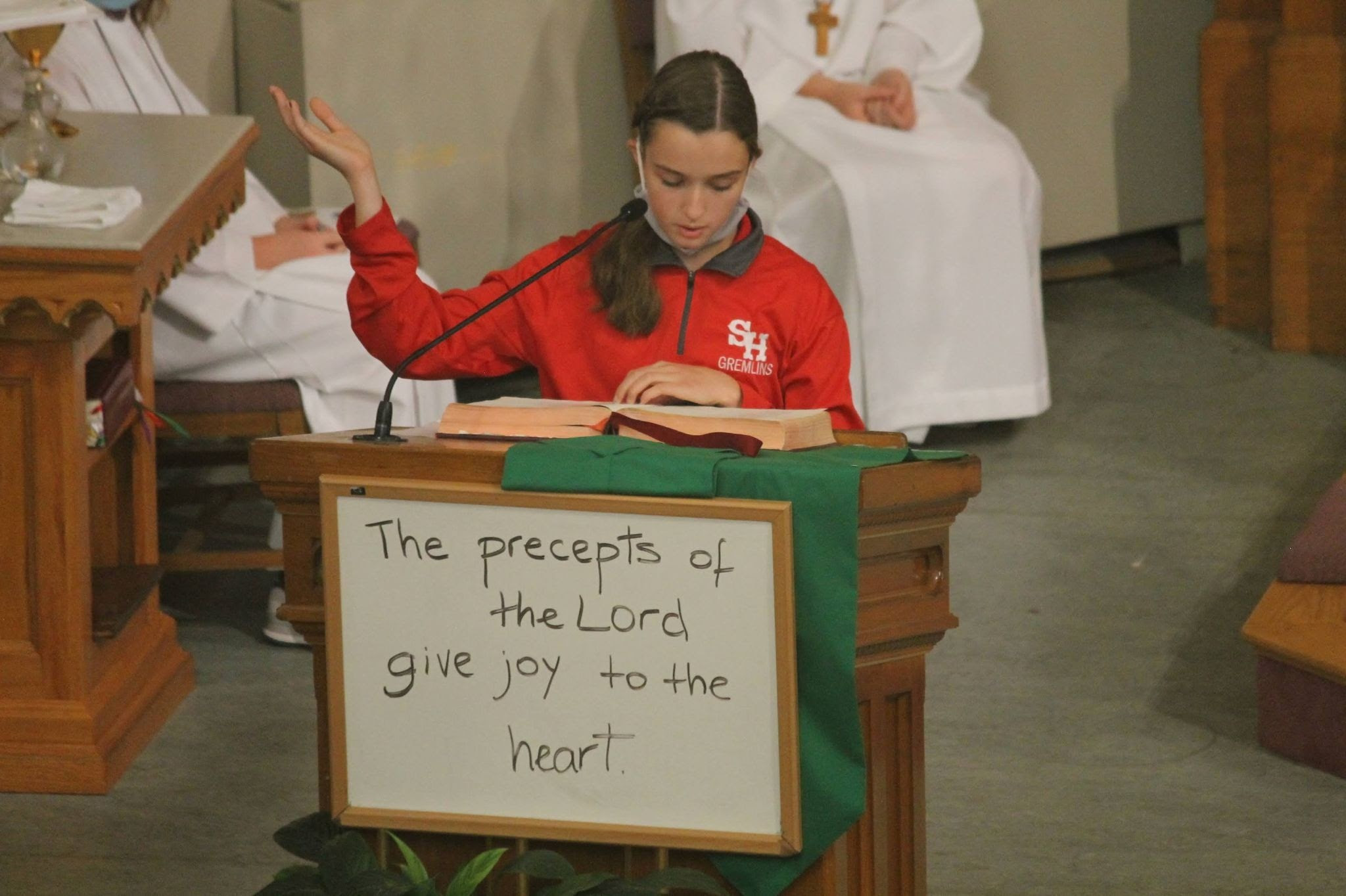 Al inaugurar nuestro segundo año de los servicios de oración de la armadura de Dios, comenzamos con los estudiantes de séptimo grado recibiendo la palabra de Dios escrita en las Sagradas Escrituras. El jueves, recibieron su Biblia durante la misa celebrada por el padre Veit en la fiesta de San Jerónimo, un estudioso de la Biblia que escribió múltiples comentarios sobre las escrituras y también tradujo la Biblia al latín, la traducción conocida como Vulgata.
Formularios de Tiempo y Talento para todos los feligreses de San Vicente de Paul y Padres de familia de la escuela del Sagrado Corazón.
Parte del registro consiste en completar los formularios de tiempo y talento más recientes. Hay un formulario de Tiempo y Talento para aquellos que adoran en otra tradición de fe que sólo enumera las áreas de necesidad de nuestra escuela y hay un formulario para aquellos que adoran con nosotros en San Vicente de Paúl. Si no llenó un formulario de tiempo y talento como parte de su paquete de registro 21-22, complete uno ahora. Si llenó uno al registrarse, no es necesario que complete otro en este momento. Los formularios se pueden encontrar haciendo clic aquí ( HERE).
Mes de la Herencia Hispana:  Santo Oscar Romero, Santo Patron de El Salvador
San Oscar Romero (15 de agosto de 1917 – 24 de marzo de 1980) fue arzobispo de San Salvador de El Salvador del 12 de marzo de 1977 al 24 de marzo de 1980. Durante su tiempo como sacerdote, obispo y arzobispo, trató de unir a personas de muchos partidos políticos y de muchas facciones dentro de la Iglesia. Siempre ministrando en la realidad de que la gente estaba tratando de quitarle la vida; un pistolero finalmente logró asesinar al arzobispo. Pasaron muchos años antes de que se abriera una investigación sobre su asesinato. Hasta el día de hoy, es amado por la gente de El Salvador y es un testimonio para todos los que intentan llevar la unidad y la paz donde hay desunión y malestar. Es el santo patrón de El Salvador. Muchos de nuestros hermanos y hermanas hispanos que viven en Marshall y Sedalia provienen de El Salvador.
La cadena de vida es este domingo
La cadena de vida  es el testimonio público pro-vida, pacífico y de oración más grande del mundo. Las cadenas de vida se llevarán a cabo en todo Estados Unidos y Canadá. La gente local pro-vida hará fila a lo largo del Hwy. 50 comenzando en el extremo norte del estacionamiento de Wal-Mart. A la 1:30 habrá instrucciones y oración de apertura. La Cadena de Vida durará de 2:00 a 3:00 p.m.
Únase a sus compañeros cristianos del área para defender la vida. ¡Hagamos todos nuestra parte para defender la vida!
Evento del Equipo de Ministro Juvenil de San Vicente de Paul
Bendición de las mascotas
El 4 de octubre es la fiesta de San Francisco de Asís. El día de su fiesta, es costumbre que los miembros de la parroquia traigan a sus mascotas para que el sacerdote bendiga a sus animales. Esta bendición se lleva a cabo en recuerdo del amor de San Francisco de Asís por todas las criaturas. El lunes 4 de octubre, continuaremos nuestra tradición de que los estudiantes de primaria asistan a la Bendición de las mascotas.
La bendición se llevará a cabo en el asfalto del lado norte de la escuela. Los padres pueden presentarse en el patio de recreo con su mascota. Todos los estudiantes deben reportarse al salón de clases para el recuento de almuerzos y asistencia. Los estudiantes de primaria serán despedidos al patio de recreo después de la oración y los anuncios de la mañana.
Después de que se lleve a cabo la bendición, los padres de familia y la mascota serán despedidos y los estudiantes regresarán al salón de clases. Desafortunadamente, no podemos permitir que los animales se queden con nosotros durante el día escolar. Los gatos y otras criaturas deben estar en una jaula o transportador. Los perros deben llevar correa.
Si no es posible que el niño y los padres traigan a su mascota, el estudiante puede traer una fotografía del animal a la bendición.
FACTS: ¡Cómo el uso de FACTS beneficia a los padres de familia!
Algunos de los beneficios de utilizar estas nuevas funciones son que puede realizar un seguimiento de sus tarifas de almuerzo, colegiatura, cuotas de clase y otra información financiera. También puede pagar por adelantado los almuerzos y otros servicios. Se le anima a explorar la sección financiera dentro de su cuenta de Family Portal. Tenga en cuenta que los estudiantes no tienen acceso a esta información financiera.
Los  animamos a que se registren como usuario de su portal familiar aquí
: https://shs-mo.client.renweb.com/pwr/
Si tiene preguntas, comuníquese con Jessica Pyle, Directora financiera al correo electrónico jpyle@gogremlins.com
Un beneficio de usar FACTS es que cada padre y estudiante (sexto grado en adelante) puede tener su propia cuenta. Si no tiene su propia cuentan, comuníquese con la oficina al correo electrónico
Los estudiantes solo pueden ver su información:
Tareas, Tareas faltantes, Calificaciones y su asistencia
Los padres pueden ver toda la información de cada estudiante de su familia:
Tareas, tareas faltantes, calificaciones, asistencia, información financiera y de contacto actualizada
Se pide a todas las familias que tengan una cuenta FACTS con información de contacto actualizada. Este es el principal portal de comunicaciones para todas las familias escolares. Si no tiene su propio nombre de usuario, comuníquese con la Sra. Manning en la oficina.
Dress Down a beneficio de NCYC
El miércoles 6 de octubre, los estudiantes tendrán la oportunidad de participar en un Paid Dress Down Day, en beneficio del NCYC. Los fondos recaudados beneficiarán a nuestros estudiantes del Sagrado Corazón que se unirán a otros jóvenes de toda la Diócesis y el país en la Conferencia Nacional de Jóvenes Católicos en Indianápolis en noviembre.
Dia de los abuelos para la primaria
Es un privilegio para nosotros invitar a los abuelos de nuestros estudiantes de primaria a pasar la mañana con nosotros el viernes 15 de octubre. Comenzaremos el día con la misa de primaria a las 8:30 en la iglesia del Sagrado Corazón (los abuelos pueden encontrarse con sus estudiantes en la iglesia ). Después de la Misa, se invitará a los abuelos a la escuela para disfrutar de donas y jugo (proporcionado por Active Parents Club) con sus estudiantes. Para acomodar mejor a nuestros huéspedes, confirme su asistencia aquí electrónicamente, a más tardar el lunes 11 de octubre.
Homecoming de otoño 2021
Felicitaciones a todos los miembros de nuestro Homecoming Court. Senior Claire Smeltzer y Bruno Saucedo, Juniors Catlin Carrico y Eli Smeltzer, Sophomores Ximena Lopez y Thomas Mertes, Freshmen Avery Epple y Joshua Pacheco. La reina del Homecoming de otoño de 2021 es Catlin Carrico y el rey del Homecoming  Eli Smeltzer.
Inscripciones de baloncesto juvenil de primaria
¡Revisen las mochilas de sus hijos que están entre tercer y sexto grado! HOY SE ENVIARAN A CASA LOS FORMULARIOS DE REGISTRO PARA BALONCESTO JUVENIL HOYKAYSINGER. Los formularios de registros deben ser entregadas antes del 11 de octubre. Favor de comunicarse con Kevin Grose si tienen alguna pregunta al 660-221-7094 o al correo electrónico  kevingrose24@yahoo.com.
Formulario para Registrarse para baloncesto de invierno (Download)
Torneo de Conferencia Kaysinger
¡LA ACCIÓN DEL TORNEO DEL TORNEO DE LA CONFERENCIA DE KAYSINGER COMIENZA ESTA SEMANA!
¡Voleibol y fútbol soccer comienzan el torneo de conferencias esta semana!
El fútbol se realiza en Stover y el calendario es el siguiente:
10/4- 5PM vs Green Ridge

10/6- 7PM vs Cole Camp

10/8- FINALES – HORARIO POR SER DETERMINADO
El voleibol se lleva a cabo en Cole Camp y el horario es el siguiente:
10/7- 4PM vs Smithton, 7PM vs Green Ridge, 8PM vs LaMonte

10/9- HORARIO POR SER DETERMINADO
Lista de partidos de la próxima semana:
Manténgase actualizado en todos nuestros calendarios deportivos en
 https://www.mshsaa.org/MySchool/?s=573
Viernes 1 de octubre
JH futbol Soccer en LaMonte, a las 5pm

Varsity futbol Soccer en Pleasant Hill, a las 6pm

Varsity Football americano en Concordia, a las 7pm
Sábado 2 de octubre
Varsity voleibol en el torneo de Warrensburg

Cross Country en  Calvary Lutheran
Lunes 4 de octubre
JH Football americano en Braymer, a las 6:00pm

Varsity futbol Soccer comienza el torneo vs Green Ridge – 5pm en Stover
Martes 5 de octubre
Varsity, JV y JH voleibol en home vs Northwest, a las 5:30
Miércoles 6 de octubre
Varsity futbol Soccer en el torneo de conferencia  vs Cole Camp – a las 7pm en Stover

JH futbol Soccer en Marshall, a las 5:00PM

Varsity, JV voleibol en Smithton, a las 5:30PM
Jueves 7 de octubre
JH futbol soccer en casa  vs Christian Fellowship, a las 5:00 PM

Varsity Golf en casa- quad – Butler, Cole Camp, Green Ridge, a las 4:00PM

Varsity voleibol comienza el torneo en Cole Camp, HORARIO POR SER DETERMINADO- jugarán el 7 y el 9 de octubre
Viernes 8 de octubre
Varsity  fútbol soccer- ronda de trofeos del torneo de  conferencia de fútbol -horario por ser determinado en Stover

HOMECOMING de NORTHWEST – Varsity Football americano en casa, a las 7:00PM
 SCRIPing para Bonus Fest!
¡Bonus Fest comienza en una semana! Cada fin de semana de octubre, a partir del día 8, habrá una venta de bonificación de 3 días. Cada fin de semana contará con una lista diferente de marcas, así que esté atento a sus favoritas. Esta venta solo está disponible en la aplicación RaiseRight. Si aún no ha configurado su cuenta, ¡AHORA es el momento! Busque en el sitio web de la escuela las instrucciones paso a paso para comenzar.
Si no escuchó la semana pasada … ¡Walmart ahora le permite pagar con tarjetas de regalo cuando compra usando el servicio de recogido de Walmart! ¡Ahora puede tener sus reembolsos y su retiro al mismo tiempo! Hay dos formas de usar una tarjeta de regalo para su compra: puede cargar la tarjeta de regalo en su cuenta de Walmart o puede ingresar la información de la tarjeta de regalo al finalizar la compra. Puede usar tarjetas físicas compradas en la oficina o después de la misa, o tarjetas de regalo electrónicas compradas a través de RaiseRightApp. ¡Es tan fácil como 1-2-3 !
Nuestro próximo pedido en casa será el martes 5 de octubre. Se incluirán todos los pedidos entregados a la oficina al final de la escuela, o realizados a través de la aplicación RaiseRight antes de las 5 pm, el lunes 4 de octubre. Los pedidos deben estar listos para ser recogidos a más tardar el lunes 11 de octubre. No olvide que tenemos varios minoristas SOLAMENTE disponibles a través de la oficina (es decir, Casey's, Cenex, Shell, Colton's, Kehde's, McD, Taco Bell, Walgreens y VISA, por nombrar algunos). Si no puede ir a la oficina, busque la mesa Scrip después de las misas este fin de semana. ¿Preguntas? Comuníquese con  Esther DeGraff al 660.827.3800 o Jen Cordia al correo electrónico  scrip@gogremlins.com.
Las tarjetas de descuento APC están disponibles
Es esa época del año otra vez … ¡Ventas de tarjetas de descuento de APC! Los sobres deberían haberse enviado a casa con su hijo la semana pasada. Ya nos han devuelto varios sobres … ¡SÍ! Si está interesado en vender tarjetas adicionales, pase por la oficina para recogerlas. Existen incentivos para vender tarjetas de descuento adicionales. Consulte los folletos incluidos en su sobre para ver los detalles. Solo un recordatorio de que la fecha límite para devolver el dinero por incentivos es el viernes 22 de octubre.
La próxima reunión de APC es el viernes 8 de octubre al mediodía. Si está buscando una manera de participar, nos encantaría verlo en nuestras reuniones el segundo viernes del mes durante el año escolar.
 ¡La campaña de donación de sangre es la próxima semana!
¿Ya agendaron su cita para salvar una vida? Registrese con la Sra. Hagebusch para reservar su horario para donación o siga las instrucciones que están en el boletín a continuación.
Cuándo :jueves 7 de octubre
Hora: 12:00pm a 5:30 pm
Donde:  Hoying Gym del Sagrado Corazón.
---
Queremos escucharte. Nuestro Equipo de Comunicaciones agradece los comentarios sobre nuestros esfuerzos para comunicarnos mejor con con los fieles de nuestra escuela. Te invitamos a enviarnos tus ideas, sugerencias y conocimiento por correo electrónico.