Tuesday, August 31, 2021
Good Afternoon Everyone!
I am thrilled to begin this Beat with some pictures of a couple of the terrific projects we accomplished over the summer.  The two projects we are featuring today will greatly enhance the experience of our elementary children.  We are very appreciative of the Sacred Heart School Foundation, Active Parents Club, and many individuals who helped make these projects a reality. Special thanks to Steve Bloess who served as project manager on the bathrooms. We are most grateful!
Restroom Renovation Project
Playground Equipment Addition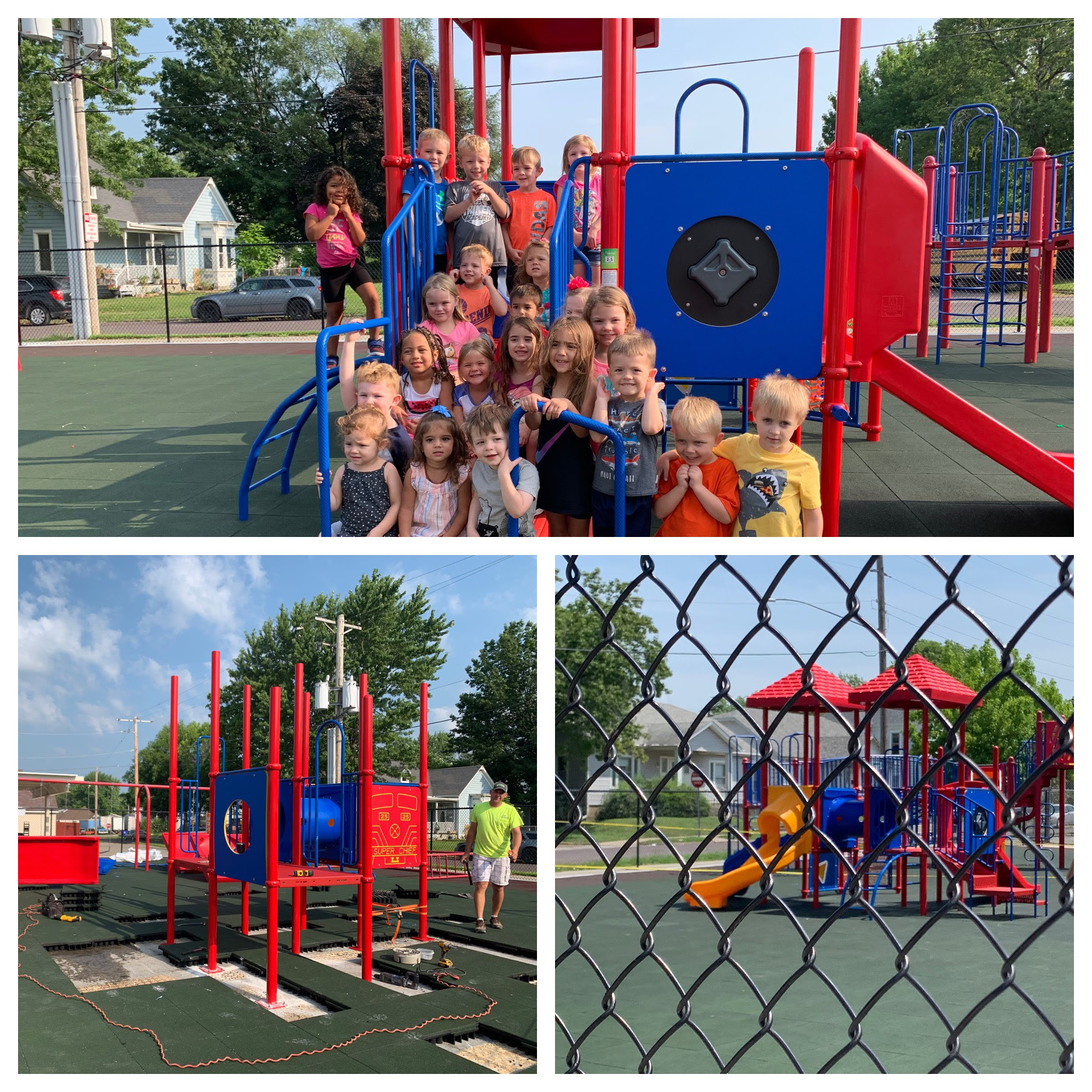 September School Advisory Council Meeting
As everyone is well aware we have been diligent in trying to reopen for this school year in the safest, most prudent manner possible.  Our School Advisory Council has been kept in the loop and given the opportunity to advise throughout the process.  We know that several of our parents would like to have an opportunity to hear first hand how the discussions are going.
With that in mind, we will be moving the September SAC meeting to a slightly larger area so that parents may attend as observers if they wish.  Here are the protocols we will be observing for the September SAC meeting:
1) The meeting will be moved to the main meeting room of the parish center to allow for a bit more space to accommodate any potential visitors.
2) The meeting will begin with prayer, then the next 20 minutes will be solely devoted to discussion on issues related to the school reopening plan including the mask policy.  County school leaders are meeting with Joann Martin of PCHC via zoom at 10 am that morning, so we will have the very latest figures on the status of COVID in Pettis County.
3) Parents will be allowed to submit questions prior to the meeting and those will each be addressed within the discussion.  If you have a question that you would like addressed, please submit it here.  All questions must be submitted by 8 am on Wednesday, September 8.
4) Someone from the school's administration team will follow up with each parent having submitted a question to make sure they receive an answer (the complete follow-up process is still to be determined).
5) Visitors will be allowed at the meeting but it will be limited by space and there will not be an open forum.  New questions will not be accepted during the time set aside within the agenda for this topic.  We will have a full agenda so time on this singular topic will be limited to the 20 minutes set aside.
6) It is very important to emphasize that, should an environment develop that is anything less than Christian in nature, the School Advisory Council will immediately go into executive session and retire to the west meeting room.  We will always strive to be kind and respectful in all interactions.
We are working to be transparent and meet the needs of our students and families.  That will continue to be our primary motivation.  If you have any questions about this message or about the September SAC meeting please don't hesitate to contact me.
Thank you for choosing Sacred Heart School and have a wonderful week!
Dr. Mark Register
President
Sacred Heart School
Message From the Pastors
Blessing of the Minibuses
All-powerful God, Creator of Heaven and earth, in the rich depths of your wisdom you have empowered us to produce great and beautiful works. Grant, we pray that those who use this vehicle may travel safely with care for the safety of others. Whether they travel for sports or other school events or parish events, let them always find Christ to be the companion of their journey, who lives and reigns forever and ever. Amen.
We were pleased to finally have the opportunity to officially announce the newest additions to our fleet – the mini buses! Since last November a dedicated group of us have been working on ways to provide additional transportation. We were able to acquire grant funding for a 2-year lease on the 2 mini buses with an option to purchase them at the end!
A few key folks deserve to be recognized as without them this would have not been possible:
Father Joe
Dr. Register
Mrs. Pyle
Mrs. Martin
Kyle Herrick
In some capacity, they each played a vital role in making this possible!
On Friday morning Father Joe performed a special blessing ceremony for the new mini buses!
To make our fleet complete, yesterday our van was delivered from Bryant Motors by Mr. Kyle Herrick himself. Yearly, Mr. Herrick and Bryant Motors provide the school with a van to use! This addition allows us to run the Warrensburg route and provides transportation along with the mini buses for field trips, parish events, music, art, and athletic events.
*We are still seeking to hire 2 drivers to drive for activities, this could be school, parish, or athletic activities. The requirement is a Class E license. Please contact Amanda Blackburn at ablackburn@gogremlins.com if you are interested.
Dress Down Day Reminder
Tomorrow will be the first Paid Dress Down Day.  For a donation of 50 cents or more, students can wear their choice of clothing tomorrow.  Please refer to the dress code for Dress Down Day expectations.
All funds raised will go to DeFeet.  DeFeet.Org was created to raise awareness of mental health issues and suicide prevention.  You may have seen the "Are you Okay Today" shirts around town and that is a result of this organization and its members working together to bring awareness and acceptance to our mental health.
Welcome to the students and parents of the Class of 2034!
Jimena Barajas – Daughter of Ruben and Yuli Barajas

Sawyer Baruxen – Son of Jeremiah and Brittni Baruxen

Adalind and Anna Blackburn – Daughters of Paul and Amanda Blackburn

Chase Bredehoeft – Son of Jared and Lishanna Bredehoeft

Huxlee City – Daughter of Cory and Ryane City

Jacson Cools – Son of Alexandria and Christopher Paul

Erianne DeGuzman – Daughter of Erick and LeeAnne DeGuzman

Londyn Dickinson – Daughter of Brian and Rose Dickinson

Audra Grose – Daughter of William and Caitlin Grose

Tanya Hamm – Daughter of John Hamm and Sarah Cox

Rowen Headley – Son of Mark and Alison Headley

Millie Hladik – Daughter of Bob and Katelin Hladik

Henry Kehl – Son of Ted and Liz Kehl

Sarah Kohr – Daughter of Caitlin Kelsey

Adler May – Son of Justin and Michelle May

Charlotte Miller – Daughter of Lance and Alysson Miller

Josue Palacios – Son of Ilsi and Jose Palacios

Norah Sparks – Daughter of Justin and Tisha Sparks

Maximilano Tienda – Son of German Tienda and Rocio Rangel

Emma Jean Van Leer – Daughter of Liz and Tom Van Leer
Welcome, Gremlins!
Please give an SH "Heart"-felt welcome to the following parents and the students joining us in grades 1-12.
Matthew and Sabrina Selvey – Parents of Aiden (1st)

Kaleb and Fabiene Fitch – Parents of Lucas (1st), Thomas (3rd), and Nicholas (preschool)

Adriana Hristova and  Rance Noble – Parents of Delilah (1st), Eliza (6th) and Elijah (8th)

David and Rachel Kramer – Parents of Auggie (2nd)

Tim and Olga Lemeshko – Parents of Isabella (2nd), Jinella (5th), Jacob (7th), and Nathan (9th)

Jeff and Megan Page – Parents of Jude (2nd) and Jonah (5th)

Jason and Ashton Figge – Parents of Ava (4th) and Addison (6th)

Michael Pettis and Katie Pettis.  Parents of Ryder (4th)

Joel and Carianne Chappell – Parents of Cole (5th)

Corry and Regiena Brennan – Parents of Aedan (6th)

Alyssa Oldenburg –  Parent of Mariah Armstrong (6th)

Sandra Arista and Adrian Hernandez family – Parents of Keylen Hernandez (6th)

Keith and Katrina Haslag – Parents of Carter (7th)

Hannah and Daniel Wetzel – Parents of Michael (7th) and Roger (preschool)

Jeff and Annette Owens – Parents of Jared (8th) and Lexi (10th)

Joe and Amanda Moon – Parents of Charlotte Carroll (9th)

Osmaro and Aracely DeLeon – Parents of Diego (9th)

Bo and Amy Epple – Parents of Avery (9th)

Ethan and Lori Gano – Parents of Rylee (9th) and Skylor (9th)

Brain and Cynthia Henke – Parents of Logan (9th)

Jim McGrath – Parent of Brooke McGrath (10th)

Kevin Walker – Parent of Ty Walker (10th)

Morgan and Beth Arnold – Parents of Abigail (11th)

Harold Saucedo Rojas and Alessandra Burjos – Parents of Bruno Saucedo (12th)
Parent Satisfaction Survey
Thank you to everyone who took the time and completed the Parent Satisfaction Survey that went out at the end of the 2020-21 school year.  We compiled over 100 responses, and have spent the past month reviewing the data, comments, and setting preliminary goals.  We look forward to sharing with you those goals and our plan of action in the coming weeks.
Celebrating the Fair
We're awaiting totals, but THANKS to those of you who volunteered and provided awesome service and smiles at the grandstand concessions during the fair. Rather than a traditional back-to-school fundraiser, this work-to-earn opportunity generates funds toward the school's operational budget. We know how busy this time of year is and we are grateful for the fun and funds you generated to benefit SHS's operational budget. We couldn't do it without you!
SURVEY – Please take a brief survey to let us know what your thoughts are on working this event in the future. https://www.surveymonkey.com/r/grandstand
From the Heart – Summer Edition
l
The sizzling read of the season is the summer issue of From the Heart, a biannual magazine published by our SHS Foundation. The magazine is mailed to alumni, parishioners, SHS parents, and friends of SHS. To request a copy, please contact Mrs. Liz Van Leer at shfoundation@gogremlins.com. Thank you to Mrs. Van Leer, development director, Cory City, designer, and to everyone who was involved in the production of this great issue!
2020-2021 Yearbooks Have Arrived
á
A big thank you to all of our sponsors, families, students, and the yearbook staff for supporting the yearbook program at Sacred Heart. The yearbook staff had seven students that worked all year long to create a beautiful yearbook that captures the best of Sacred Heart life. If you would like to purchase a yearbook please contact Mrs. Howell. We have extra copies of the past five years available for purchase.
Spirit Wear On Sale Pre-Orders Only
ORDERS DUE TOMORROW (Wednesday, September 1)
You can order a shirt with your favorite fall sport and customize it. Also, order a pair of flannel PJ's to wear on Red and White days or just for fun. All orders are due by Wednesday! Order Form.
UPCOMING Gremlin Student Store and Cafe – Hours of Operation
Thank you for your support of the Gremlin Student Store and Cafe.
Gremlin Student Store (Hours of Operation)
School Days by visiting the school office from 7:30 am-3:30 pm (office staff available)

Monday-Wednesday and Friday from 10:30 am – Noon (Mrs. Howell available)

School Days from 3-3:30 pm (Mrs. Howell available)

By appointment, contact Mrs. Howell at nhowell@gogremlins.com
Gremlin Student Cafe (Hours of Operation)
Tuesday-Thursday from 7:30-7:45 am (Mrs. Buckley available)

School Days from 3-3:30 pm (Mrs. Howell available)
Time to celebrate an AMAZING start to fall sports!
Varsity Football opened their season on the road at Braymer for a big win, NW/SH 64/Braymer 20!

Varsity Soccer opened their season with the Smith-Cotton shootout being the only undefeated team for the weekend with 2 wins! SH 8/Willard 6, SH 5/Osage 4.

Varsity Volleyball opened their season last night against Marshall, Varsity found success in 4 sets, 25-19, 25-12, 18-25, 25-17, ending the night with the win, JV fell short in 2 sets, 21-25 & 13-25.
Sacred Heart Golf Tournament – Monday, September 27
Pictorial Directory is for Everyone!
We need you to sign up for The Pictorial Directory if you have not done so.   Follow the link to pick the time for your family portrait.  Everyone is invited and encouraged to sign up!
Remember, everyone is welcome (parishioners and non-parishioners) to have their family portraits taken as we create our first St Vincent de Paul Pictorial Directory.  These directories are so helpful for staff and all parishioners to recognize names and faces. Each family will receive a free 8×10.
If you did not have your family portrait taken in July, please sign up to have your family portrait taken in September by clicking HERE. Church Code: mo120   Password: photos
BAZAAR DINNER AUCTION
 It's time to get your tickets for the 2021 Bazaar Dinner Auction!  Get yours at www.bidpal.net/bazaar2021
Join us on Saturday, October 2nd for dinner, drinks, raffles, a silent auction, and a live auction.  This evening is always tons of fun and you won't want to miss it!
Blood Drive Coming Up in October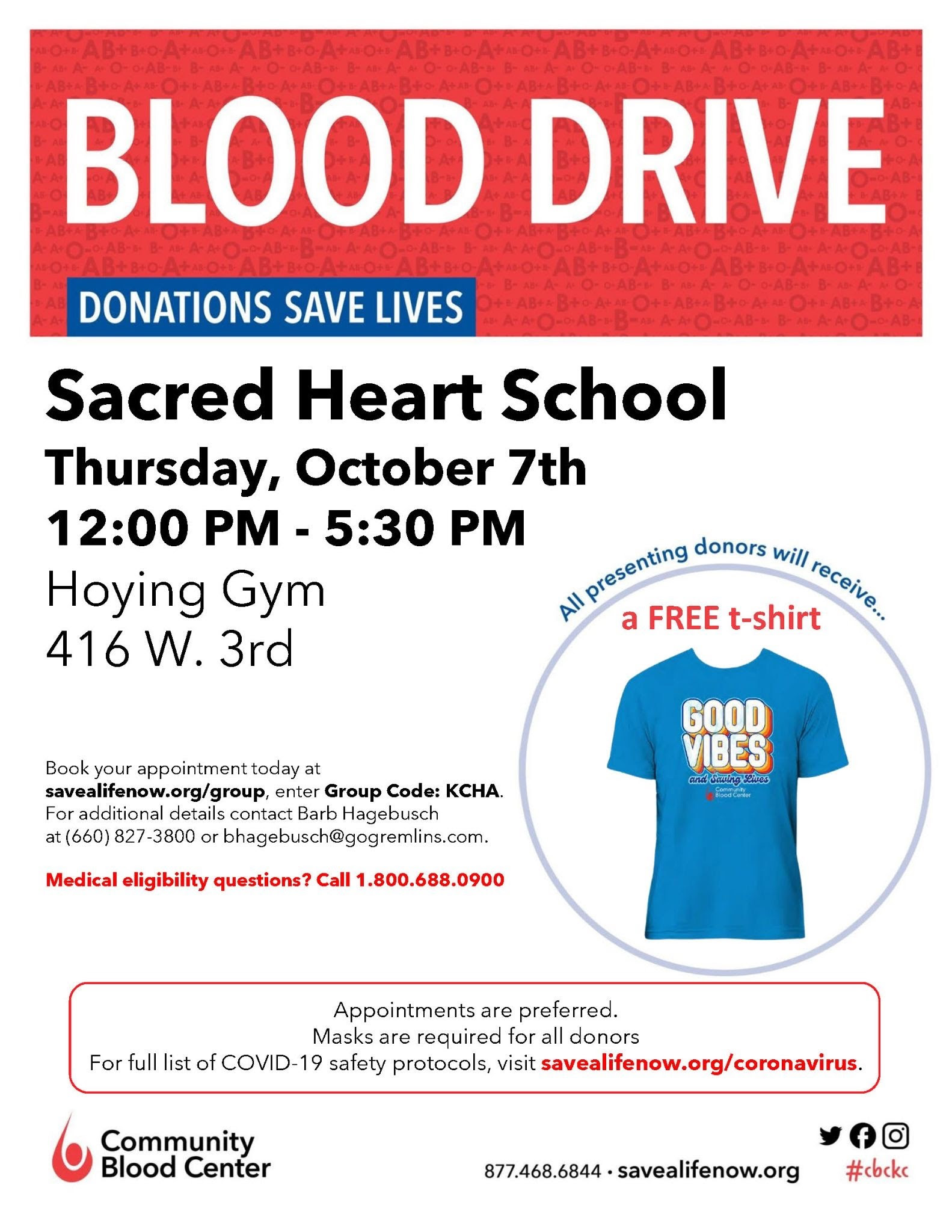 ---
We value your voice.  Our Communications Team welcomes feedback on our efforts to better communicate with the faithful of our school.  We invite you to send us your ideas, suggestions, and insights by email.
Martes 31 de agosto
¡Buenas tardes a todos!
Estoy emocionado de comenzar este Beat con algunas fotos de un par de proyectos fabulosos que logramos durante el verano. Los dos proyectos que presentamos hoy mejorarán la experiencia de nuestros niños de primaria. Apreciamos mucho la fundación de la escuela del Sagrado Corazón, Active Parents Club y muchas personas que ayudaron a hacer realidad estos proyectos. Especialmente gracias a Steve Bloess quien fue el jefe del proyecto de los baños. ¡Estamos muy agradecidos!
Proyecto de Renovación de Baños
Adición de Equipo de Juegos
Reunión del Consejo Asesor Escolar de Septiembre
Como todos saben, hemos sido diligentes en tratar de reabrir este año escolar de la manera más segura y prudente posible. Nuestro Consejo Asesor Escolar se ha mantenido informado y se le ha dado la oportunidad de asesorar a todos durante el proceso. Sabemos que a varios de nuestros padres de familia les gustaría tener la oportunidad de escuchar de primera mano cómo van las discusiones.
Con eso en mente, cambiaremos la reunión del SAC de septiembre a un área un poco más grande para que los padres de familia puedan asistir como observadores si así lo desean. Estos son los protocolos que estaremos observando para la reunión SAC de septiembre:
1) La reunión se cambiará a la sala de reuniones principal del centro parroquial para permitir un poco más de espacio para acomodar a los visitantes.
2) La reunión comenzará con oración, luego los próximos 20 minutos se dedicarán a discutir sobre temas relacionados con el plan de reapertura de la escuela, incluida la política de cubrebocas. Los líderes escolares se reunirán con Joann Martin del centro de salud del condado Pettis (PCHC por sus siglas en inglés) a través de zoom a las 10:00 am esa mañana, por lo que tendremos las últimas cifras sobre el estado de COVID en el condado de Pettis.
3) Se permitirá a los padres de familia enviar preguntas antes de la reunión y cada una de ellas se abordará dentro de la discusión. Si tiene alguna pregunta favor de enviarla haciendo clic aquí (here).
4) Alguien del equipo de administración de la escuela hará seguimiento con cada padre de familia que haya enviado una pregunta para asegurarse de que reciban una respuesta (el proceso de seguimiento aún no se ha determinado).
5) Se permiten visitantes en la reunión, pero serán limitados por el espacio y no habrá foro abierto. No se aceptarán preguntas nuevas durante este tema. Tendremos una agenda completa, por lo que el tiempo en este tema se limitará a los 20 minutos reservados.
6) Es muy importante enfatizar que si se desarrolla un ambiente que no sea  de naturaleza cristiana,  el consejo asesor escolar entrará inmediatamente en una sesión ejecutiva y se retirará a la sala de reuniones oeste. Siempre nos esforzamos por ser amables y respetuosos en todas las interacciones.
Estamos trabajando para ser transparentes y satisfacer las necesidades de nuestros estudiantes y familias. Esa seguirá siendo nuestra principal motivación. Si tiene alguna pregunta sobre este mensaje o sobre la reunión del SAC de septiembre no dude en ponerse en contacto conmigo.
¡Gracias por elegir la escuela del Sagrado Corazón y que tengan una semana maravillosa!
Dr. Mark Register
Presidente
Escuela del Sagrado Corazón
Mensaje de los Pastores
Bendición de los Minibuses
Dios todo poderoso,
Creador del cielo y de la tierra,
En la rica profundidad de tu sabiduría nos has empoderado a producir obras grandes y hermosas. Oramos para que aquellos que usen este vehículo puedan viajar de manera segura con cuidado por la seguridad de los demás. Ya sea que viajen por deportes u otros eventos parroquiales, que siempre encuentren a Cristo como el acompañante de su viaje, que vive y reina por los siglos de los siglos.
Amen
Nos complace finalmente tener la oportunidad de anunciar oficialmente las incorporaciones a nuestra flota: ¡Los minibuses! Desde el pasado mes de noviembre, un grupo dedicado de nosotros ha estado trabajando en formas de proporcionar transporte adicional. ¡Pudimos adquirir fondos de subvención para un arrendamiento de 2 minibuses con la opción de comprarlos al final!
Algunas personas merecen ser reconocidas, ya que sin ellas esto no habría sido posible:
Padre Joe
Dr. Register
Sra. Pyle
Sra. Martin
Kyle Herrick
De alguna manera, cada uno de ellos jugó un papel vital en hacer esto posible. ¡El viernes por la mañana, el Padre Joe realizó una ceremonia especial de bendición para los nuevos minibuses!
Para completar nuestra flota, el día de ayer nuestra camioneta fue entregada por Bryant Motors por el propio Kyle Herrick. ¡Cada año el Sr. Herrick y Bryant Motors proporcionan a la escuela una camioneta que podemos usar durante el año escolar! Esta opción nos permite correr la ruta de Warrensburg y proporciona transporte junto con los minibuses para excursiones, eventos de la parroquiales, música, arte, y eventos deportivos.
*Aún estamos buscando contratar a 2 conductores para que conduzcan para las actividades, estas podrían ser de la escuela, la parroquia o actividades deportivas. El requisito es una licencia clase E. Si esta interesado comuniquese con Amanda Blackburn a su correo electrónico ablackburn@gogremlins.com.
Recordatorio de Dress Down Day
Mañana será el primer Dress Down Day pagado. Con una donación de 50 centavos o más, los estudiantes pueden utilizar ropa de su preferencia mañana. Por favor consulte el código de vestimenta para conocer las expectativas de Dress Down Day.
Todos los fondos recaudados irán a DeFeet.  DeFeet.Org fue creado para crear conciencia sobre los problemas de salud mental y la prevencion del suicidio. Es posible que vea las playeras de "are you okay" en la ciudad y eso es el resultado de que esta organización y sus miembros trabajan juntos para generar conciencia y aceptación de nuestra salud mental.
¡Bienvenidos Estudiantes y Padres de Familia de la generación 2034!
Jimena Barajas – Hija de  Ruben y Yuli Barajas
Sawyer Baruxen – Hijo de Jeremiah y Brittni Baruxen
Adalind and Anna Blackburn – Hijas de Paul y Amanda Blackburn
Chase Bredehoeft – Hijo de Jared y Lishanna Bredehoeft
Huxlee City – Hija de Cory y Ryane City
Jacson Cools – Hijo de Alexandria y Christopher Paul
Erianne DeGuzman – Hija de Erick y LeeAnne DeGuzman
Londyn Dickinson – Hija de Brian y Rose Dickinson
Audra Grose – Hija de William y Caitlin Grose
Tanya Hamm – Hijade John Hamm y Sarah Cox
Rowen Headley – Hijo de Mark Y Alison Headley
Millie Hladik – Hija de Bob y Katelin Hladik
Henry Kehl – Hijo de Ted y Liz Kehl
Sarah Kohr -Hija de Caitlin Kelsey
Adler May – Hijo de Justin y Michelle May
Charlotte Miller – Hija de Lance y Alysson Miller
Josue Palacios – Hijo de Ilsi y Jose Palacios
Norah Sparks – Hija de Justin y Tisha Sparks
Maximiliano Tienda – Hijo de Germán Tienda y Rocio Rangel
Emma Jean Van Leer – Hija de Liz y Tom Van Leer
¡Bienvenidos Gremlins!
 Favor de dar una cordial bienvenida a los siguientes padres de familia y estudiantes que se unen a nosotros en los grades 1-12.
Matthew y Sabrina Selvey – Padres de Aiden (1)
Kaleb y Fabiene Fitch -Padres de Lucas (1), Thomas (3), y Nicholas (preescolar)
Adriana Hristova y  Rance Noble – Padres de Delilah (1), Eliza (6) y Elijah (8)
David y Rachel Kramer – Padres de Auggie (2)
Tim y Olga Lemeshko – Padres de Isabella (2), Jinella (5), Jacob (7) y Nathan (9)
Jeff y Megan Page – Padres de Jude (2) y Jonah (5)
Jason y Ashton Figge – Padres deAva (4) y Addison (6)
Michael Pettis y Katie Pettis. Padres de Ryder (4)
Joel y Carianne Chappell – Padres de Cole (5)
Alyssa Oldenburg –  Madre de Mariah Armstrong (6)
Sandra Arista y Adrian Hernandez family – Padres deKeylen Hernandez (6)
Keith y Katrina Haslag -Padres de Carter (7)
Hannah Wetzel -Madre de Michael (7) y Roger (preescolar)
Jeff y Annette Owens -Padres de Jared (8) y Lexi (10)
Joe y Amanda Moon – Padres de Charlotte Carroll (9)
Osmaro y Aracely DeLeon – Padres de Diego (9)
Bo y Amy Epply – Padres de Avery (9)
Ethan y Lori Gano – Padres de Rylee (9) y Skylor (9)
Brain y Cynthia Henke – Padres de Logan (9)
Jim McGrath – Padre de Brooke McGrath (10)
Kevin Walker – Padre de Ty Walker (10)
Morgan y Beth Arnold – Padres de Abigail (11)
Harold Saucedo Rojas y Alessandra Burjos – Padres de Bruno Saucedo (12)
Encuesta de Satisfacción de los Padres de Familia
Gracias a todos los tomaron tiempo para completar la encuesta de satisfacción de los padres de familia que salió a finales del año escolar 2020-21. Recopilamos más de 100 respuestas y hemos pasado el último mes revisando los datos, los comentarios y el establecimiento de objetivos preliminares. Esperamos poder compartir con ustedes esos objetivos y nuestro plan de acción en las próximas semanas.
Celebrando la Feria
Estamos esperando los totales, pero agradecemos a aquellos de ustedes que se ofrecieron como voluntarios y brindaron un servicio increíble y sonrisas en las concesiones durante la feria. En lugar de una recaudación de fondos tradicional para el regreso a clases, esta oportunidad de trabajo genera fondos para el presupuesto operativo de la escuela. Sabemos lo ocupada que es esta época del año y estamos agradecidos por la diversión y los fondos que generó para beneficiar el presupuesto operativo para la escuela del Sagrado Corazón. ¡No podríamos hacerlo sin ustedes!
Encuesta -Favor de responder una breve encuesta para hacernos saber que piensa sobre trabajar este evento en el futuro . https://www.surveymonkey.com/r/grandstand
From the Heart -Edicion de Verano
La lectura cadente de la temporada es la summer issue of From the Heart, una revista semestral publicada por nuestra fundación de la escuela del Sagrado Corazón. La revista es enviada por correo a ex alumnos, feligreses, padres de familia y amigos de la escuela del Sagrado Corazón.  Para solicitar una copia, comuníquese con Liz Van Leer al correo electrónico shfoundation@gogremlins.com.¡Gracias a la Sra. Liz Van Leer (directora de desarrollo), Cory City (diseñador) y a todos los que participaron en la producción de este gran número!
Han Llegado Los Anuarios 2020-2021
Un gran agradecimiento a todos nuestros patrocinadores, familias, estudiantes y el personal del anuario por apoyar el programa del anuario en la escuela del Sagrado Corazón. El personal del anuario tenía siete estudiantes que trabajaron todo el año para crear un hermoso anuario que captura lo mejor de la vida del Sagrado Corazón. Si desea comprar un anuario comuníquese con la  Sra. Howell. Tenemos copias adicionales de los últimos cinco años disponibles a la venta.
Pre-pedido de Spirit Wear Termina Mañana (miércoles 1ro de septiembre)
Pueden ordenar playeras personalizadas de su deporte favorito de otoño. También puede encargarse unas pijamas de franela que pueden utilizar en los días blancos y rojos o nadamas por diversión.
¡Todas los pedidos se deben entregar antes del miércoles ! Order Form.
Próxima Tienda Gremlin y Café- Horario de Operación
Gracias por apoyar la tienda Gremlin y el Café.
Tienda Estudiantil Gremlin (horario de operación)
Días escolares, visitando la oficina escolar de 7:30am- 3:30pm(el personal de la oficina está disponible)

Lunes a miércoles y viernes de 10:30am-12:00pm (La Sra. Howell está disponible)

Días escolares de 3:00pm-3:30pm  (La Sra. Howell está disponible)

Por citas comunicándose con la Sra. Howell  al correo electrónico nhowell@gogremlins.com
Cafe Estudiantil Gremlin (Horario de Operación )
Martes a jueves  de 7:30 am -7:45 am (La Sra. Buckley está disponible)

Días escolares de 3:00-3:30 pm (La Sra. Howell está disponible)
¡Es hora de celebrar un comienzo increíble en los deportes de otoño!
El equipo Varsity de fútbol americano abrió su temporada en Braymer con una gran victoria, ¡NW/SH 64/ Braymer 20!

El equipo Varsity de fútbol soccer abrió su temporada en el shootout de Smith-Cotton ¡siendo el único equipo invicto con dos victorias durante el fin de semana! SH 8/Willard 6, SH 5/Osage 4.

El equipo varsity de voleibol abrió su temporada anoche contra Marshall, el equipo varsity tuvo éxito en 4 sets, 25-19, 25-12, 18-25, 25-17, terminando la noche con la victoria. El equipo JV se quedó corto en 2 sets 21-25 y 13-25.
Torneo de Golf del Sagrado Corazón- lunes 27 de septiembre
¡El Directorio Fotográfico es para todos!
Necesitamos que se registre para el directorio fotográfico si es que aun no lo ha hecho. Haga clic en el enlace a continuación para que elija su horario para su fotografía familiar. ¡Todos son bienvenidos y los invitamos a que se registren!
Recuerden que todos son invitados (feligreses y no feligreses) a que les tomen una fotografía familiar para poder crear el primer directorio fotográfico de St. Vincent de Paul. Estos directorios son de gran ayuda para que el personal y los feligreses reconozcan nombres y caras. Cada familia recibirá una fotografía 8×10 gratis.
Si no tuvieron la oportunidad de que le tomaran su foto en julio, favor de registrarse para que lo hagan en septiembre.haciendo clic aquí  (HERE ) Church Code: mo120   Password: photos
CENA DE LA SUBASTA BAZAAR
¡Es hora de comprar sus boletos para la cena de la subasta del Bazaar! Obtenga los suyos en www.bidpal.net/bazaar2021
Acompáñenos este sábado 2 de octubre a disfrutar de una cena, bebidas, rifas, una subasta silenciosa y una subasta en vivo.
 Campaña de Donación de Sangre en octubre
---
Queremos escucharte. Nuestro Equipo de Comunicaciones agradece los comentarios sobre nuestros esfuerzos para comunicarnos mejor con con los fieles de nuestra escuela. Te invitamos a enviarnos tus ideas, sugerencias y conocimiento por correo electrónico.