Friday, May 21
Greetings All and Happy Friday!
Once again, special congratulations go out today to our seniors and 8th graders and their families.  Graduation and other activities surrounding the culmination of this phase of life is so joyous and filled with great memories.  These young people have represented Sacred Heart School and St. Vincent de Paul Parish so admirably in their time here and deserve all the best that life has to offer.  Here's wishing a special and truly wonderful next few days to our graduates and their families!
Here is another quick breakdown of upcoming events over the next week:
TODAY, May 21
Baccalaureate Mass at 6:30 pm (Sacred Heart Chapel)
This event will be available for viewing on the St. Vincent de Paul Parish Facebook Live stream!
SUNDAY, May 23 
Class of 2021 Commencement Exercises at 2:00 pm (McGremlin Gym)
This event will be available for viewing on Sacred Heart Sedalia YouTube Channel
MONDAY, May 24
8th Grade Graduation @ 6:30 pm (Sacred Heart Chapel)
This event will be available for viewing on the St. Vincent de Paul Parish Facebook Live stream!
MON – WED, May 24-26
Finals for students in grades 6, 7, & 9-11

May 24: 1st & 7th

May 25: 2nd, 4th, & 6th

May 26: 3rd & 5th

1:00 pm Dismissal on Wednesday
THURSDAY, May 27 
No School-Teacher Work Day
FRIDAY, May 28
All School Mass at 8:00 am (McGremlin Gym)

Awards Assembly (following Mass)
This event will be available for viewing on Sacred Heart Sedalia YouTube Channel
Students will be dismissed at 10:30, following the awards ceremony

SUMMER BREAK BEGINS!
Have a fantastic Friday and be sure to offer prayers of gratitude for a great year filled with many, many blessings as you attend mass this weekend!
God bless you all,
Dr. Mark Register
President
Sacred Heart School
Message From the Pastors
Visit with the Pastor
Fr Dave and Fr Joe want to thank those of you who have visited with us.  The meetings have been fruitful and a great chance to get to know you a little and for us to share a bit of the philosophy we have for the Catholic school.  So far, we are pleased to say we have visited with 69 families.  We have approximately 140 more family visits to schedule. We appreciate our 6 volunteers who have helped us in reaching out to our families to schedule their visits.  Please note, we only need one parent and none of the children for these parent priest visits. Thanks for signing up by the end of May even if you schedule the visit for sometime this summer.
Click HERE to sign up.  If you don't see a preferred date and time, email us at either frjoe.svdpparish@gmail.com or frdave.svdpparish@gmail.com and let us know when you want to meet. We'll work out a time that is agreeable.
RCIA begins June 10!
We are excited that there is enough interest to learn more about the Catholic Church to see if God is calling them to be a Catholic that we are starting our Rite of Christian Initiation of Adults (RCIA) Tuesday  June 10 at 7:00pm at the Sacred Heart Parish Center (across from the school; enter through the the glass door and turn to your right at the end of the hall – instead of to your left to go into church) This is our first year offering a summer and fall session!  Hopefully, for some, this will be an easier time than the fall/winter schedule traditionally offered. If not, we will still offer sessions starting in September. Call the parish office at 660-827-2311 if you are interested in attending the upcoming RCIA sessions. We'll be glad to have you. There's always room for more!
Corpus Christi Procession – June 6, 12:45pm, St Patrick Church 
Join us for a Corpus Christi Procession from St. Patrick to Sacred Heart Church. Those who made First Communion last year or this year are encouraged to wear their first communion outfits and join us at the beginning of the  procession.  Not sure what this is? It's literally a walk with Jesus! We have the monstrance on the altar at St. patrick; Father picks it up, walks outside, everyone follows him. A canopy goes over the monstrance and we walk with Jesus down Third Street singing and praying until we arrive at Sacred Heart.  Refreshments will be served in the Parish Center after a short prayer service and the priest has placed the host back into the tabernacle.  Share this experience with your family and plan to attend!
Vinnie & Gremmy Go on Vacation
One of the first steps toward a steward's way of life and a Stewardship Parish is for mass attendance within our parish community to be high. Prior to Covid we had a 39% rate of Catholics attending Sunday Mass at St. Vincent de Paul. We know Covid only made that percentage lower.  So, a fun way to help us come back to Mass here at the parish and to attend Mass during vacation is for you to take Vinnie and Gremmy with you on vacation. Show off your vacation highlights and take them to Mass with you and show us your pictures from  vacation and the church where you attended Mass.  The back of the card includes a reminder to check masstimes.org to find a church as you are traveling. We will publish the photos that are sent back to us on our St. Vincent de Paul Parish Facebook page. Pictures can be emailed to Dianne at dianne.svdpparish@gmail.com. Praying for a safe summer for all of you!
End of the Year Mass and Awards Ceremony
Please join us on Friday, May 28 for our end of the year Mass and Awards Ceremony.  Mass will begin at 8:00 AM in McGremlin Gym.  Students will sit with their classes on the West side of the gym, The East side of the gym will be reserved for parents, guests, and all parishioners who wish to attend.  Following Mass, we will begin our Awards Ceremony for all elementary, junior high, and high school students.
Following the awards ceremony, elementary students will be dismissed back to their classrooms to collect their final belongings. Normal dismissal will begin at 10:30am.
Senior Celebrations
Ralph Edward Withers
Eddie plans to attend State Fair Community College in the fall.  He will be completing his degree in welding.  Eddie has been enrolled in the SFCC Career and Technology Center since the beginning of his junior year.  Once he graduates from Sacred Heart, he will have only 3 semesters left, to complete his degree in welding.  He would like to travel for his job.  Eddie is excited and open to any location…except one that would entail underwater welding!   It makes him a bit nervous when he cannot see what is around him!   Both Eddie and his family are excited for him to take this next step and travel the country.   They have a little time though,  he will live at home while he finishes his degree and attempts to save some money!
Elementary Yearbooks Are TERRIFIC!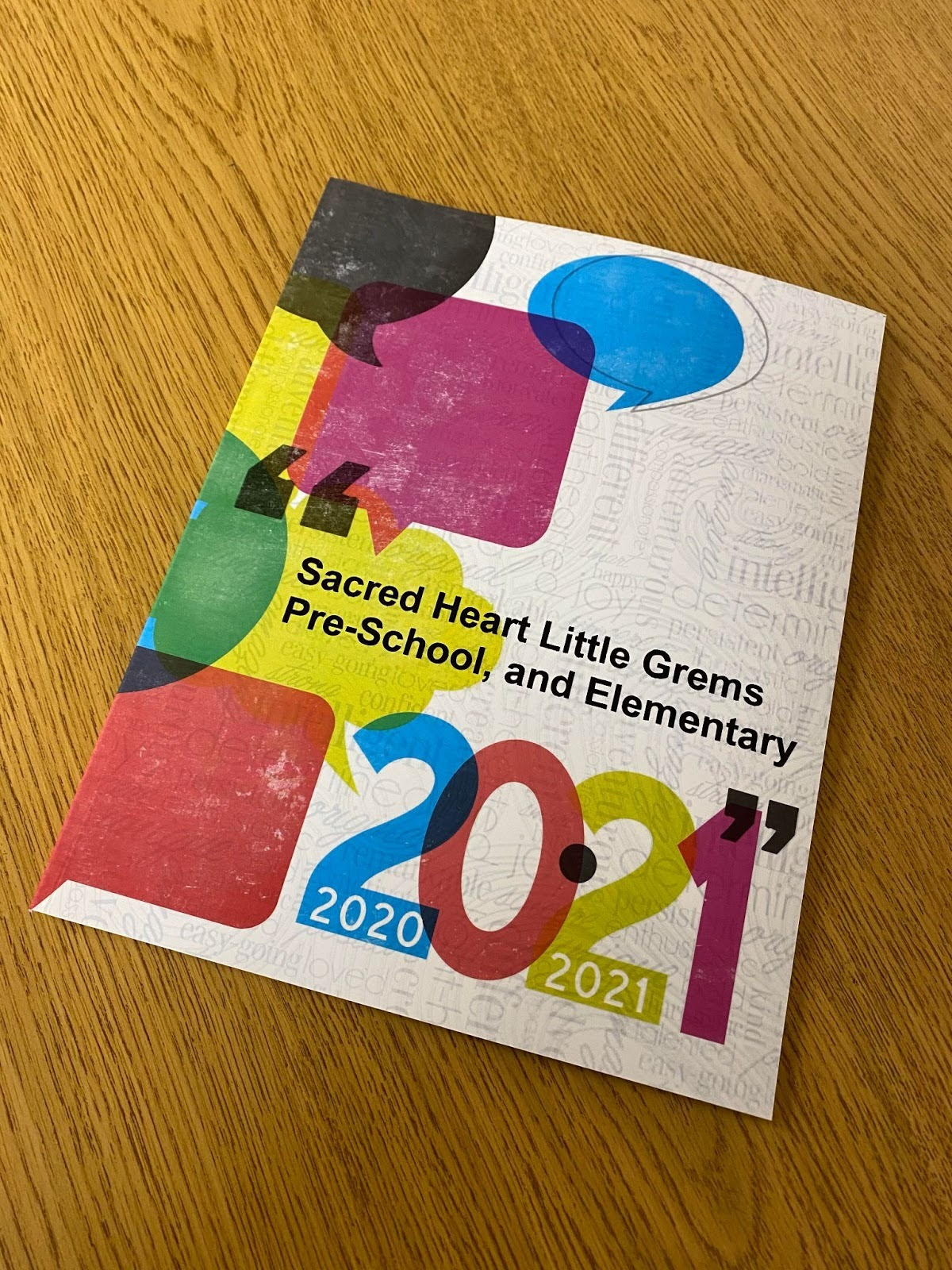 We are so grateful that we were able to be in the classroom all-year and capture all of the great moments. In celebration of Mrs. Kehl's 44 years of amazing work at Sacred Heart the yearbook was dedicated to her. Thank you to each and everyone of our families for supporting the Sacred Heart yearbook program.  We have four yearbooks left for purchase if you didn't get one. Contact Mrs. Howell at nhowell@gogremlins.com
SCRIPing New Opportunities
If you shop at Aldis there are now two ways for you to earn rebates through the Scrip program while shopping.  The first way is using a Visa gift card purchased through Scrip to pay for your items in the store.  The second way is to use Instacart, have your groceries delivered to your home, and earn 4% rebate at the same time!  Using the Instacart gift card allows you to save on tuition while you save on your groceries shopping at Aldis!
Don't forget to stop by the school office to shop from our great selection of physical gift cards.  We have several retailers ONLY available through the office (i.e. Casey's, Cenex, Shell, Colton's, Kehde's, McD, Taco Bell, Walgreens, and VISA to name a few). Starting this weekend we will have Scrip available after all weekend Masses, including the 11:30 Spanish Mass.  Questions? Contact Esther DeGraff at 660.827.3800 or Jen Cordia at scrip@gogremlins.com.
Calling ALL High School Gremlin Athletes & Parents!!!  We need YOUR HELP!
The Guevara family has very generously offered us 3 opportunities this summer for the athletic department to raise some funds to go towards our transportation project!  The first opportunity is to work the concessions at the Tractor pull at the Missouri State Fairgrounds! We would need to be there at 4pm to train, gates open at 5pm and the event will last no later than 9pm.
PLEASE consider signing up! You can sign up online at: https://signup.com/go/PqeMvdp
Please contact Amanda Blackburn with any questions at ablackburn@gogremlins.com
Thank you!
---
We value your voice.  Our Communications Team welcomes feedback on our efforts to better communicate with the faithful of our school.  We invite you to send us your ideas, suggestions, and insights by email.
Viernes 21 de mayo
¡Saludos a Todos y Feliz Viernes!
Una vez más, felicitaciones especiales para nuestros estudiantes de grado senior y 8vo grado así como para sus familias. La graduación y otras actividades que rodean la culminación de esta fase de la vida son de gran alegría y están llenas de grandes recuerdos. Estos jóvenes han representado a la Escuela del Sagrado Corazón y la Parroquia de San Vicente de Paul de manera admirable en su tiempo aquí y merecen todo lo mejor que la vida tiene para ofrecer. ¡Les deseamos unos días especiales y verdaderamente maravillosos a estos estudiantes y sus familias!
A continuación otro desglose rápido de los próximos eventos durante la próxima semana:
HOY, 21 de mayo
Misa de Baccalaureate a las 6:30 pm (Capilla del Sagrado Corazón)
¡Este evento estará disponible para verlo en la transmisión en vivo de Facebook St. Vincent de Paul Parish!
DOMINGO 23 de mayo
Generación 2021 Comienzan las actividades a las 2:00 pm (Gimnasion McGremlin)
Este evento estará disponible para verlo en el Canal de YouTube Sacred Heart Sedalia
LUNES 24 de mayo
Graduación de 8vo grado a las 6:30 pm (Capilla del Sagrado Corazón)
¡Este evento estará disponible para verlo en la transmisión en vivo de Facebook!
LUN – MIE, 24 al 26 de mayo
Exámenes finales para los estudiantes en grados 6, 7, y 9 al 11

24 de mayo: 1ra y 7ma hora

25 de mayo: 2da, 4ta y 6ta hora

26 de mayo: 3ra y 5ta

Salida temprano a la 1:00 pm el miércoles
JUEVES, 27 de mayo
No hay clases – Día de Trabajo de los maestros
VIERNES, 28 de mayo
Misa con Toda la Escuela a las 8:00 am (Gimnasio McGremlin)

Asamblea de Reconocimientos (seguido de la misa)
Este evento estará disponible para verse en el Canal de YouTube de Sacred Heart Sedalia
Los estudiantes saldrán a las 10:30 am, Seguido de la ceremonia de reconocimientos

¡COMIENZAN LAS VACACIONES DE VERANO!
Que tenga un viernes fantástico y asegúrese de ofrecer oraciones de gratitud mientras asiste a misa este fin de semana ¡por un gran año lleno de muchas, muchas bendiciones!
Dios los bendiga a todos,
Dr. Mark Register
Presidente
Escuela del Sagrado Corazón
Mensaje de los Pastores
Visita con el Pastor
El Padre Dave y el Padre Joe quieren agradecer a todos los que los han visitado. Las reuniones han sido fructíferas y son una gran oportunidad para conocernos un poco más y compartir un poco de la filosofía que tenemos para la escuela católica. Hasta ahora, nos complace decir que nos han visitado 69 familias. Tenemos aproximadamente 140 familias más por programar. Agradecemos a nuestros 6 voluntarios que nos han ayudado a acercarnos a nuestras familias para agendar una visita. Tenga en cuenta que, sólo necesitamos un padre de familia y no necesitamos a los niños para estas visitas de padres y sacerdotes. Gracias por registrarse antes del fin del mes de mayo, incluso si programa la visita para algún momento del verano.
Haga clic a continuación (HERE) para registrarse. Si no ve una fecha y hora de su preferencia , envíenos un correo electrónico a  frjoe.svdpparish@gmail.com o frdave.svdpparish@gmail.com y háganos saber cuándo desea nos reunamos. Trabajaremos en un momento que sea acorde a las necesidades.
¡RICA comienza el 10 de junio!
Estamos emocionados de que haya suficiente interés por aprender más acerca de la Iglesia Católica para ver si Dios los está llamando a ser Católicos. Comenzaremos nuestro Rito de Iniciación Cristiana para Adultos (RCIA por sus siglas en inglés) el martes 10 de junio a las 7:00 pm en el Centro Parroquial de la Parroquia del Sagrado Corazón (frente a la escuela, ingrese por la puerta de vidrio y gire a la derecha al final del pasillo – en lugar de ir a la izquierda para ir a la iglesia). ¡Este es nuestro primer año que se ofrece una sesión de verano y otoño!. Para algunos este será un momento más fácil que el horario de otoño/invierno que se ofrece tradicionalmente. Si no es así, seguiremos ofreciendo sesiones comenzando en septiembre. Llame a la oficina parroquial al 660-827-2311 si está interesado en asistir a las próximas sesiones de RCIA. Estaremos encantados de tenerlo. ¡Siempre hay espacio para más!
Procesión de Corpus Christi – 6 de junio, 12:45 pm, Iglesia de San Patricio 
Acompáñenos para la Procesión de Corpus Christi de la Iglesia de San Patricio a la del Sagrado Corazón. A los que hicieron la Primera Comunión el año pasado o este año se les invita a utilizar sus trajes de primera comunión y acompañarnos al comienzo de la procesión. ¿No está seguro de que es esto? Es ¡literalmente caminar con Jesús!. Tenemos la custodia en el altar de San Patricio; el Sacerdote la toma, sale a la calle, todos lo siguen. Un dosel pasa por encima de la custodia y caminamos con Jesús por la calle Tercera cantando y orando hasta que llegamos al Sagrado Corazón. Se servirán refrigerios en el Centro Parroquial después de un breve servicio de oración y que el sacerdote haya colocado la hostia en el tabernáculo. ¡Comparta esta experiencia con su familia y haga planes para asistir!.
Vinnie y Gremmy se van de Vacaciones 
Unos de los primeros pasos hacia el estilo de vida y de una parroquia de Corresponsabilidad es que la asistencia a la misa dentro de nuestra comunidad parroquial sea alta. Antes de Covid teníamos una tasa del 39% de católicos que asistían a misa dominical en San Vicente de Paul. Sabemos que COVID solo redujo este porcentaje. Así que, una manera divertida de ayudarnos a regresar a misa aquí en la parroquia y asistir a misa durante las vacaciones es que lleven a Vinnie y Gremmy con ustedes de vacaciones. Muestre lo más destacado de sus vacaciones y llévelos a misa con usted; muestre fotos de sus vacaciones y de la iglesia donde asistió a misa. El reverso de la tarjeta incluye un recordatorio para visitar masstimes.org para encontrar una iglesia mientras viaja. Publicaremos las fotos que se nos envían en nuestra página de Facebook de San Vicente de Paul. Las fotografías pueden ser enviadas a Dianne al correo electrónico dianne.svdpparish@gmail.com. ¡Orando por un verano seguro para todos ustedes!
Misa de Fin de Año y Ceremonia de Premiación
Acompáñenos el viernes 28 de mayo para nuestra Ceremonia de Premiación y Misa de fin de año escolar. La misa comenzará a las 8:00 am en el Gimnasio McGremlin. Los estudiantes se sentarán con sus grupos en el lado oeste del gimnasio. El lado este del gimnasio será reservado para los padres de familia, invitados y todos los feligreses que deseen asistir. Después de la misa comenzaremos nuestra Ceremonia de Premiación para los estudiantes de primaria, junior high y high school.
Después de la ceremonia de premiación, los estudiantes de primaria regresarán a sus salones para recoger sus pertenencias. La salida normal comenzará a las 10:30 am.
Celebraciones Senior
Ralph Edward Withers
Eddie planea asistir a State Fair Community College en el otoño. Completará su licenciatura en soldadura. Eddie ha estado inscrito en el Centro de Tecnología y Carreras de SFCC desde el comienzo de su año junior. Una vez que se gradúe de Sacred Heart, sólo le faltarán 3 semestres para terminar su licenciatura en soldadura. Le gustaría viajar por su trabajo. Eddie está emocionado y abierto a cualquier lugar…. ¡excepto uno que requiera soldadura bajo el agua! ¡Se pone un poco nervioso cuando no puede ver lo que le rodea!. Tanto Eddie como su familia están emocionados de que dé el siguiente paso y viaje por el país. Sin embargo, tienen un poco de tiempo, vivirá en casa mientras termina la carrera e intenta ahorrar algo de dinero.
¡Los Anuarios de Primaria están FANTÁSTICOS!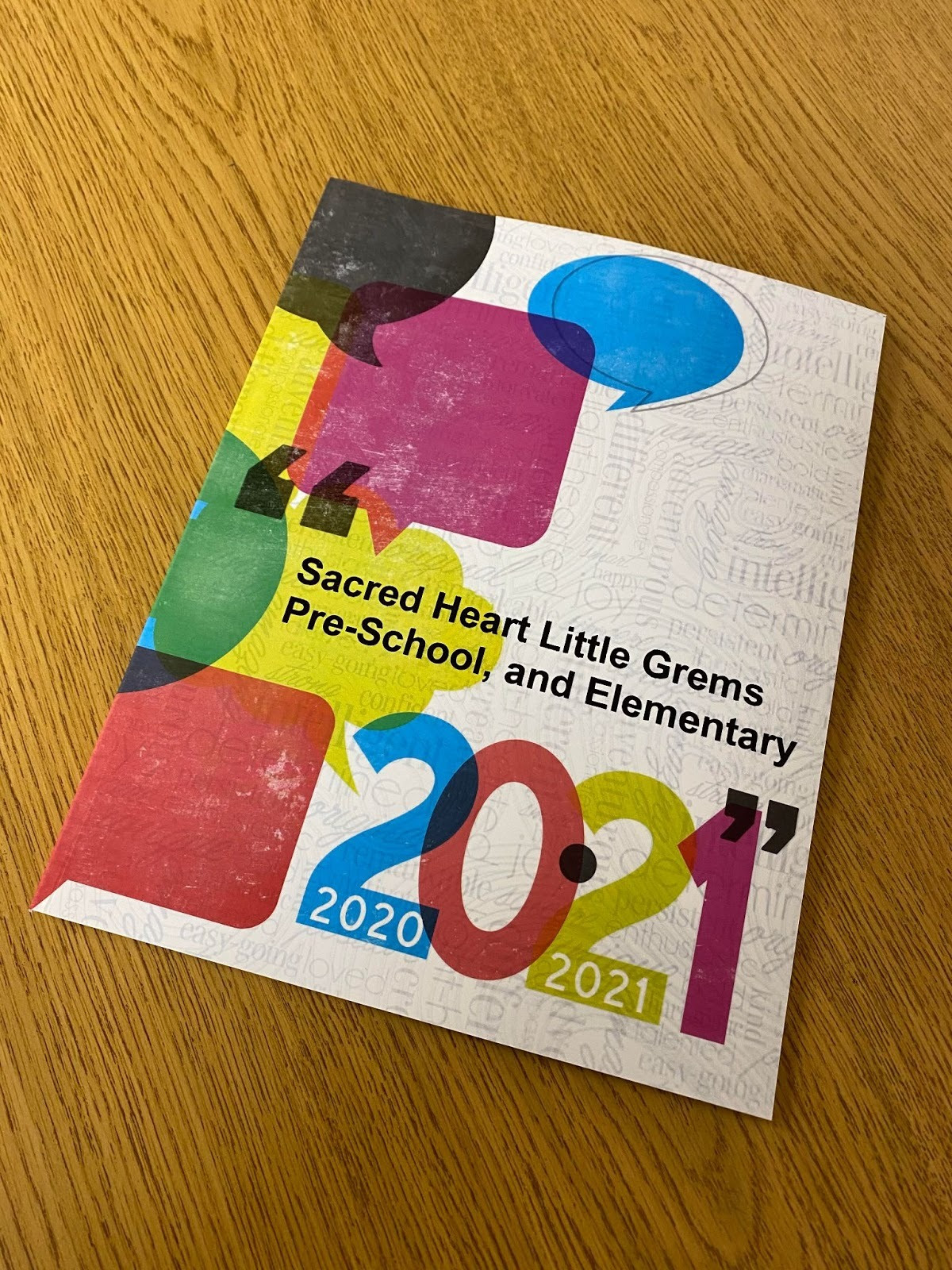 Estamos muy agradecidos de haber podido estar en el salón todo el año y capturar todos los momentos. En celebración de los 44 años de asombroso trabajo de la Sra. Kehl en el Sagrado Corazón, el anuario fue dedicado a ella. Gracias a todas y cada una de nuestras familias por apoyar el programa del anuario del Sagrado Corazón. Si no adquirió uno, nos quedan cuatro anuarios por comprar. Comuníquese con la Sra. Howell al correo electrónico nhowell@gogremlins.com
SCRIPing Nuevas Oportunidades
Si compra en Aldi´s hay dos formas de obtener reembolsos a través del programa Scrip mientras compra. La primera forma es utilizar una tarjeta de regalo Visa comprada a través de Scrip para pagar sus artículos en la tienda. La segunda forma es utilizar Instacart, ¡hacer que le envíen los alimentos a su hogar y ganar el 4% de reembolso al mismo tiempo! El uso de la tarjeta de regalo Instacart le permite ¡ahorrar en la colegiatura mientras ahorra en sus compras de comestibles en Aldi al mismo tiempo!
No olvide pasar por la oficina de la escuela para comprar nuestra grandiosa selección de tarjetas físicas de regalo. Tenemos muchos minoristas disponibles ÚNICAMENTE mediante la oficina (por ejemplo Casey's, Cenex, Shell, Colton's, McD, Taco Bell, Walgreens y VISA por mencionar algunos). A partir de este fin de semana tendremos Scrip disponible después de todas las misas de fin de semana incluida la misa de español de las 11:30 am. ¿Preguntas? Comuníquese con Esther DeGraff al 660.827.3800 o Jen Cordia al correo electrónico scrip@gogremlins.com
¡¡¡LLAMANDO A TODOS LOS DEPORTISTAS GREMLIN Y A SUS PAPÁS!!!  ¡Los NECESITAMOS!
La Familia Guevara nos ha ofrecido muy generosamente 3 oportunidades este verano para que el departamento de deportes ¡recaude  fondos para nuestro proyecto de transporte!. La primera oportunidad es ¡trabajar en las concesiones en el Tractor pull en Missouri State Fairgrounds!. Tendríamos que estar ahí a las 4:00 pm para practicar, las puertas se abren a las 5:00 pm y el evento no durará más de las 9:00 pm.
POR FAVOR ¡considere registrarse! Puede registrarse en línea en: https://signup.com/go/PqeMvdp
Comuníquese con Amanda Blackburn si tiene alguna pregunta al correo electrónico ablackburn@gogremlins.com
¡Gracias!
---
Queremos escucharte. Nuestro Equipo de Comunicaciones agradece los comentarios sobre nuestros esfuerzos para comunicarnos mejor con con los fieles de nuestra escuela. Te invitamos a enviarnos tus ideas, sugerencias y conocimiento por correo electrónico.