Tuesday, August 25
Hello everyone!
We are in the midst of Open House appointments and anxiously awaiting opening day on Thursday.  If you do not have an open house appointment and would still like one please refer back to Friday's SH Beat for directions or call Mrs. City in the main office to get your appointment scheduled.
Last year our general format for Beat communications was to share news to celebrate on Tuesdays and general items of information on Friday.  With today's Beat, we are returning to that basic agenda.
Today we celebrate the wonderful improvements taking place throughout our campus.
Be sure to check out these developments when you drop by for Open House. We are more excited than ever about providing your children the highest quality and most well rounded educational experience possible.  So much has been accomplished because so many are willing to pitch in for the greater good!
Thank you for all you do and please keep the school in your daily prayers as we embark upon 2020-2021.
God bless you all,
Dr. Register
President
Sacred Heart School
Cafeteria Facelift
The first project Mr. Freels and his crew undertook last spring was the cafeteria.  A  new paint scheme along with new fans and a thorough scrubbing made the cafeteria a great environment for summer camp and will provide a fresh new look for the school year.
Bon appetite!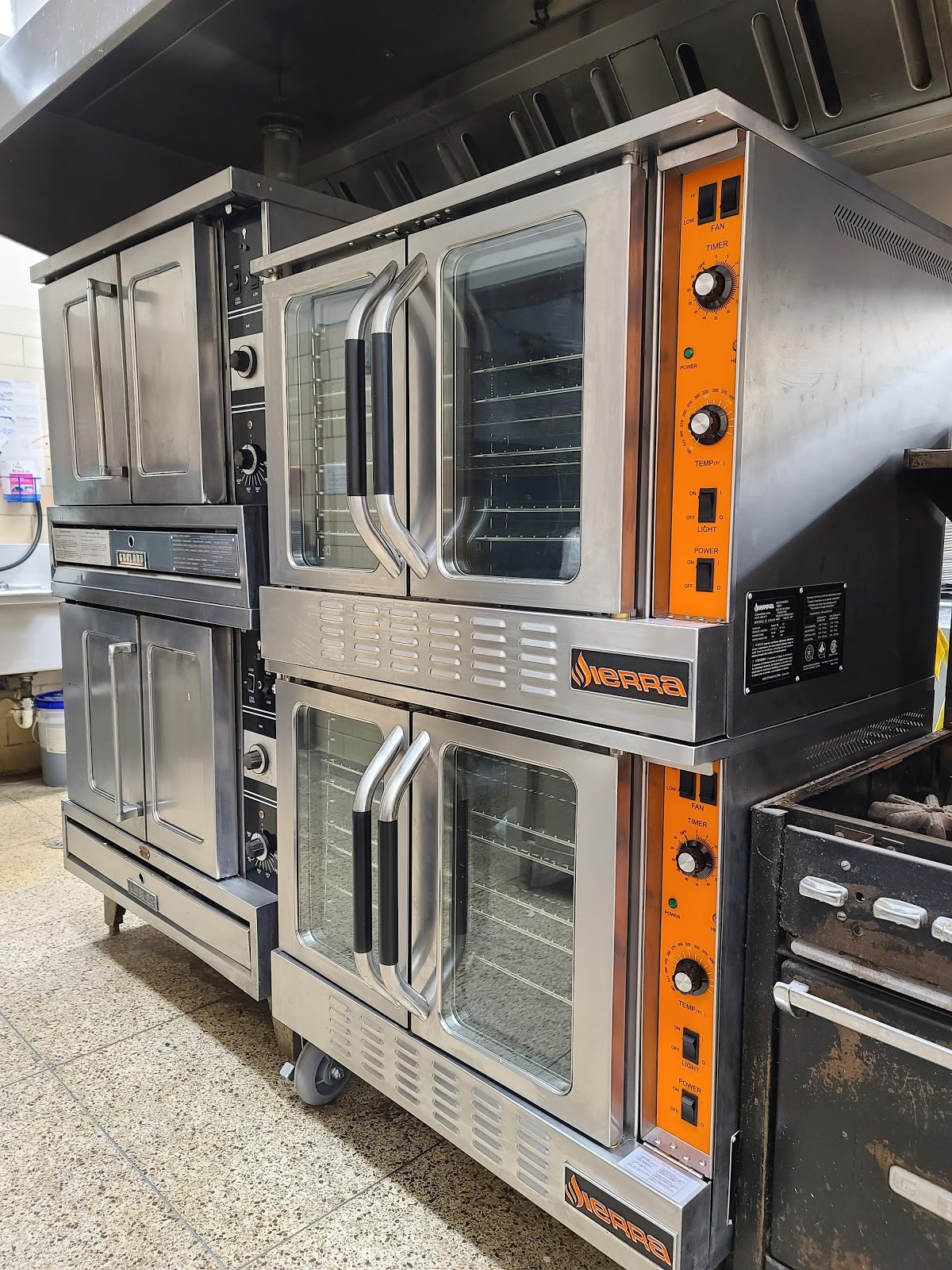 Playground
The highlight of our special projects has to be the school playground.  It is truly beautiful!  We have so many people to thank but most especially we wish to thank Ryane City, Lacy Judd and Bev Rollings for getting the ball rolling in securing the funding and working to keep the project on track.
Mardy Hostetler spent a great deal of time and energy this summer serving as the foreman on the project.  In addition to these SH parents, we have a long list of volunteers to thank and celebrate.  We will have a more comprehensive acknowledgment coming in the very near future!
What a great space to play and grow!
Piano Lab
Continuing our advancements in music arts and education, we have initiated the development of the Barbara Lamy Cooney Piano Lab. This is made possible by a grant from the Cooney Family Foundation.
The piano lab is set for completion any day now as we await the delivery of 17 digital pianos, each equipped with speakers, bench seating, and interactive headphones. Instruction will be led by Mr. Darrin Hartman who plans to integrate lessons into the K-12 music curriculum.
We can't wait to see what Mr. Hartman can do with our new Piano Lab!  Piano's come in this week!
Faculty Workroom
Last spring I asked Mrs. City to clean, straighten and organize the teacher workroom.  As workspaces tend to do, it had become a bit cluttered and cramped.
Before we knew it, and as a gift to the teachers, Mrs. City had enlisted the help of SH mom, Jackie Nehring and they gave the room a complete overhaul.  With the help of a few generous donations these two ladies turned the teacher workroom into an effective workspace in a beautiful setting.  Thanks ladies!
Hoying Gym Bleachers
Maintenance worker Luis Mares has given the bleacher area in the Hoying gym a facelift in the past few weeks.  This is especially important as we plan to play out JH volleyball home games in the Hoying gym this year and the fresh new look will be great for welcoming visitors.
Nice work, Luis!
All New Gremlin Store
While it is not yet complete and we will definitely be sharing more information in the weeks to come, SHS is in the process of developing a Gremlin Store.  The concept will include a one stop shop for the uniform closet, Gremlin Gear and eventually a whole array of Gremlin products.
Also planned is a refreshment area for before school and after school access for students as well as special event concessions.
Restroom and roof repair and renovation is also part of this project.  The plan is for this store to be student-led and students run as an innovative real-life business learning opportunity!
Special thanks to Student Council moderator, Nikki Howell, for being a driving force in this exciting initiative as well as SH parent, Kevin Grose, for being our construction foreman.
Please be watching for more on this exciting project!
Martes 25 de agosto
¡Hola a todos!
Estamos en medio de las citas para el Open House y esperamos con ansias este jueves de reapertura. Si aún no tiene cita para el Open House y  le gustaría agendar una, consulte las instrucciones en el Beat del viernes pasado o llame a la Sra. City a la oficina principal para programar su cita.
El año pasado, nuestro formato general de comunicaciones del Beat fue compartir noticias para celebrar los martes y artículos de información general los viernes. Con el Beat del día hoy volvemos a esa agenda básica.
Hoy celebramos las maravillosas mejoras que se están llevando a cabo en todo nuestro campus. Asegúrese de revisar estas mejoras cuando venga al Open House. Estamos más emocionados que nunca por brindar a sus hijos la experiencia educativa más completa y de la más alta calidad posible. ¡Se ha logrado mucho porque varios están dispuestos a colaborar por el bien común!
Gracias por todo lo que hacen y por favor mantenga a la escuela en sus oraciones diarias mientras nos embarcamos en el ciclo escolar  2020-2021.
Dios los bendiga,
Dr. Register
Presidente
Escuela del Sagrado Corazón
Restauración de Cafetería
El primer proyecto que el Sr. Freels y su equipo emprendieron la primavera pasada, fue la cafetería. Un nuevo esquema de pintura junto con ventiladores nuevos y limpieza a fondo hicieron de la cafetería un excelente ambiente para el campamento de verano y brindará un aspecto nuevo y fresco para el año escolar.
¡Bon appetite!
Área de Juegos
Lo más destacado de nuestros proyectos especiales tiene que ser el área de juegos. ¡Es realmente hermosa! Tenemos muchas personas a las que agradecer, pero especialmente queremos agradecer a Ryane City, Lacy Judd y Bev Rollings por poner las cosas en marcha para asegurar el financiamiento y trabajar para mantener el proyecto en marcha.
Mardy Hostetler dedicó gran parte de su tiempo y energía este verano como capataz del proyecto. Además de estos padres del SH, tenemos una larga lista de voluntarios para agradecer y festejar. ¡Pronto haremos un reconocimiento más completo!
¡Qué gran espacio para jugar y crecer!
Laboratorio de Piano
Continuando con nuestros avances en las artes musicales y la educación, hemos iniciado el desarrollo del Laboratorio de Piano Barbara Lamy. Esto es posible gracias a una subvención de la Fundación de la Familia Cooney.
El laboratorio de piano está listo para completarse en cualquier momento mientras esperamos la entrega de 17 pianos digitales, cada uno equipado con bocinas, banco y auriculares interactivos. La instrucción estará a cargo del Sr. Darrin Hartman, quien planea integrar las lecciones en el plan de estudios de música de K-12.
¡Estamos ansiosos por ver qué puede hacer el Sr. Hartman con nuestro nuevo Laboratorio de Piano!
Sala de Maestros
La primavera pasada le pedí a la Sra. City que limpiara, arreglara y organizara la sala de maestros. Como tienden a ser los espacios de trabajo, esta se había vuelto un poco desordenada y con espacio reducido.
Antes de que nos diéramos cuenta y como un regalo para los maestros, la Sra. City había contado con la ayuda de una mamá del SH, Jackie Nehring y le dieron al salón una renovación completa. Con la ayuda de algunas donaciones generosas, estas dos mujeres convirtieron la sala de trabajo de los maestros en un espacio de trabajo eficaz en un entorno hermoso. ¡Gracias!
Gradas del Gimnasio Viejo
En las últimas semanas, el trabajador de mantenimiento Luis Mares ha restaurado las gradas en el gimnasio viejo. Esto es especialmente importante ya que este año  planeamos jugar partidos de voleibol de JH en casa en el gimnasio viejo y la apariencia nueva y fresca será excelente para dar la bienvenida a los visitantes.
¡Buen trabajo, Luis!
Tienda Gremlin Totalmente Nueva
Si bien aún no está completa y definitivamente compartiremos más información en las próximas semanas, SHS está en el proceso de desarrollar una Tienda Gremlin. El concepto incluirá una ventanilla única para el armario de uniformes, equipo Gremlin y finalmente toda una gama de productos Gremlin.
También se planea un área de refrigerios a la que los estudiantes tengan acceso antes y después de la escuela, así como concesiones para eventos especiales. La reparación y renovación de baños y techos también es parte de este proyecto. ¡El plan es que esta tienda sea dirigida por estudiantes y que los estudiantes la atiendan como una oportunidad innovadora de aprendizaje empresarial en la vida real!
Un agradecimiento especial a la moderadora del Consejo Estudiantil, Nikki Howell, por ser una fuerza impulsora en esta emocionante iniciativa, así como al padre del SH, Kevin Grose, por ser nuestro capataz de construcción.
¡Esté atento a más información sobre este emocionante proyecto!