Tuesday, March 7, 2023
LiShanna Bredehoeft Hired as Finance Manager
Please join us in welcoming LiShanna Bredehoeft as the new Finance Manager serving our parish and Sacred Heart School. Bredehoeft is a parishioner at St. Vincent de Paul and Sacred Heart School parent.
As Finance Manager, Bredehoeft will handle our parish and school's bookkeeping and accounting work. She will also review and analyze detailed financial records and prepare financial and budget reports for Fr. Joe Corel and the Finance Council. The parish has sought a new Finance Manager since the position opened in late February.
Bredehoeft brings years of business leadership experience to the parish staff coming from Stanley Black & Decker in Sedalia, where she was the Human Resources Manager. We at St. Vincent de Paul, including Sacred Heart School, are very blessed that LiShanna Bredehoeft is qualified, ready, and able to become our next Finance Manager. She brings a depth of experience working with others, creating processes, and understanding the business side of agencies that will be important in her success here.
"I am very excited to join the Sacred Heart team with this opportunity," Bredehoeft said, "being a part of the Parish and a parent to three Sacred Heart students, I've seen firsthand what a great community it is, and now I'm blessed to join the staff with this role."
She will begin her role as Finance Manager on Tuesday, March 7.
Please help me welcome her and make her feel at home in her new role.
Please note: While Mrs. Bredehoeft is acclimating to her new position, Mrs. Dillon at office@gogremlins.com will continue to be the main contact person for Enrollment letters, tuition contracts, and all questions about current tuition and FACTS.
Good Afternoon Everyone,
Once again, I hope the kids enjoyed their unexpected three-day weekend just completed.  It was a much-needed break for all and has positively impacted the morale of students and teachers alike!  The winter season can grow long in a school, and I truly can not remember the last time we entered the month of March without having had a single snow day.
We are now coming upon our spring break.  The third quarter wraps up on Thursday.  Our teachers will travel to Fr. Tolton High School in Columbia this Friday to participate in a diocesan-wide professional development day.  All diocese teachers will participate in a mini-retreat to refocus and finish the 2022-2023 school year strong!
Next week we will also be off on Monday and Tuesday to complete our short spring break.  When we get back, we hit the ground running to begin the 4th quarter along with the spring sports and activities season.
One of the highlights of the spring activities season is the Spring Musical, and this year it is a CAN'T MISS!  Please save the dates of March 24 and 25 for the delightful production of "The Sound of Music" at the Hayden Liberty Center.  Tickets are on sale NOW!!  The cost is $5 per ticket, and are available at the School Office.  The cast is terrific, and the show promises to be wonderful fun for the whole family!
Due to next week's shortened week, there will be no Sacred Heart Beat on Tuesday, March 14.
Please read on, there is a lot to share today.  Have a wonderful week!
Respectfully,
Dr. Mark Register
President
Sacred Heart School (Class of '75)
Reality Check for Juniors and Seniors
In February, the Central Bank of Sedalia sponsored a Reality Check event for Sacred Heart juniors and seniors. This event was a culmination of the personal finance class the students took during their sophomore year, giving them a chance to put their knowledge of budgeting into practice by playing the game of life, in real life. Students were given a scenario of "life"; a career and income, married or single life, children or no children. Once they received their scenarios, students went to 21 different tables where they dealt with expenses and budgeting in the following areas: renting/buying, utility bills, grocery bills, transportation, insurance, medical, trips to the DMV, childcare, entertainment, charity, chance/risks, and so much more. Several students commented that the activity caused them stress: "I ran out of money.", "Why does everything cost so much?", and "I feel sorry for my parents, and not sure that I am ready for this."  This was a great opportunity for our upper classes to experience life in a controlled environment after high school. Thank you to the alumni and local businesses who came together to support this event, spending time manning the different tables and working with our juniors and seniors to give them a "reality check" on adulting.
FCCLA Legislative Shadowing Day
Faithlynn Parks and Lexi Owens, juniors at Sacred Heart School, participated in the Family, Career, and Community Leaders of America (FCCLA) Legislative Shadowing Project on Wednesday, March 1, 2023. The Legislative Shadowing Project allows students to connect their interests in law, public service, civic issues, and the political process with their education. The event is designed to help students better understand the political process and its impact on citizens.
Gremlins Place at the District Speech Tournament
On Saturday, March 4th, the high school Speech team competed in the District Tournament. Logan Howell placed 6th in International Extemporaneous Speaking. Sarah Hill and Laysha Lopez placed 4th in Duet Acting.  Sophie Anderson placed 3rd in Storytelling. Sophie Anderson and Mariah Van Leer placed 2nd in Duo Interpretation. Mariah Van Leer placed 2nd in Humorous Interpretation and will advance to the State Speech Tournament in April. Congratulations to all the Speech Team Members on a great season!
4th Grade Learns About Thomas Hart Benton
Throughout the year our 4th grade students have been learning about famous Missouri artist Thomas Hart Benton. One of the areas they have been learning about is the process he used to create his artwork, both smaller paintings and murals. In the fall they focused on the first step in his process, a rough sketch of his paintings. Last month they learned about another stage of his process, creating a clay sculpture of his sketch and using light to see shadows, which he would incorporate into his paintings to give them a three dimensional aspect. The students had a lot of fun creating their clay sculptures of Missouri State symbols.
Upcoming Events – Visit Website Calendar HERE.
Wednesday, March 8: Paid Dress Up Day All Grades

Thursday, March 9: End of 3rd Quarter

Friday, March 10 – Tuesday, March 14:  NO SCHOOL – Mini Spring Break

Sunday, March 12: Daylight Savings Time Begins

Tuesday, March 14 – Saturday, March 18: Senior Mission Trip

Thursday, March 15 – Friday, March 17: Junior FIT Week

Friday, March 17: Report Cards Sent Out

Tuesday, March 21: Spring Athletic Pictures at 7:15am
Stations of the Cross
As promised, every Religion class has been praying the Stations of the Cross once a week. Even though the idea is the same, every teacher has selected one or two specific ways to pray this devotion according to the needs of their students. The vocabulary, rhythm, intensity, and reflection change, but they all try to invite the participants to meditate in the Paschal Mysteries of our Lord. The depiction of the Stations of the Cross we have at Sacred Heart chapel has served as guidance for the students and teachers. Students like to walk around these pictures and contemplate the art representing each station. One of my students commented: "it is not easy to pray and think about what Jesus had to go through, but I guess that's the point of it… and it helps me be more generous with him and with others."
All Conference Basketball Players Announced
Congratulations to Kate Carney (12), Katie McKinney (12) Otterville, Aubrey Oehrke (12) Otterville, Tanner Damlo (12), Connor Rice(11), and Carter Rice(11) for being named All Conference players for the 22-23 season.  Connor Brown (10) and Marianna Restrepo (12) received the Honorable Mention. Great work this season!
SAVE THE DATE!!  SHS Spring Musical … The Sound of Music
Rehearsals are underway for Sacred Heart's spring musical The Sound of Music. Make plans to attend on Friday, March 24th and Saturday, March 25th at the Hayden Liberty Center.  Tickets are on sale NOW!!  Cost is $5 per ticket, and are available at the School Office.
Gremlin Student Store – Gently Used "Fill a Bag" for $20
The gently used clothes closet within the Gremlin Student Store has lots of items! Help us do some spring cleaning and save you lots of money! Fill a black bag with anything from the gently used section (green carpet) for only $20! This is for Sacred Heart school families only. Stop by the school office for the store key!!! Thank you for supporting the Student Council.
Pizza Sale to benefit NCYC – March 9 and 24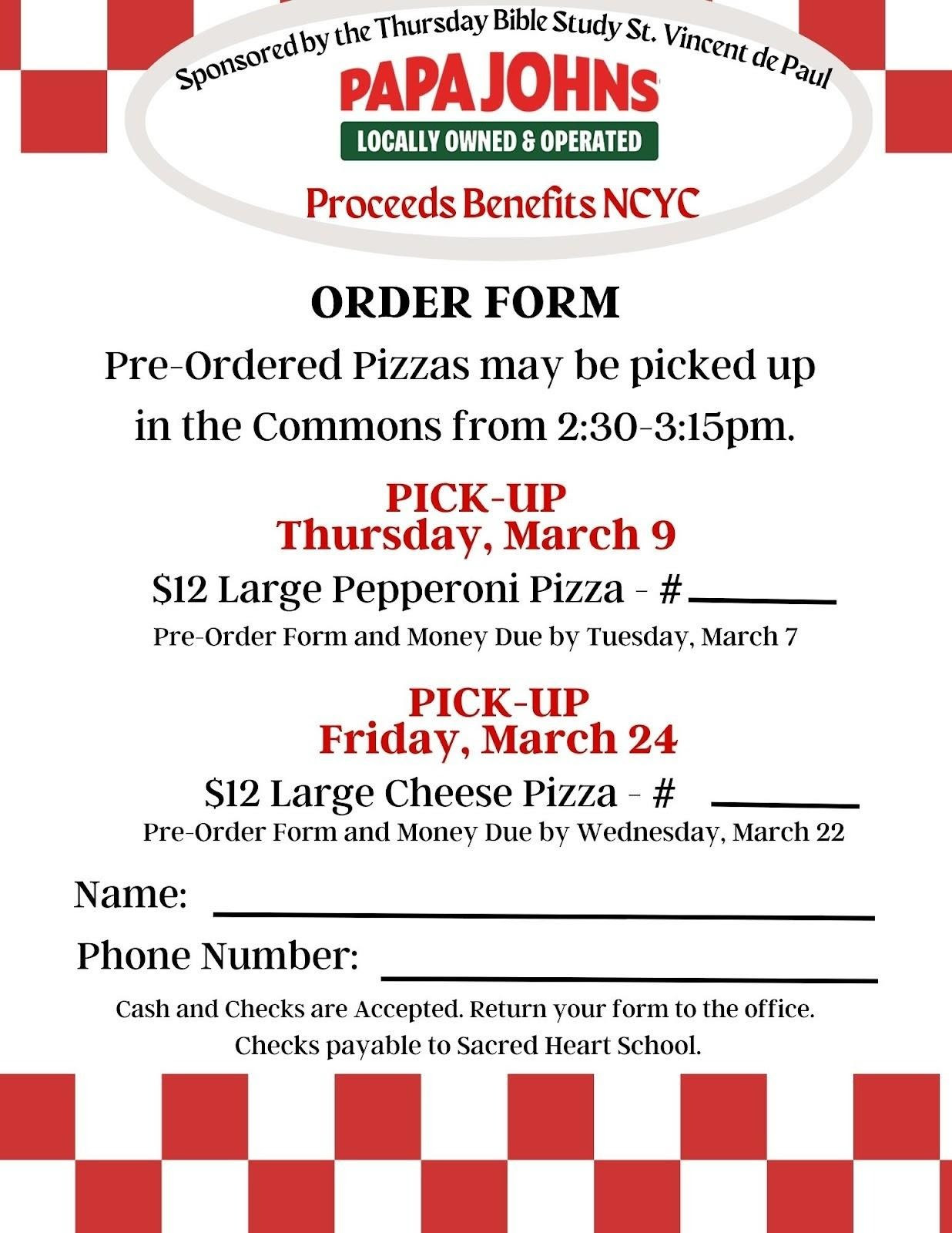 Pizza will be available to take home after school on Thursday, March 9, and Friday, March 24. To help us know how many pizzas to have on-hand, please pre-order. We will have lots of pizza, so everyone can buy a slice or a whole pizza. Be generous and help support our students attending NCYC! Order Form.
Knights of Columbus Fish Frydays – Buy your tickets from a SENIOR parent / SHS Main Office
March 17 and March 31
Lent is here!  Thank you to all who attended the first Fish Fry on Friday, March 3rd. If you missed the first night, you are in luck since there are two more on the schedule. Join us on Friday, March 17th and Friday, March 31st for the last two Fish Frys this Lenten Season! Don't delay to purchase your tickets and be sure to buy them from a SENIOR PARENT to support Project Graduation for the Class of 2023. TO GO Orders are also available if you are in a hurry. Senior Parents will also have Baked Goods available for purchase for a free will donation the night of the dinners. Seriously, these dinners are so good you are not going to want to miss out!  #GoGremlins
APC Meeting Next Week
Join us next Friday, March 17th at 7:30am in the Parish Center for our next APC meeting. Topics to discuss are teacher requests and planning a family social event to take place in early spring. We need your ideas!!  All school parents are welcome to attend. We look forward to seeing you!!
RaiseRight Everyday – Teenage Drivers
RaiseRight is a great way to earn rebates to offset your tuition while getting everything you need for your daily life. New this month Casey's gift cards are now RELOADABLE. When you purchase a physical gift card through our RaiseRight program, and load it into your wallet on the RaiseRight app, you can reload money onto the card anytime you need to get gas. If you have a high school driver, using reloadable Casey's gift cards is a GREAT way to make sure your favorite student always has a way to fill up the tank to get home. It's so easy!!
Our next in house order for physical gift cards will be Wednesday, March 15th. All orders submitted to the school office by the end of school, or through the RaiseRight app by 8pm, on the 15th will be included in the order. Orders should be ready for pick-up the following week.
Don't forget we have several retailers ONLY available through the office (i.e. Casey's, Cenex, Shell, Colton's, Kehde's, McD, Menards, Taco Bell, Walgreens, and VISA to name a few). Come in during our volunteer open hours on Tuesday & Thursday from 9:30am – 11am for immediate purchases, or drop your order at the office or email it to the program coordinator. Our volunteers will fill your order and let you know when it's available for pick-up. RaiseRight will not be at Masses this weekend. We will be back at all Masses on Sunday, March 12th. Questions? Contact the program coordinator at 660.827.3800 or at scrip@gogremlins.com.
martes 7 de marzo del 2023
LiShanna Bredehoeft contratada como Gerente de Finanzas
Únase a nosotros para dar la bienvenida a LiShanna Bredehoeft como la nueva Gerente de Finanzas al servicio de nuestra Escuela San Vicente de Paul y la Escuela del Sagrado Corazón. Bredehoeft es feligrés de San Vicente de Paul y padre de familia de la Escuela del Sagrado Corazón.
Como Gerente de Finanzas, Bredehoeft se encargará del trabajo contable de nuestra parroquia y escuela. También revisará y analizará registros financieros detallados y preparará informes financieros y presupuestarios para el p. Joe Corel y el Consejo de Finanzas. La parroquia ha buscado un nuevo Gerente de Finanzas desde que se abrió el puesto a fines de febrero.
Bredehoeft aporta años de experiencia en liderazgo empresarial al personal parroquial proveniente de Stanley Black & Decker en Sedalia, donde fue Gerente de Recursos Humanos. Nosotros en San Vicente de Paul, incluida la Escuela del Sagrado Corazón, estamos muy bendecidos de que LiShanna Bredehoeft esté calificada, lista y capaz de convertirse en nuestra próxima Gerente de Finanzas. Ella aporta una profunda experiencia trabajando con otros, creando procesos y comprendiendo el lado comercial de las agencias que será importante para su éxito aquí.
"Estoy muy emocionada de unirme al equipo del Sagrado Corazón con esta oportunidad", dijo Bredehoeft, "siendo parte de la Parroquia y padre de tres estudiantes del Sagrado Corazón, he visto de primera mano la gran comunidad que es, y ahora Tengo la suerte de unirme al personal con este puesto".
Comenzará su función como Gerente de Finanzas el martes 7 de marzo.
Ayúdenme a darle la bienvenida y hacer que se sienta como en casa en su nuevo rol.
Tenga en cuenta: Mientras la Sra. Bredehoeft se aclimata a su nuevo puesto, la Sra. Dillon en office@gogremlins.com seguirá siendo la principal persona de contacto para las cartas de inscripción, los contratos de colegiatura y todas las preguntas sobre la colegiatura actual y FACTS.
Buenas tardes a todos,
Una vez más, espero que los niños hayan disfrutado de su inesperado fin de semana de tres días que acaba de terminar. ¡Fue un descanso muy necesario para todos y ha tenido un impacto positivo en la moral de los estudiantes y maestros por igual! La temporada de invierno puede alargarse en una escuela, y realmente no puedo recordar la última vez que entramos en el mes de marzo sin haber tenido un solo día de nieve.
Ahora estamos llegando a nuestras vacaciones de primavera. El tercer trimestre concluye el jueves. Nuestros profesores viajarán al Father Tolton High School en Columbia este viernes para participar en un día de desarrollo profesional diocesano. ¡Todos los maestros de la diócesis participarán en un mini retiro para reenfocarse y terminar el año escolar 2022-2023 con fuerza!
La próxima semana también estaremos fuera el lunes y martes para completar nuestras breves vacaciones de primavera. Cuando regresamos, nos ponemos manos a la obra para comenzar el cuarto trimestre junto con la temporada de deportes y actividades de primavera. Uno de los aspectos más destacados de la temporada de actividades de primavera es el Musical de primavera, y este año ¡NO SE LO PUEDE PERDER!  Guarde las fechas del 24 y 25 de marzo para la hermosa producción de "The Sound of Music" en el Hayden Liberty Center. Las entradas están a la venta YA!! El costo es de $5 por boleto y están disponibles en la oficina de la escuela. ¡El elenco es excelente y el espectáculo promete ser muy divertido para toda la familia!
Debido a la semana corta de la próxima semana, no habrá Beat del Sagrado Corazón el martes 14 de marzo.
Siga leyendo, hay mucho que compartir hoy. ¡Ten una maravillosa semana!
Respetuosamente,
Dr. Mark Register
Presidente
Escuela Católica del Sagrado Corazón  (Generación del '75)
Reality Check para Juniors y Seniors
En febrero, el Banco Central de Sedalia patrocinó un evento Reality Check para juniors y seniors del Sagrado Corazón. Este evento fue la culminación de la clase de finanzas personales que los estudiantes tomaron durante su décimo grado, brindándoles la oportunidad de poner en práctica sus conocimientos sobre elaboración de presupuestos jugando el juego de la vida, en la vida real. A los estudiantes se les presentó un escenario de "vida"; carrera e ingresos, casado o soltero, hijos o sin hijos. Una vez que recibieron sus escenarios, los estudiantes fueron a 21 mesas diferentes donde trataron los gastos y el presupuesto en las siguientes áreas: alquiler/compra, facturas de servicios públicos, facturas de comestibles, transporte, seguros, atención médica, viajes al DMV, cuidado de niños, entretenimiento, caridad. , oportunidad/riesgos, y mucho más. Varios estudiantes comentaron que la actividad les causó estrés: "Me quedé sin dinero", "¿Por qué cuesta tanto todo?" y "Siento pena por mis padres y no estoy seguro de estar preparado para esto". Esta fue una gran oportunidad para que nuestras clases altas experimenten la vida en un ambiente controlado después de la escuela preparatoria. Gracias a los exalumnos y empresas locales que se unieron para apoyar este evento, dedicando tiempo a ocuparse de las diferentes mesas y trabajando con nuestros juniors y seniors para darles una "comprobación de la realidad" sobre la adultez.
Día de seguimiento legislativo de la FCCLA
Faithlynn Parks y Lexi Owens, estudiantes de undécimo grado de la Escuela del Sagrado Corazón, participaron en el Proyecto de seguimiento legislativo de Family, Career, and Community Leaders of America (FCCLA) el miércoles 1 de marzo de 2023. El Proyecto de seguimiento legislativo permite a los estudiantes conectar sus intereses en derecho , servicio público, asuntos cívicos y el proceso político con su educación. El evento está diseñado para ayudar a los estudiantes a comprender mejor el proceso político y su impacto en los ciudadanos.
Los Gremlins compiten en el Torneo de Distrito de Oratoria
El sábado 4 de marzo, el equipo de Oratoria de la escuela preparatoria compitió en el Torneo del Distrito. Logan Howell ocupó el sexto lugar en Oratoria internacional extemporánea. Sarah Hill y Laysha Lopez ocuparon el cuarto lugar en interpretación a dúo. Sophie Anderson ocupó el tercer lugar en narración de historias. Sophie Anderson y Mariah Van Leer ocuparon el segundo lugar en Interpretación a dúo. Mariah Van Leer ocupó el segundo lugar en Interpretación humorística y avanzará al Torneo estatal de oratoria en abril. ¡Felicitaciones a todos los miembros del equipo de oratoria por una gran temporada!
El cuarto grado aprende sobre Thomas Hart Benton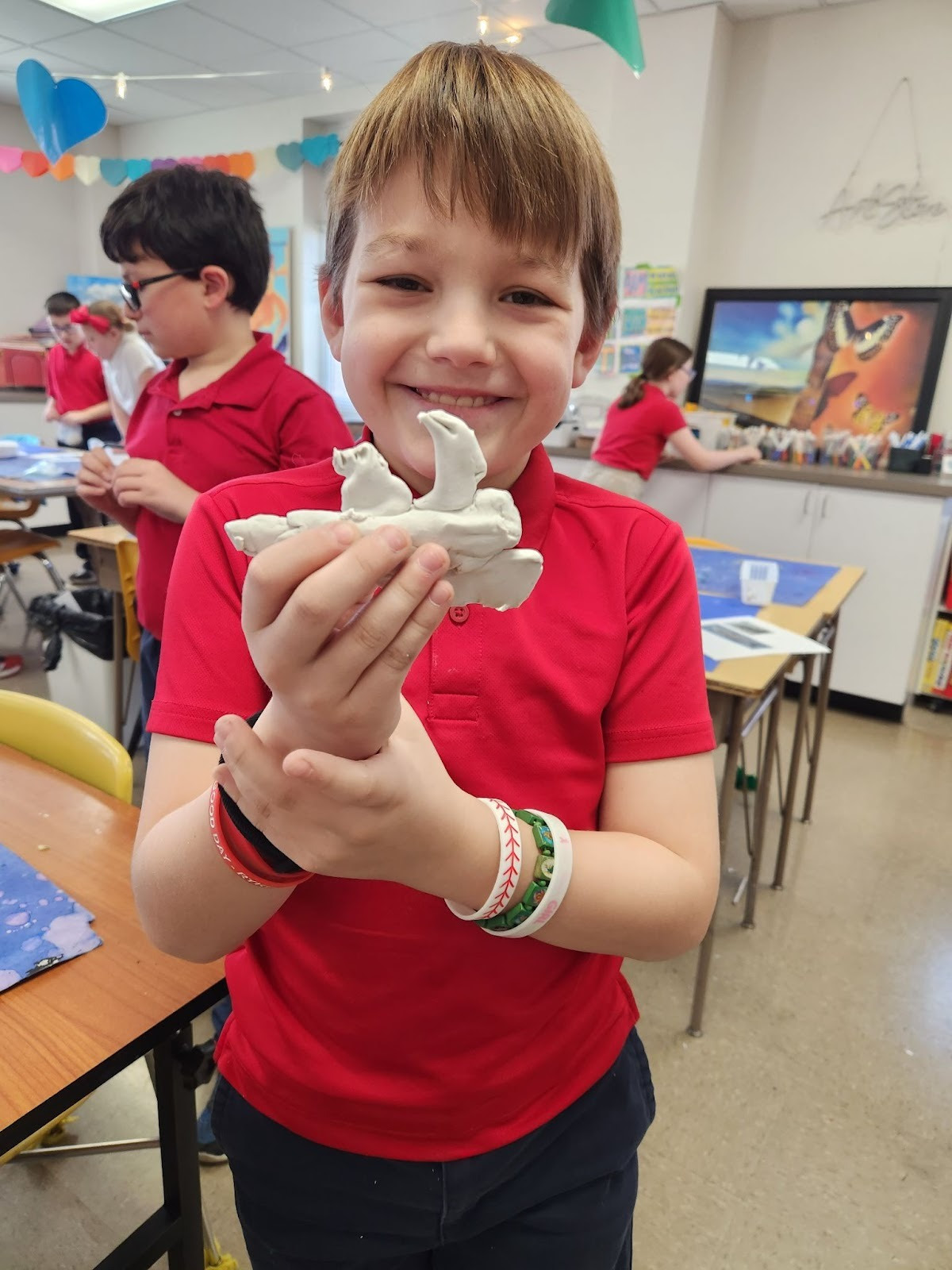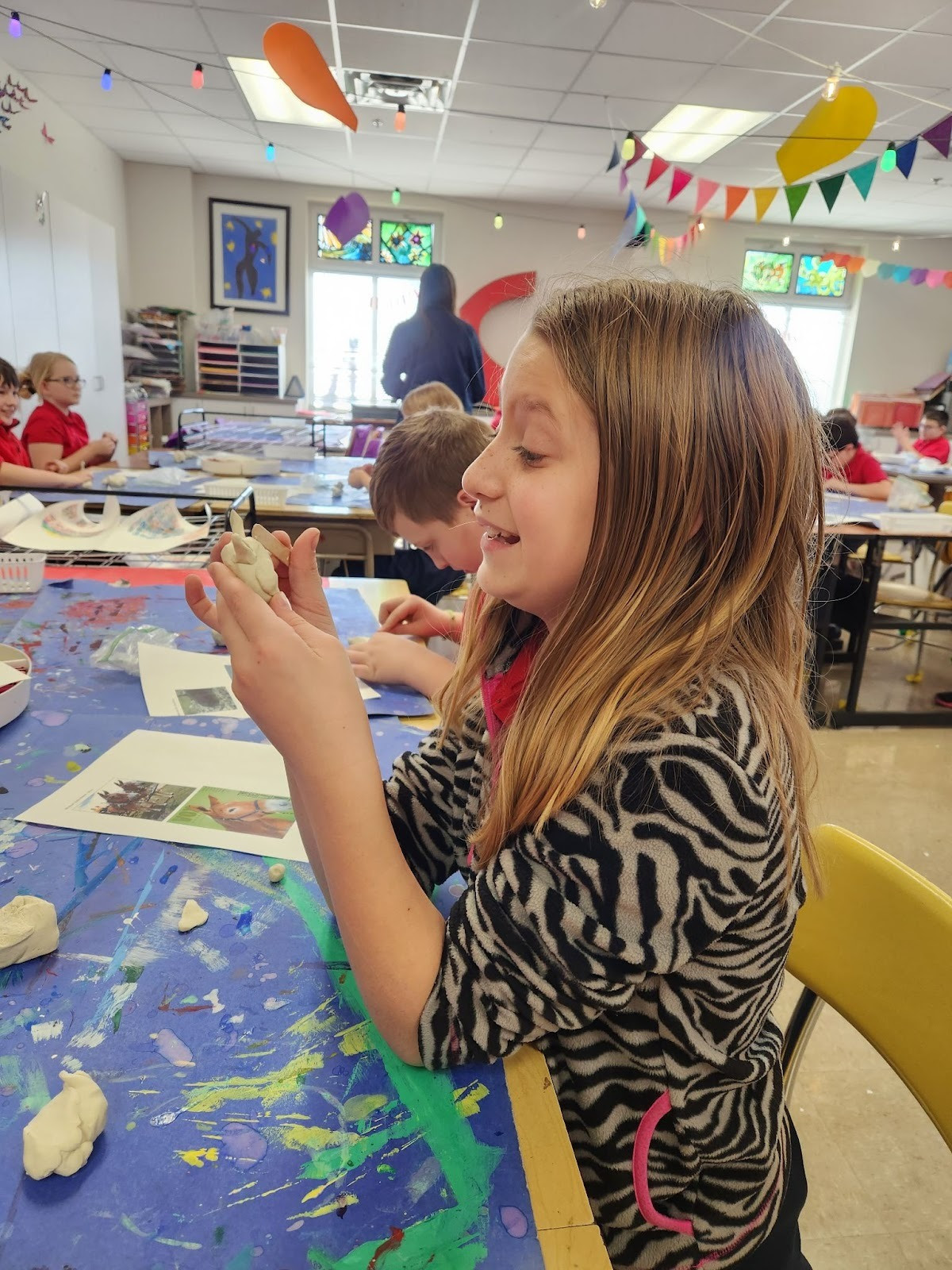 A lo largo del año, nuestros estudiantes de cuarto grado han estado aprendiendo sobre el famoso artista de Missouri, Thomas Hart Benton. Una de las áreas sobre las que han estado aprendiendo es el proceso que usó para crear su obra de arte, tanto pinturas pequeñas como murales. En el otoño se concentraron en el primer paso de su proceso, un boceto aproximado de sus pinturas. El mes pasado conocieron otra etapa de su proceso, creando una escultura de arcilla de su boceto y utilizando la luz para ver las sombras, que incorporaría a sus pinturas para darles un aspecto tridimensional. Los estudiantes se divirtieron mucho creando sus esculturas de arcilla de los símbolos del estado de Missouri.
Próximos eventos – Visite el calendario del sitio web de la escuela aquí.
miércoles 8 de marzo: Paid Dress UP Day para todos los grados

jueves 9 de marzo: termina el tercer trimestre

10 de marzo – martes, 14 de marzo:  NO HAY CLASES – Vacaciones de primavera

domingo 12 de marzo: Comienza el horario de verano

martes 14 de marzo – sábado 18 de marzo: Viaje misionero para los alumnos de duodécimo grado

jueves 15 de marzo – Friday, March 17: FIT para los alumnos de undécimo grado

viernes 17 de marzo: Boletas de calificaciones enviadas

martes 21 de marzo: Fotografías atléticas de primavera en 7:15 am
Estaciones de la Cruz
Como se prometió, cada clase de Religión ha estado rezando las Estaciones de la Cruz una vez por semana. Aunque la idea es la misma, cada maestro ha seleccionado una o dos formas específicas de rezar esta devoción de acuerdo a las necesidades de sus alumnos. Cambia el vocabulario, el ritmo, la intensidad y la reflexión, pero todos tratan de invitar a los participantes a meditar en los Misterios Pascuales de Nuestro Señor. La representación de las Estaciones de la Cruz que tenemos en la capilla del Sagrado Corazón ha servido de guía para los estudiantes y maestros. A los estudiantes les gusta caminar alrededor de estos cuadros y contemplar el arte que representa cada estación. Uno de mis alumnos comentó: "no es fácil orar y pensar en lo que Jesús tuvo que pasar, pero supongo que ese es el punto… y me ayuda a ser más generoso con él y con los demás".
Anunciados todos los jugadores de baloncesto de la conferencia
Felicitaciones a Kate Carney (12), Katie McKinney (12) Otterville, Aubrey Oehrke (12) Otterville, Tanner Damlo (12), Connor Rice (11) y Carter Rice (11) por ser nombrados jugadores de All Conference para el temporada 22-23. Connor Brown (10) y Marianna Restrepo (12) recibieron la Mención de Honor. ¡Gran trabajo esta temporada!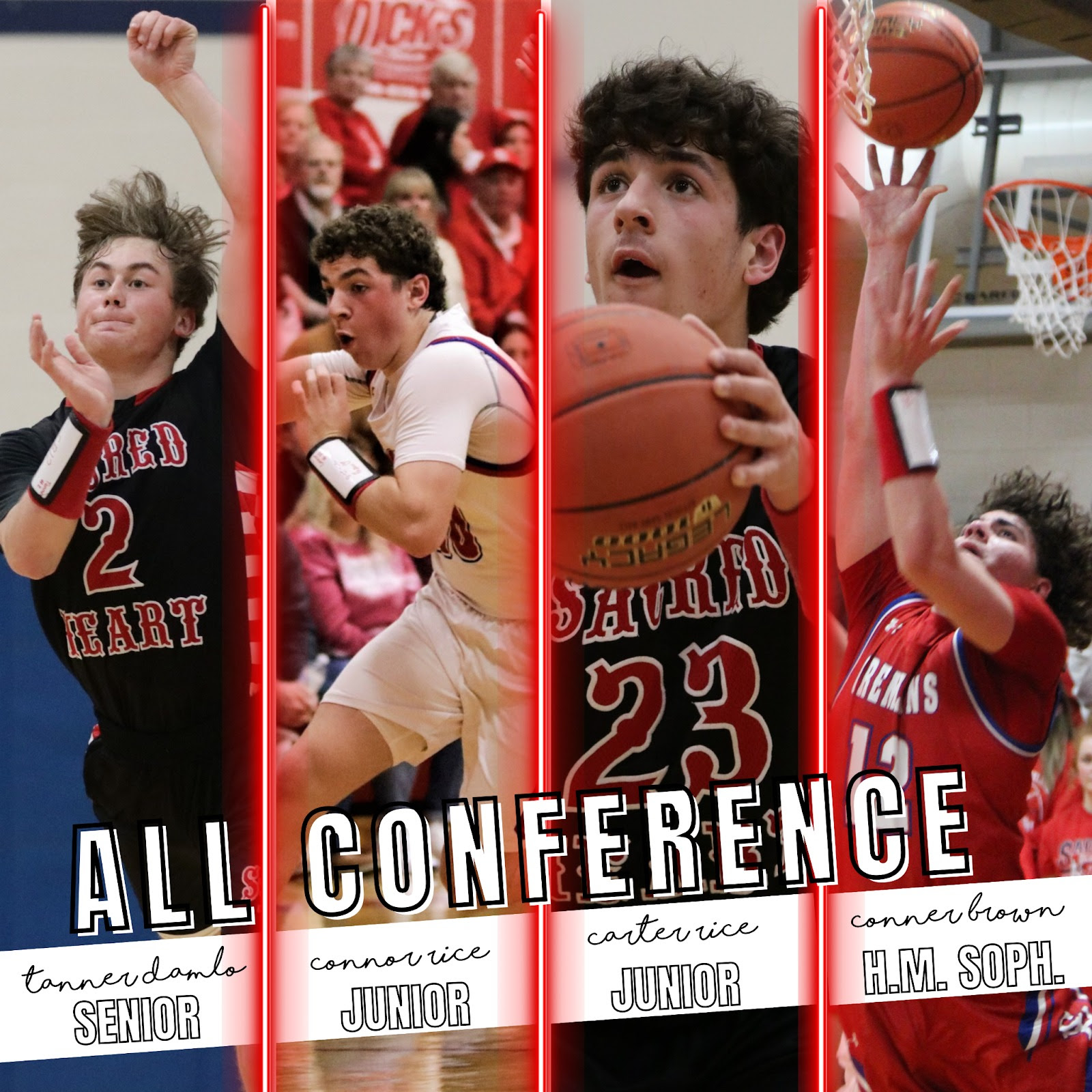 ¡¡Reserve la fecha!!  Musical de primavera de SHS… The Sound of Music
Los ensayos están en marcha para el musical de primavera del Sagrado Corazón, The Sound of Music. Haga planes para asistir el viernes 24 de marzo y el sábado 25 de marzo en el Hayden Liberty Center. Las entradas están a la venta YA!! El costo es de $5 por boleto y están disponibles en la oficina de la escuela.
Tienda estudiantil Gremlin – llene una bolsa de prendas previamente usadas en buen estado por $20.
¡El armario de ropa usada en buen estado dentro de la tienda de estudiantes Gremlin tiene muchos artículos! ¡Ayúdenos a hacer una limpieza de primavera y ahorre mucho dinero! ¡Llene una bolsa negra con cualquier cosa de la sección de uso suave (alfombra verde) por solo $20! Esto es solo para las familias de la escuela del Sagrado Corazón. ¡Pase por la oficina de la escuela para obtener la llave de la tienda! Gracias por apoyar al Consejo Estudiantil.
Venta de pizza para beneficiar NCYC – 9 de marzo y 24 de marzo
La pizza estará disponible para llevar a casa después de la escuela el jueves 9 de marzo y el viernes 24 de marzo. Para ayudarnos a saber cuántas pizzas tener a mano, haga su pedido por adelantado. Intentaremos tener mucha pizza para que todos puedan comprar una rebanada o una pizza entera. ¡Sea generoso y ayude a que nuestros estudiantes asistan a NCYC! Haga su pedido haciendo clic aquí.
Viernes de pescado de los Caballeros de Colón: compre sus boletos con un padre de duodécimo grado/Oficina principal de SHS
3 de marzo, 17 de marzo, 31 de marzo
La Cuaresma llegó, lo que significa que los Viernes de Pescado de los Caballeros de Colón comenzarán pronto. No se demore y asegúrese de comprar sus boletos a un padre de duodécimo grado para apoyar el Proyecto de Graduación para la Clase de 2023. Los pedidos para llevar también están disponibles si tiene prisa. Los padres mayores también tendrán productos horneados disponibles para comprar por una donación voluntaria la noche de las cenas. En serio, ¡estas cenas son tan buenas que no querrás perdérselas! #GoGremlins
Reunión de APC la próxima semana
Únase a nosotros el próximo viernes 17 de marzo a las 7:30 am en el Centro Parroquial para nuestra próxima reunión de APC. Los temas a discutir son las solicitudes de los maestros y la planificación de un evento social familiar que se llevará a cabo a principios de la primavera. ¡¡Necesitamos sus ideas!! Todos los padres de la escuela son bienvenidos a asistir. ¡¡Esperamos verlos ahi!!
RaiseRight Todos los dias – Conductores adolescentes
RaiseRight es una excelente manera de obtener reembolsos para compensar su matrícula mientras obtiene todo lo que necesita para su vida diaria. Como novedad este mes, las tarjetas de regalo de Casey ahora son RECARGABLES. Cuando compra una tarjeta de regalo física a través de nuestro programa RaiseRight y la carga en su billetera en la aplicación RaiseRight, puede recargar dinero en la tarjeta en cualquier momento que necesite gasolina. Si tiene un conductor de la escuela preparatoria, usar las tarjetas de regalo recargables de Casey es una GRAN manera de asegurarse de que su estudiante favorito siempre tenga una forma de llenar el tanque para llegar a casa. ¡¡Es tan fácil!!
Nuestro próximo pedido interno de tarjetas de regalo físicas será el miércoles 15 de marzo. Todos los pedidos enviados a la oficina de la escuela antes del final de la escuela, o a través de la aplicación RaiseRight antes de las 8:00 pm del día 15, se incluirán en el pedido. Los pedidos deben estar listos para ser recogidos la semana siguiente.
No olvide que tenemos varios minoristas SOLO disponibles a través de la oficina (es decir, Casey's, Cenex, Shell, Colton's, Kehde's, McD, Menards, Taco Bell, Walgreens y VISA, por nombrar algunos). Acérquese durante nuestro horario de voluntariado los martes y jueves de 9:30 am a 11:00 am para compras inmediatas, o deje su pedido en la oficina o envíelo por correo electrónico a scrip@gogremlins.com. Nuestros voluntarios llenarán su pedido y le avisarán cuando esté disponible para recogerlo. RaiseRight no estará en las Misas este fin de semana. Volveremos a todas las misas el domingo 12 de marzo. ¿Preguntas? Comuníquese con el coordinador del programa al 660.827.3800 o en scrip@gogremlins.com.
Queremos escucharlos. Nuestro Equipo de Comunicaciones agradece los comentarios sobre nuestros esfuerzos para comunicarnos mejor con los fieles de nuestra escuela. Te invitamos a enviarnos tus ideas, sugerencias y conocimiento por correo electrónico.